If you are reading this, chances are your car needs a little TLC in the cleaning and organizing department.
Clutter happens…if you have young kids, there will no doubt be Cheerios in between seats, toys for entertainment, and maybe some dirty footprints on the back of your seat.
Use the car for work?
Then it probably looks like you live in it.
If this is the case, let's get started and organize your vehicle.
Disclosure: Some of the links below are affiliate links that I have provided for your convenience. Click here to read my full disclosure policy.
Organize Your Car
Assess the Problem First
First, let's look at what or who is causing your clutter.
Get a trash bag and get rid of any garbage first.
If you have a lot of trash then you should decide on a way to deal with it.
Consider getting a trash bin made for cars.
If you don't have much trash, then a small bag will do.
Personally, I use the plastic bag my newspapers come in.
Empty and Purge Your Car
Now that the trash is gone, look at what's left.
Get a box and take out anything that absolutely does not have to be in your car.
Are you still carrying maps when you use a GPS?
Trash them.
Next, categorize all the things you want to keep in your vehicle.
These can be sports equipment or games for the kids, DVDs, blankets, etc.
Appropriate Organizers for Your Car
After categorizing what you plan on leaving in the car, look for organizers that will help keep everything from cluttering up your space.
Below are some organizers I found on Amazon but feel free to find items that fit your needs.
You can use simple baskets and bins found around the home to help you as well.
When you have your organizers on hand, go ahead and begin emptying the vehicle completely.
Clean Your Car
Now, it's time to clean your car before putting all your items back.
Inside, you want to vacuum between the seat folds as best you can to remove old crumbs that get embedded in there.
If you have leather seats, use an appropriate cleaner so you don't damage the fabric.
Wipe down all the surfaces including the dashboard, glove department, ashtray, cup holders, etc.
Wipe down all your windows.
Remove any mats and wash them.
Then vacuum the interior of your car including your trunk.
Once you are done with the interior, go ahead and wash the exterior.
Here is a kit from Amazon to help you get your car clean.
Alternatives
You could also take your vehicle to a car wash especially if you don't have some of the equipment needed to clean your car.
If it is in really bad shape, call in an auto detailer.
Many will come to your home or place of work.
It will be a little costly but they have their own equipment, appropriate cleaners to get your car sparkly clean, and is a time saver.
Organize
Now that your car is clean, let's begin putting your stuff in it using the organizers you have picked out.
What to Keep in Your Car
The following are items you should keep in your car.
car manual
cell phone charger
One other item I keep in my car is this emergency card I made a few years ago.
I made this one day after realizing that if my family and I were ever in an accident and unable to speak, how could we communicate our allergies and medical conditions to first responders?
If my kids were okay, who would the police call so that my kids are safe with family or friends?
With that, I created these cards, laminated them, and made four copies.
I placed one in each of our glove boxes and put one in my husband's wallet and another in my purse.
I wanted to make sure all my bases were covered.
**Update: I have created blank emergency cards for you and your family.
If you'd like a free copy, just fill out the form at the end of this post.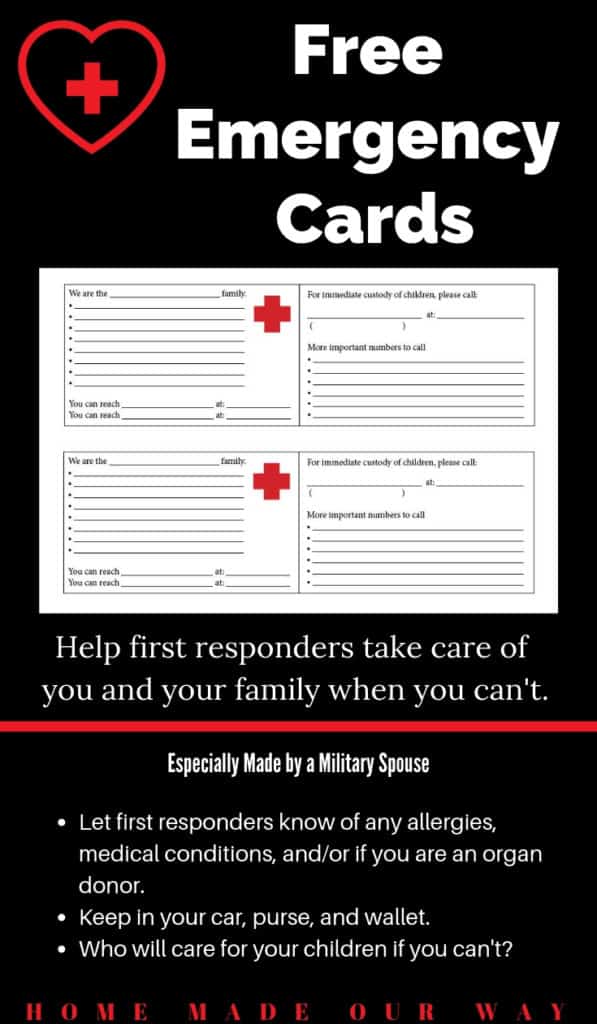 Maintain
The best way to maintain the cleanliness and organization of your car is simple.
When you are done driving for the day, take out any trash and any stuff that doesn't belong there.
If your kids are old enough, have them remove their empty bottles or toys they brought along with them.
The goal is to keep unnecessary trash and stuff from piling up.
Only leave things you absolutely need in your car.
Below are pics of all the things I absolutely keep in my car and nothing more.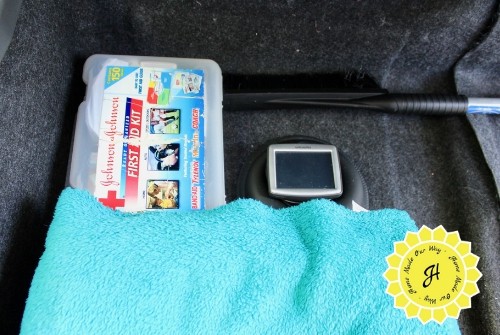 Not shown is my spare sunglasses on the passenger visor.
And that is it.
Again, I empty my car of everything after every trip except for those items shown above and it has kept my car from getting cluttered.
Tidying Up
Also, tidy up the inside of your car weekly.
Give the floor a little vacuuming and wipe down any smudges and fingerprints on the windows.
Weather permitting, I love doing this on a Sunday afternoon.
It starts my week off right.
Also, don't forget to air out your car.
If it's nice out, open all the doors and spray some Febreze to let out any foul odors [test the spray first to make certain you don't cause any damage to the materials].
This should be enough but if you prefer certain scents, then go ahead and get a car air freshener.
I actually keep some of J.R. Watkins's room freshener in my car and give it a spritz here and there.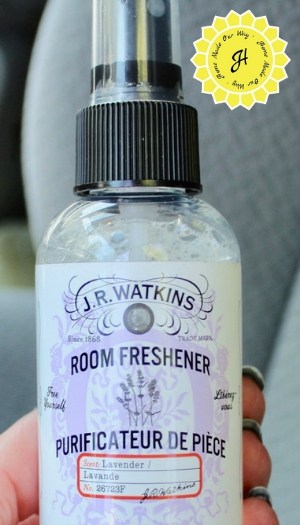 Ready to Organize Your Car?
Ok, let's get started on organizing and cleaning your car.
Let's see if we can make your car look and smell its best.
Want to organize your garage too? Click here to get your garage organized.
Emergency Cards
To get your free emergency cards, fill out the form below and receive access to our resource library where you will find these emergency cards as well as other free printables.
Also, don't forget to sign up for our weekly organizing challenges. Enter your name and email address below and you'll receive a new challenge every week.