Looking for an easy Harry Potter craft that you can make for a birthday party or class?
How about a craft that can be used as an ornament or a flying toy?
Whether you are a parent throwing your tween's birthday party or an English middle school teacher, these crafts are pretty simple to put together.
Read below to make your flying golden snitches.
Disclosure: Some of the links below are affiliate links that I have provided for your convenience. Click here to read my full disclosure policy.
Materials for Golden Snitches
Below are the materials you are going to need for your golden snitches.
Other materials you will need, not pictured:
For golden snitch ornaments, you do not need dowels.
I figured my boys would want the golden snitches to fly so I added the dowels.
We cut our dowels into 2ft. long pieces using a simple pipe cutter.
However, you can make them as long or short as you want.
Most of my purchases were bought at Michaels and for some of the supplies, I have links for the equivalent on Amazon if you do not have a Michaels near you.
You could also use any kind of cord.
I just chose this particular one because it was clear with small glitter specks.
The bodkin and bobbin threader can be purchased on Amazon as well and are not very expensive.
My husband fly ties so we had these tools on hand.
Steps for Creating Your Golden Snitches
Make Them Golden
First, you want to lay out some newspaper to cover your table or bench.
Apply and smooth out the glue on the surface of the Styrofoam balls.
Quickly add glitter by sprinkling it on.
You may have to do this a few times allowing the glue to dry in-between times.
This is to avoid bald spots on your golden snitches.
Waiting
The kids and I made this right after dinner so I decided to let the golden snitches dry overnight before going on with the next steps.
Giving Your Golden Snitches Wings
Choose four feathers for each ball and make sure you have a good point on the end.
If not, just pull off some of the 'hairs' on the bottom portion.
The next step involves the bodkin.
I advise parents to do this step.
Puncture two holes directly across from each other on the golden snitch.
Dip the pointed feather end in glue and insert it into the punctured hole, two feathers per hole.
Golden Snitches That Fly
Cut a piece of cord to your desired length.
If you are going to use it as an ornament, you may only need about 4″ and if you want it to hang off a dowel, I recommend about 10″.
Take your bodkin and puncture a hole closer to the top of the ball and make sure it goes all the way through.
Insert your bobbin threader until it comes out to the other side of the ball.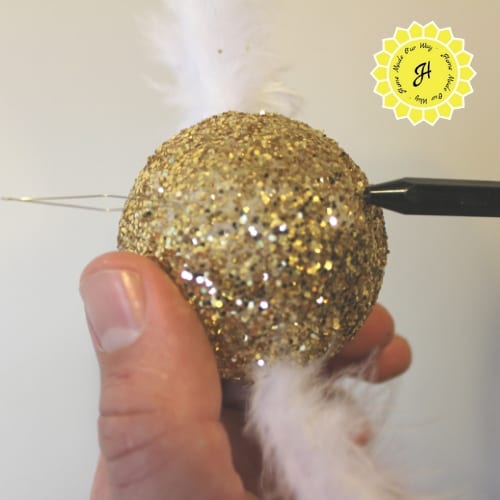 Thread the cord into the threader and pull the cord through about half its length.
Insert the threader again but on the opposite side and pull the other end of the cord through all the way.
Next, using a drill, make a hole on one end of the dowel.
Insert the bobbin threader into this hole and pull the ends of the cord just like you did for the ball.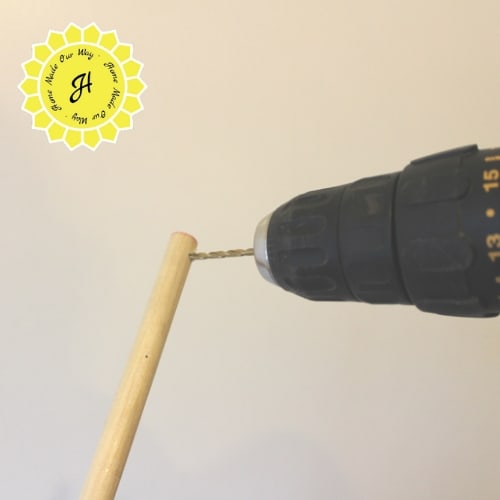 Tie the ends and there you have it, Harry Potter golden snitches.
Now, if you have neighbors that live below you, I suggest you take this outside.
The boys were having fun chasing each other trying to catch each other's snitch.