6th-Grade Homeschool Curriculum, Reviews, Schedule, & Strategies
Need help deciding what homeschool resources to add to your 6th-grade curriculum? What subjects should you include as your child enters middle school?
Below I have listed our 6th-grade curriculum picks for this year. Some of our resources come from organizations we used before and love and others are new and seem promising. I have also included end-of-the-year reviews for each curriculum to help you decide if it's the right choice for your family.
If you'd like to see what our 6th-grade homeschool schedule will look like, continue scrolling or click the quick link above.
You will also find common expectations for this school year and our tips and strategies to help with transitioning from elementary to middle school mode.
Disclosure: This post contains some affiliate links for your convenience (which means if you make a purchase after clicking a link I will earn a small commission but it won't cost you a penny more)! Click here to read my full disclosure policy.
Our 6th-Grade Curriculum Resources & Reviews
Math
We have been using Math-U-See for the past three years and it works very well for our family. The boys really enjoy watching the videos and seeing if they can solve a given problem before the answer is given.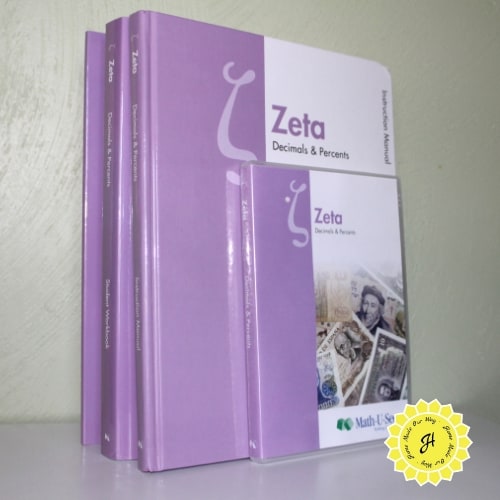 This year they will be taking on Zeta level which focuses on:
decimals
percents
metric conversions
mean, median, and mode
probability
area of a circle
angles & more.
Updated Review:
This was our 4th year using Math-U-See and I can't say enough about it. Their approach is to get students to "see" concepts instead of just "telling them a concept" and hoping it sticks.
My kids then go on to master every concept by doing all the practice and review sheets and it shows on their tests.
I know some parents have reservations about this curriculum because it appears overwhelming but I'm here to tell you that that doesn't have to be the case.
In fact, I wrote a whole post on → how to best use and schedule Math-U-See ← so that your kids can master concepts in their own time without the overwhelm. Check it out by clicking the above link.
Language Arts/Writing
For our Language Arts and Writing assignments, the boys will be using BJU's English 6 Curriculum. We used BJU for 3rd and 4th grade, but last year I decided to try a more Charlotte Mason approach to this subject.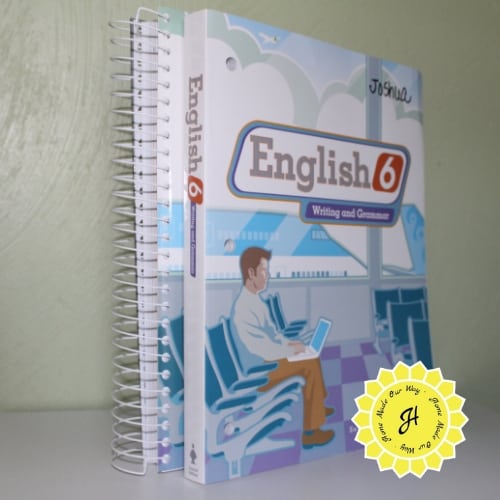 Unfortunately, Joshua was having trouble with dictation so we ended up going back to BJU's curriculum. We have done well with BJU so I decided to stick with them again.
Updated Review:
We have been using BJU Press for 4 years for our language arts and writing. When it comes to learning language arts and grammar, I think this curriculum is great.
However, after 4 years of their "writing component", the boys and I are bored to death of it. It was really turning us all off to writing.
With that, I decided to omit the writing chapters and come up with our own writing assignments. So, instead of writing a "friendly letter" for the 4th time, the boys were allowed to write up summaries on people and things they were currently learning.
By letting them choose a historical person, event, or scientific concept to write about, they were more willing to write.
So what does this look like in our homeschool? We took on a writing assignment every other week. This gives them time to decide on their topic or person, do a little research, and order books from the library.
We also use our membership with Productive Homeschooling's NotebookingPages to make our reports look good.
Here is how we scheduled our writing assignments:
Monday: planning (usually an outline of their paper based on their research)
Tuesday: drafting
Wednesday: revising and proofreading
Thursday: bibliography and images added
Friday: formatting and publishing the final paper
Literature
For literature, I simply assign readings throughout the year and try to include different types of literature.
Here is what our year in literature looks like:
Shakespeare is not easy but I pair the readings with movie clips. So after we've read a scene, I'll queue the movie up to that scene and we are able to understand it a bit more.
Updated Review:
When it comes to Shakespeare, Jack and Josh are polar opposites. Josh loved getting into character when reading his parts. Jack, not so much. He is not impressed by the readings but doesn't mind watching the movies.
If you decide to take Shakespeare on, I suggest getting a kids' version. I've provided links to these in the above list.
History
Our history component has several parts that include world history, world geography, U.S. geography, and U.S. government.
World History/World Geography
This year we will stick to our newly-loved curriculum, Story of the World by Susan Wise Bauer. We started this last year covering the first 2 volumes. So this year, we are going to take on Volume 3, Early Modern Times.
We will also use Homeschoolinthewoods.com's Record of Time for placing figures and events that we learn throughout the year. Click here for a full review of these history curriculums.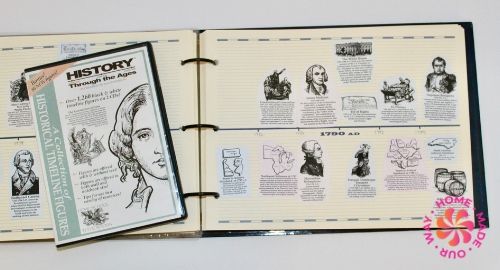 We also love watching the History Channel's DVDs: Mankind, The Story of All of Us and America, The Story of Us.
As I wrote earlier in regard to their writing assignments, the boys are expected to do a one-page research paper on a historical person or event of their choice.
Updated Review:
I love The Story of the World because it doesn't just cover the typical European/American history I encountered throughout my elementary years. This curriculum covers the Far East, Africa, and even Australia.
If you decide to add the above DVDs, I suggest you view them by yourself beforehand. Because it covers major wars and battles here and there, you will find that some of the scenes are a bit graphic and violent.
If you find some scenes too gruesome, then try to queue the DVD to other parts of the movies that are relevant to the time in history you are covering. It's a shame to not let the kids watch history unfold before them. The History Channel really outdid themselves.
U.S. Geography
Just as last year, we will use Productive Homeschooling's Notebooking Pages United States state study forms to research various state facts such as the state motto or state symbols.
We also pair this with