Are you wondering what subjects you need to cover for homeschool as your child enters middle school? Is there a set amount of time they need for each subject? Need to create a 6th-grade schedule? What kind of changes takes place when your child transitions from grade school to middle school? If you need answers to these questions, you are not alone.
Disclosure: Some of the links below are affiliate links that I have provided for your convenience. Click here to read my full disclosure policy.
Below you will find our 6th-grade schedule to give you an idea of how you can schedule this middle school year. Also, I have provided some things you can expect at this grade level along with some strategies to make this time easier for both you and your child.
Quick Links to Info Below
Our 6th-Grade Schedule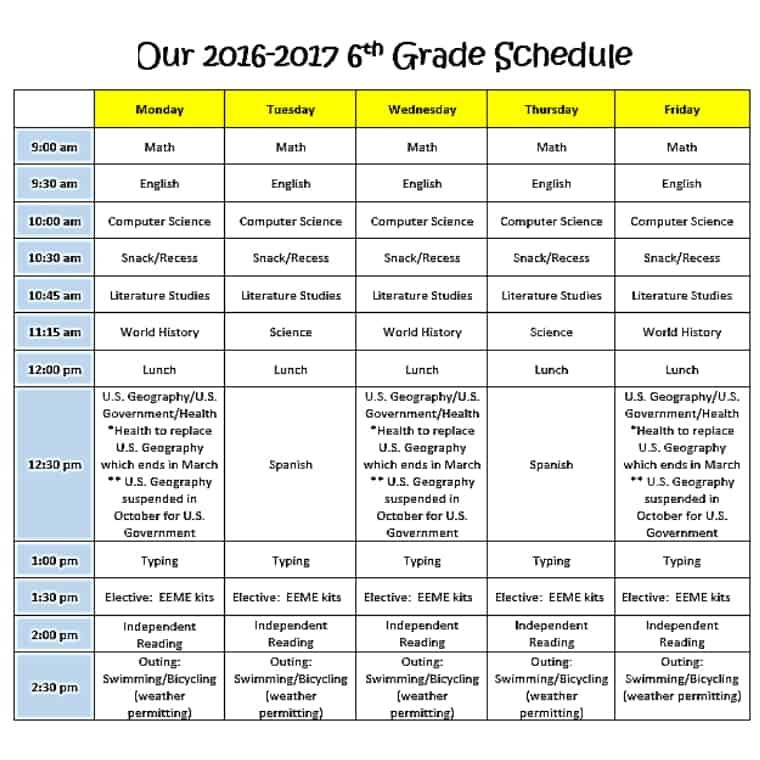 Our 6th-Grade Curriculum
As you can see from our 6th-grade schedule, I have included what I consider our essential subjects:
and our electives:
computer science
Spanish
Health — this will begin once U.S. geography is finished in March
Typing/Keyboarding
I also give each subject a 30-minute slot. This is not set in stone since some subjects may need more time while others can be completed in less time. In the end, it tends to work itself out. If you would like more information on what curriculum we are using for these subjects, click here.
What to Expect
As kids enter middle school, they have already started or will soon start going through puberty. I mention this because as their body begins going through changes, you will notice that they will become crankier, will eat more and will need more sleep. To help combat this, I suggest letting kids sleep in a little longer.
So this year I plan on letting the boys sleep in a bit with an extra hour of sleep. This will probably change every year little by little and by the time they are in high school, they will probably need much more sleep. I'm not worried since I hope that by this time they are fully independent when it comes to their schooling.
Independence
You can also expect that your child will think they know everything, in fact, they will think they are smarter than you. This is normal. They are learning to think for themselves. It is just their way of asserting their independence.
They want to do things without your help or advice. And yes, they will try to test your boundaries just as they did as toddlers. In some cases, they may even throw a 'teen' tantrum.
This need for independence is also hard on parents. We want to keep them safe, have them develop good habits, and yes, some of us just find it hard to let them grow up.
So, to help with their need for independence and our need to keep them reined in, I suggest coming up with a list of expectations, rules, and their consequences. Relay these to your child and let them decide how they will handle their behavior so that they can be successful.
Our Expectations
Here are a few expectations I listed for my kids both for home and school. They are:
expected to read more independently (cut down on 'read-alouds' with mom)
allowed to complete work where they feel comfortable (except during instruction time)
to set their own alarm at night and are responsible for getting to homeschool at a reasonable time
allowed to take recess/lunch when they want to (except during instruction time)
are responsible for keeping their work and workspace orderly
responsible for studying and reviewing work before tests and quizzes.
As each year passes, I will give them more responsibilities and more opportunities to make better decisions.
Remember:
understand that they are going through some serious changes and it is a very confusing time for them
talk to your children about these changes to get a sense of what they need
schedule their homeschooling but allow them some wiggle room to get things done
come up with a list of expectations and go over them with your student along with any consequences
Well, I hope that our 6th-grade schedule and middle school strategies help with your homeschooling and alleviate any anxiety you may have.
If you have any questions, please feel free to contact me or ask them below in the comments section. Also, let me know how you homeschool 6th-grade. I'd love to add more strategies to the list above.
Need help with other homeschool grades? Click any of the posts below:
Happy Homeschooling!!
Save This
Want to save this for later? Or share with other homeschoolers? Pin the pic below to your favorite homeschooling Pinterest board.