2020 Printables for Mini and Regular Size Binders
Every year I like to change up our free daily planner pages. To see our new 2020 printables for mini and regular-sized planners, keep scrolling.
But if you are ready to print your pages now, scroll to the end of this post and click the pink button to access to our resource library where you will find your free planner pages.
In this post, you'll also find:
recommended materials and supplies to help you put your planner together
tips for putting your planner together
best practices for your daily page
Materials and Supplies
Before you print out your free daily planner pages, here is a list of recommended materials and supplies you may want to have on hand.
Those with a star * by the name are optional but will make your planner durable, prettier, and easier to put together.
To learn how to put your planner together with the above materials and supplies, keep scrolling.
A Peek into Your Free Daily Planner Pages
Here are the pages you will find in our free resource library.
Cover Page
This year's cover has a unicorn zen tangle design [created by Savoring Surprises] that you can color in.
Year-At-A-Glance Calendar
The year-at-a-glance does not have a unicorn design but the month headers can be colored in. (See below)
Bookmarks/Dividers
The bookmarks/dividers come with three calendar months on each side. And above that are unicorn icons that you can color as well.**
** I do recommend using ultra-fine point Sharpies like these because of how small the design is.
Daily To-Do Page
And last but not least, our perpetual daily to-do page.
This page is un-dated so that you can keep it forever and print only the days you need. Paper saver!
On the top portion of the page, there is a space for you to date your page and circle or highlight the day of the week's initial.
This is followed by blank lines with a column for the time of day and another column to check off your task or appointments.
Next are sections for daily goals, bills to be paid, daily chores, and today's menu.
And finally, this is followed with a notes/reminders and shopping list section.
Putting Your Planner Together
I recommend coloring your designs before putting your planners together especially if you plan on laminating some of the pages.
Printing For Mini Binders
To save paper, I have made these pages so that you can print them on the front and back giving you four daily pages per paper.
When you cut these pages in half, there will be space enough for hole punches without interfering with the layout.
Making Your Planner Durable
So that your planner cover and calendar last throughout the year, I suggest the following:
you can laminate them
place them in a page protector
use reinforcement labels
even better, use cardstock with reinforcement labels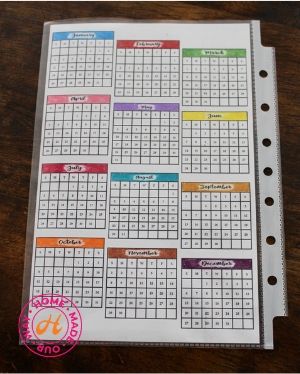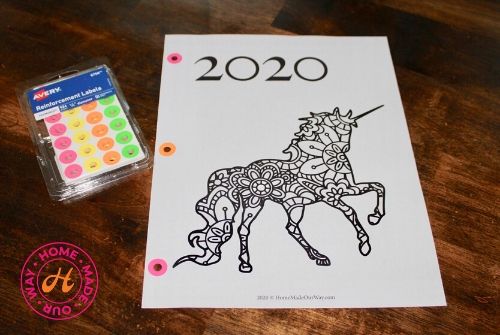 How to Put Your Bookmarks/Dividers Together
For Mini Binders
For mini binder bookmarks, first cut the page in half on the dotted lines. Do not cut the halves in half. Instead, fold them on the dotted lines.
I recommend laminating your bookmarks to make them durable.
Next, hole-punch them but make sure that you mark the holes so that your bookmark will stick above the pages.
Finally, cut a slit in each hole so that you can slip the bookmark in place without having to open the binder rings.
Next, you will want to cut the top left corners of your bookmarks so that they will get around the binder ring tabs better.
For Regular-Sized Binders
To put your bookmarks together, follow the above directions but omit the first step.
Oh, and before I forget, I like to use color-coding labels on my bookmarks to mark special days like birthdays, anniversaries, vacations, and holidays.
Best Practices for Using Your Daily To-Do Page
For the most part, the daily to-do page is self-explanatory but I thought I'd share some of the ways I use it.
I use the top blank lines mainly for appointments, errands, calls to make, and tasks.
Next, I list my top 3 goals in order of importance. Then, at the end of the day, I color-code each one as completed (green), partially completed (orange), and incomplete (in blue).
When I fill in the next day's goals, I will carry over any orange or blue goals so, hopefully, I will complete them.
And finally, in the bill section, I like to enter the amount of the bill followed by the confirmation number (or check number) for my records once it is paid.
And with that, these are our 2020 printables for mini and regular-sized daily planners.
Final Thoughts on Our 2020 Daily Planner Pages
So, remember:
make sure you have all the supplies you need before printing
have fun coloring in your cover, calendar, and bookmarks
then follow the directions for putting together your planner (especially if you choose to use the mini binder version)
get filling your planner and enjoy!
How to Get Your Free 2020 Printables for Daily Planners
If you are ready to get your freebie, click the pink button below.
I hope you like these pages. If you have any questions or comments, be sure to enter them below. And feel free to send me pics of your covers at [email protected]
More Planners for You
Below are more planners that may interest you:
Save This
Want to save this for later? Just pin the pic below to your favorite Pinterest board.
Free 2020 Printables for Mini Binders and Regular-Sized Planners