How to Make Your Own Home Management Planner
Need a way to manage just about everything in your home? Is your head full of to-do lists that never seem to get done until the very last minute? Then what you need is a home management binder.
It's a great way to remind you of the things that need to get done and it can also relieve you of your duty as the "go-to person" in your home.
Disclosure: Some of the links below are affiliate links that I have provided for your convenience. Click here to read my full disclosure policy.
For the past 15 years, I have used a home management planner. I started my binder because I just couldn't manage the numerous lists I had in my head on a daily basis.
Now, don't confuse this with a family command center. While they are also great for helping to manage your family's time, your binder will contain information that covers a longer length of time.
So, with that, let's create a system especially made for you and your family. I've also provided free printables to help you get started. All you need to do is scroll to the bottom of this post and fill out the form.
Before You Create Your Home Management Binder
Brain Dump Your Mental Lists
The first thing you will want to do is to make a list of all the lists that are probably running around in your head currently.
As I write this, the holidays are approaching and so greeting cards and holiday meal planning are swirling around my head. So whatever is on your mind right now as far as things to do, get them on paper.
Below are some examples of what you may include on this list:
chores
appliance checks (repairs, filter replacement, cleaning)
upcoming celebrations: holidays, birthdays, anniversaries
upcoming bills
shopping errands: groceries, clothing, home
projects to complete: school, home renovations
calls to make/emails to send
If you do have a command center, you may not need to add some of these to your home management planner. Just mark the ones you feel are better suited in a binder.
Other Suggestions for Your Binder
Next, you will want to make a list of items that could be better served if they are centralized in one location. Some of these include:
insurance policies
addresses and emails
passwords
menus
monthly budget
wishlists
credit card information
medical histories
emergency contacts
manuals
business cards
pet information
inventory lists
Extras You Can Also Add
holiday planner
travel planner
clothing size tracker
directions on how to do something like the laundry
debt tracker
greeting card trackers
warranties/contracts
Putting Your Binder Together
Naturally, you will need a binder of some sort. But there are other supplies to help keep everything organized. The lists below contain items you will need, items that will make organizing your binder much easier, and items that are considered optional but are nice to have around.
Supplies You Will Need
If possible, try to find a calendar that will fit nicely into your binder. You can hole-punch it so that it doesn't fall out. Reinforcement labels will help keep your inserts from tearing after much use.
Supplies That Will Make It Easier to Put Together and Use
If possible, laminate pages you think you will use most often such as a weekly menu planner, daily planner page, or chore chart. Then use dry-erase markers to fill in any information. This will save you on both ink and paper.
If you don't have a laminator, try self-sealing pouches. You can also take your printables to an office supplies store where they can do this for you.
Another option would be to place your sheets in page protectors. This is my preferred choice for most of my home management pages since you can also use dry-erase markers on them.
Page protectors are also useful for keeping manuals and insurance policies. Use Post-it flags or notes or highlight anything that needs attention.
You can use pencils to fill in your information but I love Pilot's erasable pens, Frixion. They are nothing like the erasable pens I used to use decades ago. These actually do an awesome job of removing ink. And they come in a variety of colors.
Optional Supplies
Again these supplies are optional but are great for creating a full-service planner. A desktop hole punch is a much stronger option if you plan on adding manuals to your planner.
Color-coding labels can be used for tagging items and/or prioritizing tasks. Use Washi tape and stickers to decorate your pages.
Baseball card sleeves are the best for holding appointment cards, business cards, emergency cash, spare keys, coupons, and copies of credit cards and IDs.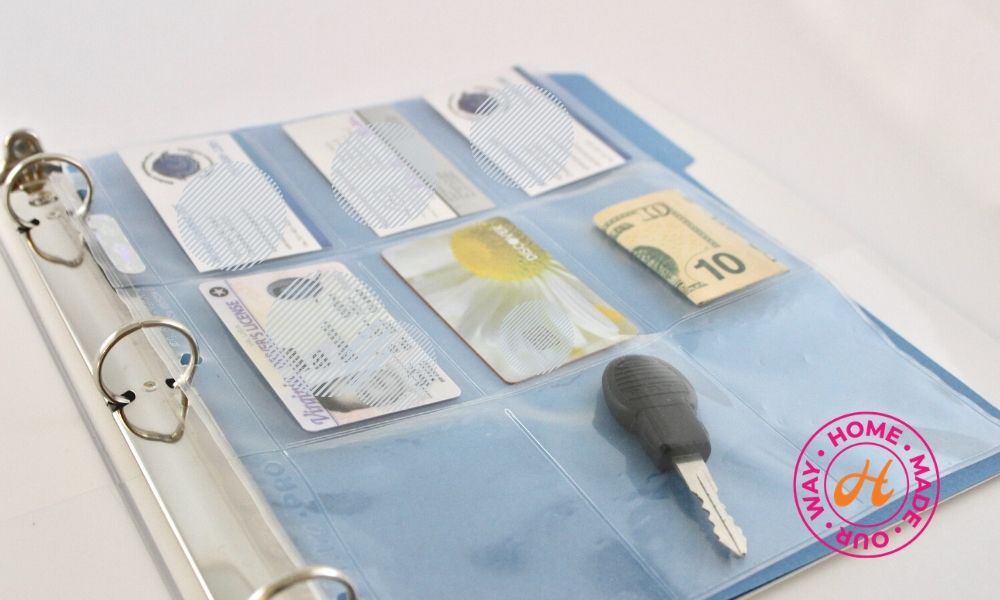 Creating Categories
Now, with all your supplies on hand, use your lists from earlier and create categories for your binder.
For example, you can create a 'meal planning' category that can house your weekly menu, food inventory list, grocery shopping list, favorite recipes, coupons, etc.
Here are some categories I suggest:
Household Information
Calendars and Schedules
Meal Planning
Home Maintenance
Auto Maintenance
Finances
School Information
Holidays
Insurance Forms
Contacts
Pets
Medical/Dental
Next, put your categories into your binder in the order that will best serve you. For example, you can keep less used items like manuals in the back and passwords towards the front.
As you get used to using this binder, it will evolve. Make necessary changes over time that will make its use easier.
Creating Trackers
If you prefer creating your own organization sheets and trackers, try using Google Docs (free) or Microsoft Word.
Just insert a table with the number of rows and columns you need. Then make a header row (center and bold). Finally, just print it out and insert it into your binder.
For documents such as insurance policies, medical records, or bank statements, simply hole-punch them as-is into your binder. Don't make more work by transferring information onto a tracker sheet by hand.
Our Printables and How to Use Them
If you don't want to create your own trackers, you can use our free printables to get you started. You will find these printables in our resource library. The pages included in our free version are:
cover page
table of contents
important dates – 2 pages
family goals
monthly budget
chore schedule
menu planner
contacts
passwords
Below are pics I have provided with how best to use them. Note: The HomeMadeOurWay logo will not show up on your pages. Also, the pics below show only partial pages.
If you are looking for something more in-depth, check out our Ultimate Home Management Planner below. Here is a list of what you will get for just $7.00
• Front and back covers
• 8 binder spines to choose from
• Belong to …family page
• 7 category divider pages
• Emergency sheet [tip: keep in the front part of binder]
• Table of contents [rearrange pages to your liking]
• Home inventory [track serial numbers, jewelry, etc.]
• Upcoming events
• Internet logins and passwords
• Contact information
• Utilities' Information
• Insurance information
• Banking information
• Credit card information
• Important document tracker
• Family members' current clothing sizes
• Babysitter notes
• Pet information
• Family goals tracker
• Year-at-a-glance template
• Monthly calendar template
• Week-at-a-glance template
• Daily to-do template
• Important events (2 pages)
• Daily chores/cleaning schedule
• Weekly chores
• Monthly chores
• Seasonal chores
• Kids' chore chart
• Chore suggestions
• Home maintenance tasks/checklist (2 pages)
• Home services contact list
• Warranties & insurance information
• Home project planner
• Vehicle maintenance checklist/contacts list
• Vehicle service log
• Monthly budget worksheet
• Monthly bill tracker
• Debt tracker
• Savings tracker
• Master grocery list
• Refrigerator inventory sheet
• Freezer inventory sheet
• Pantry inventory sheet
• Grocery shopping list
• Family favorite meals
• Family favorite take-outs
• Weekly meal planner
• Whole-page family recipe template
• Half-page family recipe template
• Party meal planner
• Party budget
• Party invitations tracker
• Important school dates (2 pages)
• School information (elementary)
• School information (middle school – 2 pages)
• School information (high school – 2 pages)
• Medical information (2 pages)
• Treatment tracker
• Medication tracker
• Referral tracker
• Upcoming appointments
• Weekly health & fitness tracker
• Notes page
Here are some pics of these pages.
Our emergency sheet is kept at the front of our binder. I suggest adding printable infographics for the Heimlich maneuver and CPR procedures. Here is a site that provides a one-page –> emergency procedure printable. (Just click on the photo of the printable). And don't forget to create and add a fire escape plan as well.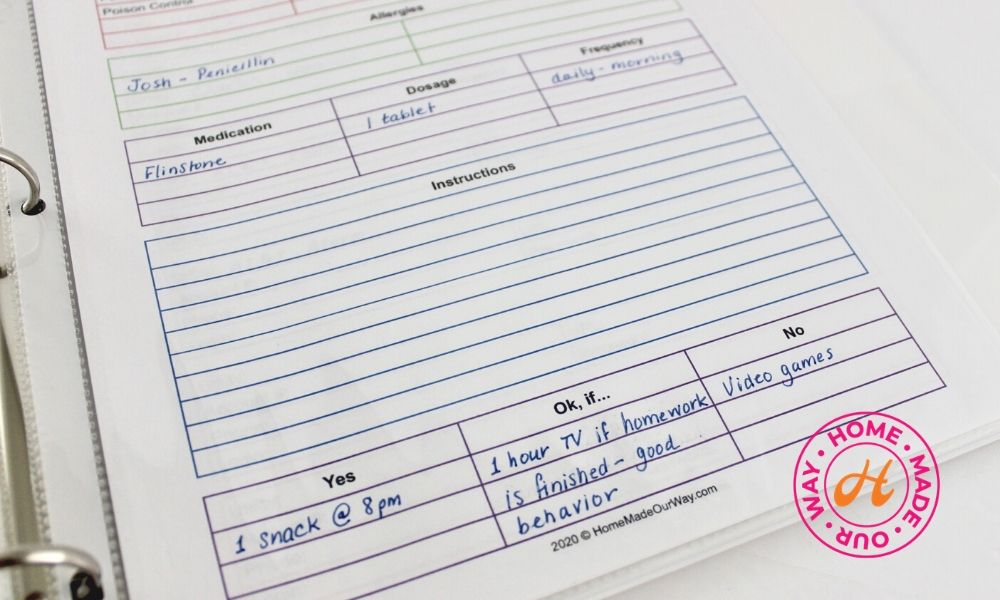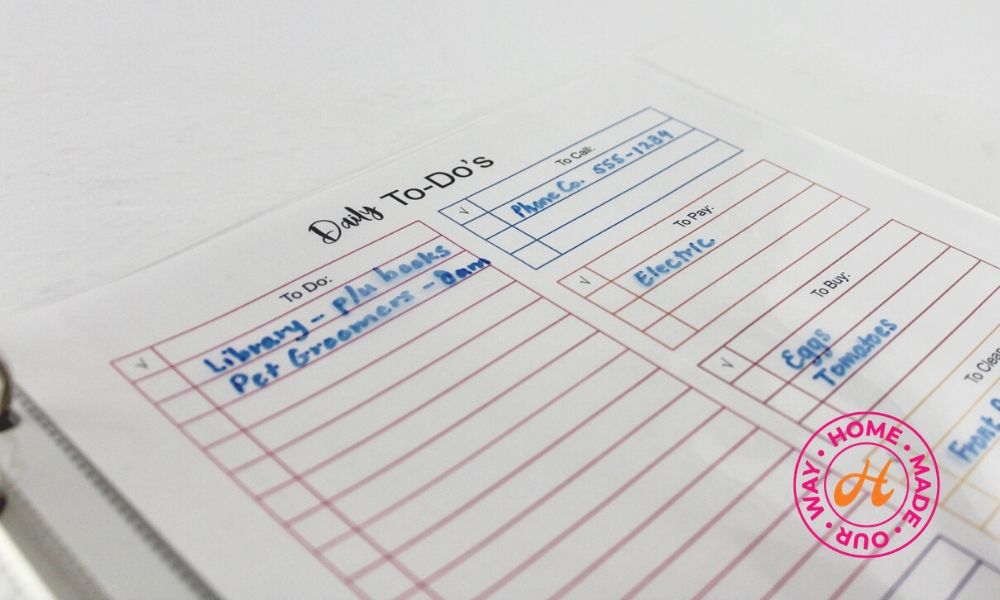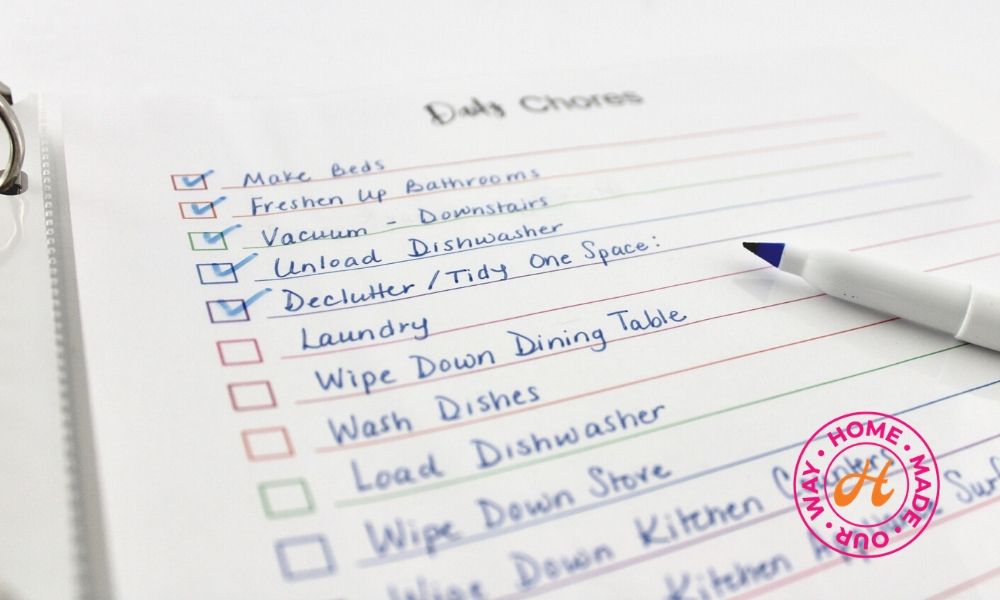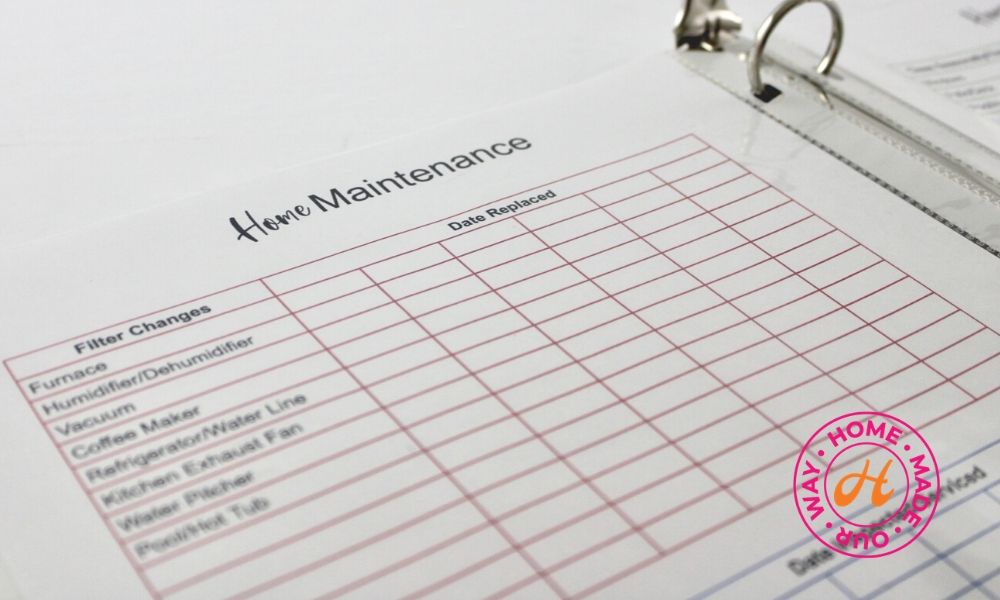 Best Practices for Some of the Pages
This planner is a digital download. This means that you will receive a link to the 78+ page pdf by email immediately after the purchase.
Before printing your planner, please go through the file and print only those pages that are relevant to your family and situation.
For the internet login/password pages and the contacts pages, use the yellow circle (top right) to alphabetize your information. If you have a lot of sites you visit, you will need to make several copies of these pages. I also suggest printing on both sides of the page.
Fill in your home inventory page with those items you would need to replace in the event they are stolen or destroyed. It will make it easier for the police when trying to track your items down. Your insurance company will also appreciate it as they process your claims.
I believe all the other pages are self-explanatory, however, if you have a question about any of our pages, please feel free to comment below or email me at [email protected].
These printables were fun to make and I'm thinking about adding more in the future. So stay tuned for any updates. If you purchase the premium planner, future updates will be free. I will email you the link when that happens.
Final Thoughts and Tips for Using Your Home Management Binder
Recap
So, remember these steps for creating your home management binder:
brain dump your mental lists
gather documents you want to include
sort and create categories
make your own trackers or use ours
Tips
If you plan to centralize most of your home and family needs, it is best to go over it with the entire family. Show them how to use it and explain each category.
If anything, it will keep them from bothering you all the time for things like passwords. Get them used to you saying, "It's in the binder".
Also, keep the binder in the same location. You don't want to frantically search for it if an emergency occurs.
If you want to leave your babysitter with emergency contact information and instructions, simply pull these sheets out of your binder and put them where they will be able to easily get to them.
This way they don't have too much access to your personal information. Also, don't forget to go over these sheets with the babysitter.
Fill Out the Form Below for Our Free Printables
Other Household Organizing Tools
Also, don't forget to sign up for our weekly organizing challenges. Enter your name and email address below and you'll receive a new challenge every week.
Put Together a Home Management Binder That Works