Plan and Organize Your Thanksgiving Holiday This Year
Disclosure: Some of the links below are affiliate links that I have provided for your convenience. Click here to read my full disclosure policy.
If you are planning to have friends and family over for a Thanksgiving feast, chances are you want everything to go as smoothly as possible. From cleaning to packing leftovers for departing guests, hosting a dinner can be very stressful.
To help with your holiday get-together, I've created a free and premium Thanksgiving planner (PDF) you can use along with some pointers on how to manage your time. Keep scrolling to learn more about them and see which one will fit your needs.
Before Planning a Thanksgiving Party
Important Things to Consider
Before you decide to hold Thanksgiving in your home, here are some things to consider:
Do you have the time to put a dinner together?
Can you afford it?
Is there enough space for the number of people you are inviting?
Can you actually cook?
Scheduling Your Time
So, first things first. Depending on what you are planning for this day, make sure you have the time to do so. Cooking the dinner is going to take a chunk of your time that day, but you also have to set aside time for:
cleaning your home
shopping for ingredients AND for the home (kitchenware, dinnerware, decor, etc.)
making appointments: caterers, carpet cleaners, landscapers, kennel
following up on unanswered invitations
Thanksgiving Time Savers
If you don't have the time to make your night a stressless success, then skip it. You will always have next year.
If your guests consist of close friends and family, I suggest asking for help. Trust me, they are probably happy to get out of doing their own dinner this year.
Another kitchen time-saver: ask guests to bring a dish. Or consider hiring caterers. You can even order some appetizers and sides from your local grocery chain.
No time for shopping? Lots of grocery chains have pick-up service and some even deliver. Check your local grocery chain for this type of service.
Try Amazon
And, of course, don't forget Amazon. If you are a Prime member, you can get 2-day "free" delivery on almost everything. Not a member? Amazon Fresh can have fresh groceries delivered as well.
No time to clean? Hire a cleaning service. You can find one on Amazon as well. Try Amazon's Home Service. They make sure to do background checks on all service providers.
They are also required to be licensed and insured. It's where I found my handyman. The best part is that everything goes through Amazon including payment for services.
Budgeting your Thanksgiving Party
If you plan on throwing a grand dinner, make sure you can afford it. Remember that there are more holidays to follow in the coming month and those usually involve spending money on gifts.
My advice is to create a budget based on how many people are coming to your party. Don't forget to include children, spouses, and significant others when calculating the headcount.
If the number of people coming is too much for your pocket, then limit your invitations to family and a few close friends.
Check out the budget page in our Thanksgiving planner to help you put together an affordable dinner for all invited.
Making Room
Make sure that your home and kitchen can accommodate all your guests as well as all the dishes that need to be prepared. A hundred guests and one bathroom will not do.
You also want to make sure your kitchen can handle all the dishes on your menu so that your guests are not waiting two hours between courses.
Don't have enough seating? Ask friends or neighbors for extra chairs they may be willing to lend you. If you are good friends with your next-door neighbor, extend an invitation in exchange for using their kitchen.
If you live in a nice climate, take your dinner outside. Two years ago, my brother hosted Thanksgiving at his home in Florida. He had lots of guests who enjoyed the day both inside and outside the home. I know I did.
Just make sure to have seating for outside as well and have a backup plan if the weather doesn't hold.
Leave the Meal Planning to the Pros
If you have never cooked dinner, or you know that your meals aren't usually up to par, do not host a holiday like Thanksgiving. Although this holiday's focus is on getting together with friends and family, good food is also expected.
But if you have your heart on hosting it, please hire caterers or someone you know who is great at cooking. Some people fast all day just to make up for all the eating later.
Avoid Stress and Plan, Plan, Plan
I suggest giving yourself a month or two to plan your holiday dinner. If you're aiming for a big event, then you may need a little more time.
You may also need to enlist help from friends and family. Ask if they'd like to co-host your event. That way, it's not all on you.
Below are a timeline and suggested tasks you can add to your Thanksgiving planning.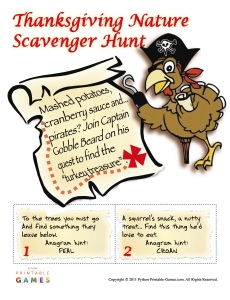 2 Months Out
Make appointments for services such as catering and carpet cleaning
Start creating your invitation list and calculate your budget
1 Month Out
Make appointments for services such as landscaping and kenneling
Send out invitations
Fill in your cleaning schedule
Inspect the home and fix any necessary repairs and babyproof it if expecting toddlers and small kids
3 Weeks Out
Fill out your meal plan – don't forget to ask invitees about any food allergies and restrictions including alcoholic beverages
Add ingredients to your grocery shopping list
Put together recipes
Fill out the cooking schedule – determine what can be made ahead of time
2 Weeks Out
Do any home shopping: furniture, decor, silver-, glass-, and dinnerware
Have entertainment ready for kids as well as adults – Check out these fun printable games.
Get a final headcount by following up on unanswered invitations
Begin chores listed on your cleaning schedule – see suggestions for cleaning schedule below
1 Week Out
Begin moving furniture and decluttering messes to make room around the home
Continue following your cleaning schedule – see below for suggestions
Buy all necessary ingredients and drinks
Day Before
Begin prepping for recipes
Prepare any foods that can be made ahead of time
Thanksgiving Day
Start cooking – follow the cooking schedule
Do any last-minute cleaning
Once everything is running smoothly, shower, dress, and get ready for your guests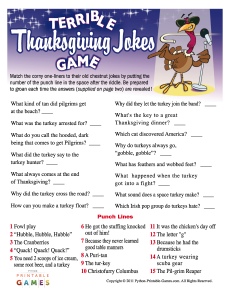 Suggested Cleaning Schedule
Day 14 – Dust ceiling, ceiling fans, vents, and light fixtures
Day 13 – Clean windows
Day 12 – Clean baseboards
Day 11 – Clean up the yard and front entryway
Day 10 – Wash curtains: windows and shower curtains
Day 9 – Clean and organize rooms
Day 8 – Clean kitchen cabinets and drawers
Day 7 – Clean the oven
Day 6 – Dust everything
Day 5 – Add decor to home
Day 4 – Clean refrigerator
Day 3 – Clean bathrooms, doorknobs, banisters, and light switch covers
Day 2 – Scour kitchen sink after cooking; sweep/vacuum/mop floors; empty coat closet
Day 1 – Do some quick touch-ups in the bathrooms
Out-of-Town and Overnight Guests
Make sure to provide out-of-town guests with hotel accommodations.
If you are planning to have overnight guests in your home, make sure you have enough pillows, blankets, etc. Click here if you need help with accommodating your overnight guests.
Parking
Don't forget about parking. If you are having a large party, let your neighbors know. They just may offer your guests space in their driveway.
Suggest those who live close by to carpool or better yet, hire an Uber especially if your party will be serving alcoholic drinks.
And Lastly, Your Thanksgiving Planner
If you are throwing a small dinner affair, then the free version is best. It comes with:
budget sheet
meal planner
cooking schedule
grocery shopping list
daily to-do page
However, if you are throwing a feast for family and/or friends, then the premium planner bundle may serve you better. The bundle includes a 36-page planner [printable and interactive], an invitation template, 4 games for the kids, and 6 different sizes of welcome yard signs. Click here to check it out. And did I mention that the planner is only $5.00?
cover
belong to page
5 different-colored binder spines
table of contents
notes page
5 section dividers
Two-page spread October Calendar
Two-page spread November Calendar
Weekly to-do page

Daily/hourly to-do page

cleaning schedule
budget worksheet
service contacts page
decor inventory
grocery shopping list
online/in-store shopping list
Thanksgiving Day menu planner
cooking schedule
family favorite recipe keepsake template
recipe card templates
leftovers meal planner
invitations tracker
2 seating charts
table place cards
guest book keepsake page
Grace & Thanksgiving page: used for a special prayer to be read before dinner and a place for guests to add what they are thankful for
activity planner for games, music, or movies
photo keepsake template page
3 kids' activities pages with puzzle key
4 kids' games for various levels and a puzzle key.
You will also receive printable welcome yard signs in six sizes:
• 8″ x 10″
• 11″ x 14″
• 16″ x 20″
• 18″ x 24″
• 20″ x 30″
• 24″ x 36″
Click here to visit my shop if the premium Thanksgiving Planner is better suited for your needs.
To get the free version, simply click the button below. You will receive an email with instructions on how to access our resource library and this planner.
Final Thoughts on Thanksgiving Planning
Just to recap, remember:
make sure you are able to host a big dinner
make a plan at least two months before your party
get our Thanksgiving planner here
and finally, enjoy spending time with friends and family knowing that you planned well and things might just happen – no biggie.
Other Articles to Help You Out With This Holiday
Free Planning Guide for Your Thanksgiving Dinner Party