I know that for many of us, that $3 bin of DVD movies at Walmart or Best Buy is very tempting.
And after bringing them home, you are left with DVDs that were well, meh!
So, if you have various multimedia such as DVDs, CDs, video game cartridges, LPs, and yes, cassettes, it's time to say goodbye to some and find a way to store the rest.
Disclosure: Some of the links below are affiliate links that I have provided for your convenience. Click here to read my full disclosure policy.
Decluttering your Multimedia Collection
Gather all your Entertainment
The first thing you want to do is to gather all your multimedia entertainment in one location.
This includes everything kept in your entertainment center, kids' rooms, game or media room, and in storage.
Don't forget to check the car as well.
As you gather everything in one location, preferably a table, be careful not to pile things up on items like LPs or cracked jewel cases.
Also, try to keep DVDs in one section, CDs in another, etc.
Time to Declutter
Pick a section and begin getting rid of anything that you don't care to keep anymore.
Ask yourself, would you really watch, hear, or play this anymore?
If the answer is no then it has to go.
Here are some things you can do other than trash them.
donate: if your item is in good condition consider donating it to your local library, shelters, and lastly thrift shops
sell: have a garage sale, sell on eBay or Amazon, or sell to stores with buyback policies like Game Stop
repurpose: DVDs and CDs are great for creating some cool upcycled pieces and unique home decor (check out Pinterest for some inspiration)
If you have cassette tapes, I suggest letting them go unless they are in pristine condition and you consider them priceless.
Many cassette tapes will not sound good after being played a lot.
They tend to warp over time and use.
If you absolutely want to keep them, give them a test drive.
If they sound warped, seriously, trash them.
Consider purchasing the songs you want from Itunes.
You can get most songs from 69 cents to $1.29.
Minimizing your Multimedia Collection
Now, let's talk about your keep pile.
It seems like every few years, a brand new kind of multimedia format or console comes out and all the ones you currently own will be phased out.
I don't know about you but it really annoys me to the point that I refuse to buy any of it anymore.
But alas, what do we do with what we have?
Below are some options for the type of media you may own.
CDs
For CDs that have one or two songs that you like, consider purchasing them from Itunes or Amazon and get rid of the CD.
Have too many songs you love and don't want to buy them again when you stream them?
I get it.
Set yourself a small monthly entertainment budget of $5.00.
Starting with the CDs that only have one song you like, consider purchasing them from Itunes or Amazon.
Then begin adding CDs that have two songs you love, then three, etc.
Before long, your CD collection will get smaller and that $5.00 a month won't hurt your pocket so much.
Want a free option?
Try Pandora.
They allow you to create 100 stations and you can listen on most streaming devices.
Just type in the name of your favorite artist and they will play not only songs from this artist but others like them.
Just make sure to give your favorite songs a thumbs up (or down on ones you don't like) so that Pandora can tailor or thumbprint your station.
DVDs
Most DVDs now have a code so that you can download them to a particular movie streaming service.
So make sure to open the DVD after purchasing your movie.
Many of these codes have an expiration date and if you are already buying a discounted movie, chances are you won't have very long to download them.
Once you download your DVD, you can then donate or gift the DVD.
Now for older DVDs, there really isn't a free disc-to-digital program.
However, I did find a cheap way to not only transfer your DVDs to a digital format but also combine most of them all* into one streaming service, all without paying an extra dime.
Here are the steps to follow:
Sign up for Movies Anywhere by clicking here.
Connect any streaming services you may have like Itunes, Prime Video, Vudu, Google Play, & more.
Search for the movie you would like transferred. If it is available, continue to the next step*.
Get the Vudu app for your smartphone. (If you are new to Vudu, don't forget to connect it to Movies Anywhere before the next step).
Use your smartphone camera, and take a photo of the barcode of your movie.
If Vudu has it available, then pick your format and purchase the transfer. This can cost between $2-$5 depending on the formats available and your preference.
Once it is purchased, it should show up in your Movies Anywhere Dashboard.
*If the movie is not available in Vudu, you can wait until it is by checking back again in a couple of months.
Also, be aware that certain movie companies do not participate with Movies Anywhere or other streaming services so their movies will not be available on these platforms.
Check out this site for the best movie streaming sites.
Video Game Cartridges/Discs
Depending on your console, you may be able to upload old games for free.
For example, Xbox Live has a version of Pac-Man for free. It's worth a check.
Go to your console's website store and see if any of your older video games are available.
If you have the latest consoles such as Xbox One or PS5, the most you may need is a code when you purchase a game.
They are making it possible to buy your games without having to purchase a hard copy of the game.
How's that for no clutter?
Organizing and Storing Your Multimedia Collection
Kudos to you if you are able to get rid of everything, however, this is not usually the case even for this organizer (sorry, but I will never part from my Love Actually DVD).
So let's talk about some organizing and storage solutions for what you have decided to keep.
Organizing
Below I have listed several ways to organize your multimedia:
alphabetical–great when you have a huge collection
by genre–this can work for both movies, music, and video games especially if you have other people in the household that don't have the same tastes
by artist/actor–this is for the diehard movie buff or music guru
chronologically–sort by year or era
Storage
As for storing your multimedia, ask yourself how often you are going to play them and where.
Accessibility and location are key here.
For example, if you like popping in a movie every once in a while, you should keep your DVDs close to where you will be viewing it like on a bookshelf in the den.
If you prefer listening to music while you work, consider storing your CDs in your office.

Personally, I have a collection of Christmas movies that I watch during the month of December only.
So I keep these stored away in a closet until that time of year comes around.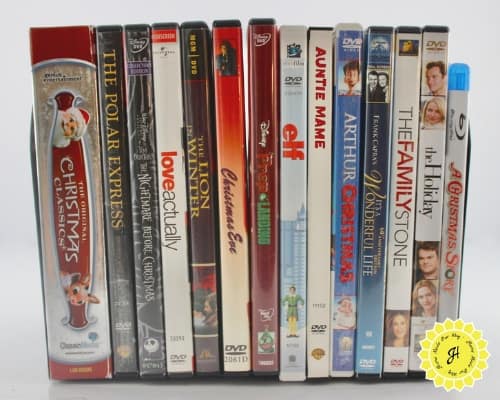 Once you know where you want to locate your items, it's time to find something to either display them or store them.
Again, you can add shelving for most of your multimedia but there are alternatives if you don't want to do this.
Discs and LPs
There are many organizers out there for all kinds of discs.
You can purchase a tower dedicated to holding these items.
If jewel cases are taking up too much room, consider purchasing a zippered case that can hold tons of discs and it's portable.
If you have an LP collection, make sure to store them upright.
Crates are great for making sure your collection does not get warped.
Tips for Your Multimedia Collection
Go Digital
In the future, try to purchase digital copies of movies, DVDs, CDs, and video games.
This will keep your home clutter-free and you don't have to worry about taking care of the item.
Plus, when another multimedia format is pushed on us, we don't have to worry about having the latest player or console.
Yearly Maintenance
Also, consider giving your collection a yearly purge.
The best time I find is after Thanksgiving but before Christmas.
This way, you can either re-gift the item or donate it to a thrift shop where people sometimes shop for gifts.
Let's Get Started
If you are ready, let's get started on organizing your entertainment media.
Also, don't forget to sign up for our weekly organizing challenges. Enter your name and email address below and you'll receive a new challenge every week.