When it comes to fitness, being organized can help keep you on track.
In fact, there are three major areas you should focus on to create a clutter-free atmosphere and a plan that works for you and your time.
And yes, I have also provided free printables you can use to organize your fitness.
(Just fill out the form at the end of this post.)
Disclosure: Some of the links below are affiliate links that I have provided for your convenience. Click here to read my full disclosure policy.
As you get your fitness put together you are going to want to focus on three areas: your in-home gym equipment, your gym bag, and your actual fitness plan. So let's get started.
In-Home Fitness Equipment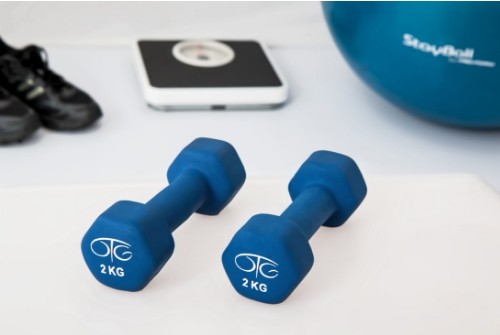 This part is mostly for those who prefer to work out at home, however, even when I was a member of a gym, I still had some workout equipment at home like hand weights and exercise bands.
So, if you happen to have equipment around, let's go ahead and organize them.
Location
The first thing you should do, if you haven't yet, is to choose a location in your home where you prefer to do your workouts.
This could be your bedroom, living room, or even a basement.
Click here if you would like to organize your basement and create a workout room.
Next, you will want to relocate all of your gym equipment to this particular location.
And don't worry about having equipment in your living room.
There are ways to store these items easily and out of the way (except maybe a treadmill).
Having your equipment in one location makes it easier to get to when working out.
Imagine having to schlep out your gear every time you work out.
That alone can give one the excuse to not work out.
With your kettlebells and a pylo box nearby, excuses won't work AND it will definitely save you setting-up time.
Inspect & Clean
Now is a good time to inspect your equipment.
Make sure they don't have any significant wear and tear that could potentially injure you mid-workout.
You don't want to find your leg inside your plyo box midway through a hop.
Get rid of anything you think you won't use and certainly anything that could cause injury.
While you have your gear out, go ahead and give it a good clean.
For large equipment like a treadmill or those all-in-one workout stations, follow the manufacturer's directions for proper cleaning and maintenance.
Also, note how often you should be cleaning these things and schedule accordingly.
Organize and Store your Fitness Equipment
The Living Room
Once your equipment is clean, let's find a way to store them properly.
If you work out in your living room and really don't want it to look like a gym, I get it.
Naturally, you'll want to keep your bulky equipment elsewhere like in your garage or basement.
But for your smaller items like hand weights, exercise bands, and even medicine balls, consider the following:
a crate that can be stored and hidden behind the sofa area
in a decorative trunk or ottoman
basket for rolled-up yoga mats
yoga mats can also be rolled up and kept under a sofa
In-Home Gym
If you have a dedicated area for your in-home gym, here are some ways to store your items:
consider a rack for hand weights and kettlebells
if you don't have a rack, you can store weights on a shelf but make sure that that shelf is at chest level or lower–you don't want the potential of these items falling on your head
install hooks for jump ropes and exercise bands
you can also keep medicine balls on a shelf but again, make sure it is a low shelf
mats, when rolled up and secured, can pretty much stand on their own; a corner will work for those
Whatever you do, DO NOT keep your equipment on the floor.
One trip over a dumbbell, a tangled knot of bands, and even an unrolled mat can put you out for weeks.
As for gym clothes, it is up to you where you'd prefer to store them.
If you want to keep these in your gym area, simply fold them and find a bin to store them.
Other items you may want to keep in your gym include towels and workout gloves.
It may be a good idea to keep a hamper or laundry basket in this area.
The Gym Bag
If you prefer working out at a gym, having everything you need in one bag will prevent you from having to return home to retrieve it.
Again, one less excuse to use when you don't feel like working out.
Below is a list of items you may want to keep in your gym bag.
For Your Workout
workout top
workout bottoms
socks
sneakers
hair ties
towels
gloves
fitness tracker
heart monitor
headphones/mp3player
energy bar
brace
After Your Workout
change of clothes: underwear, bra, socks, shoes
shampoo/conditioner
shower gel
deodorant
makeup
brush
lotion
feminine products
Ziploc bags for any bottle that can make a mess if accidentally opened
plastic bag for sweaty clothes and wet towels
If you work outside the home, the best place to keep your gym bag is in your trunk.
Try packing it the night before and then tossing it in the trunk.
That way you don't inadvertently forget to take it with you the next morning.
Whatever you do, don't leave your home without it.
Keep it with you at all times.
This way, if you are ever running late, you can still get in some gym time by not having to go home to get it.
Gym Bag Checklist
I've also made a gym bag checklist that you can print out so you don't forget anything.
One list has everything you need for your workout and the other has everything you need once your workout is over.
I left a few blank lines for extra things you may need that I didn't include.
To put it together:
add anything I missed to the lines provided
cut the lists out on the dotted lines
place them back to back and laminate
hole punch the top in the provided circle
slip a binder ring or keychain clip into the hole
attach to your gym bag
use a dry-erase marker (ultra-fine point) to check out your items as you pack
Your Fitness Plan
I can personally tell you that tracking my fitness has greatly helped me when it comes to not only losing weight but also maintaining it.
And these days, there are so many ways to do this.
You just need to find the one that works for you and your time.
Below are ways you can do this.
Keeping a Fitness Journal
For some, writing in a journal helps keep one deeply and almost spiritually connected to their goals.
If you prefer this way, and you have the time to do so, go for it.
Using a Fitness Planner
These days, there are lots of fitness planners with prompts for daily entries that include current weight, foods eaten, and the amount of water intake.
In fact, I've created a set of free printables you can use to keep track of your fitness journey.
Just fill out the form at the end of this post.
Using a Bullet Journal
Bullet journals are like planners except you get to infuse some creativity into your pages.
You can find tons of fitness page ideas on Pinterest.
Some include recording water intake by coloring in a picture of a bottle or creating a colorful bar graph to track weight loss.
Go Paperless
When I began my weight loss journey eight years ago, I used the app, MyFitnessPal, and it is still what I use today.
This app, in its free version, tracks my food (calorie counter/calculations included), weight loss, exercises (with approximate calories burned), water intake, and progress toward my goals.
And if you use an electronic tracker like Fitbit you can connect it to MyFitnessPal and it will be included in your dashboard.
Two more things I love about MyFitnessPal: you can use the scanner to enter foods with a UPC code and when you hit the complete diary at the end of your day, it will predict your weight in five weeks based on what you entered that day.
Talk about a motivator!
Now if you are ready…
Get Your Fitness Organized
Fill out the form below to access our free fitness planner pages:
Need a daily planner to help with scheduling your fitness routine? Click here to get my perpetual daily planner pages.
Know someone who could use this post?
Use the share buttons above and below this post to help them out with their fitness needs.
Want to create a home gym in your basement? Click here to get your basement organized so you can carve a little space for your workouts.
Let me know how your fitness is going by commenting below.
Also, don't forget to sign up for our weekly organizing challenges.
Enter your name and email address below and you'll receive a new challenge every week.
Save This
Want to save this for later? Click the pic below to pin it to your favorite Pinterest board.