Depending on how many print photos you have, organizing them can be overwhelming. It can also become emotionally difficult to deal with especially if you are still dealing with grief after losing a loved one.
If you find yourself in the latter, then this is not the right time to do this. Hold off on organizing your photos until you feel you are ready. This is not to say you won't shed some tears but hopefully, the pain will not be as fresh.
Disclosure: Some of the links below are affiliate links that I have provided for your convenience. Click here to read my full disclosure policy.
What Not to Do with Print Photos
Sixteen years ago, I decided to organize my print photos. These included not only my own photos from decades before but also my husband's photos. Luckily, he had fewer photos than I did and his mom had dated every photo.
I sorted them out chronologically which wasn't easy as I had to guess when many of my photos were taken. When it was all done, I had created such an easy way to find my photos but I made one mistake. I put these in photo albums.
Why was this bad? Well, over time I would receive older print photos here and there from family and I had no way of inserting them into the right place (or year) in my already-filled albums. But there is a way to avoid my mistake. Read on…
In 2007, my dad passed away. My sister and I inherited all of his photos up until his second marriage. I should mention that my dad was a budding photographer and was forever taking photos. We basically inherited a monsoon of pictures.
Eventually, we got them all organized so I know it is possible to do. It just takes a lot of patience and tough decision-making. So, let's go over how you can organize your print photos.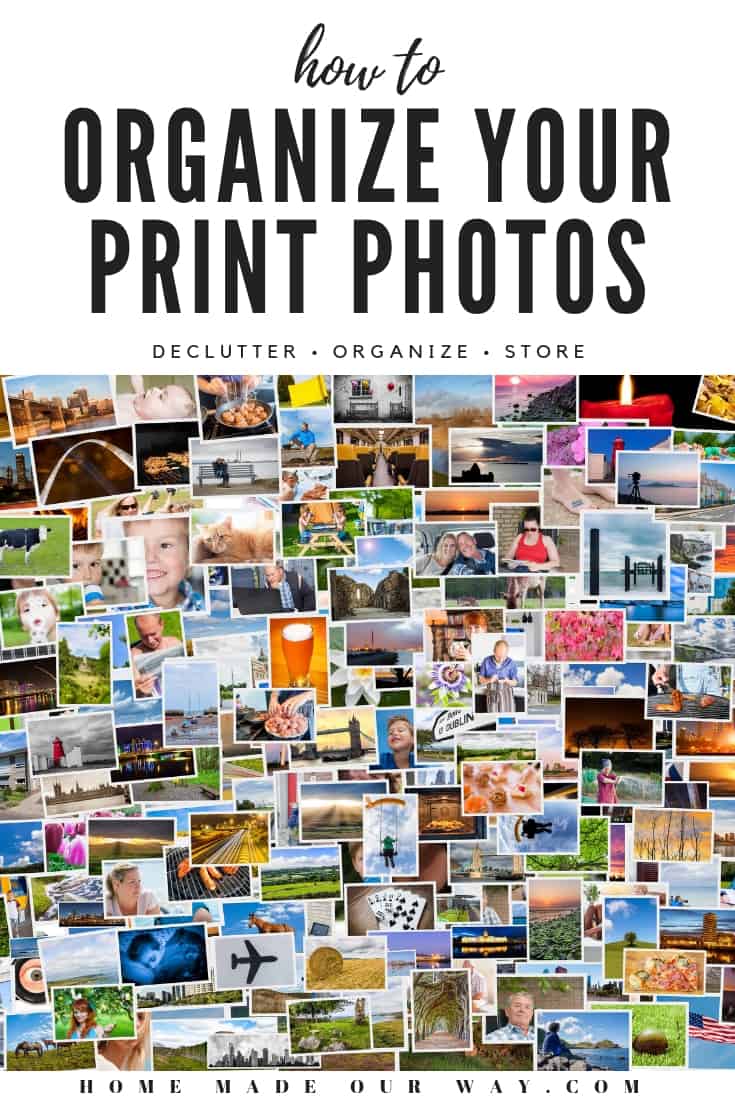 Before You Organize Your Print Photos
As I stated earlier, if you happen to be in the grieving process, I do not suggest you attempt this task. Give yourself time to heal a bit. The photos can come later.
If you are ready, understand that this may take you days and more likely weeks to do. Again, this depends on how many print photos you have. Create a schedule allotting time here and there over the coming days.
Prepare to get tough when it comes to making decisions about your photos. You will be asked to get rid of or part from a few of them.
Find a space in your home to do this. If you have a lot of print photos, you will have to deal with piles scattered about until you're done. Something like a guest room or formal dining room table will work.
Lastly, if you need help, enlist a family member. Not only will you get through this task faster but it may be more fun to do with someone who shares your memories. My sister and I had fun going through our pictures and remembering stories from long ago.
Organizing your Print Photos
Gather Your Print Photos
The first thing you should do is gather all the print photos (and negatives) you want to organize. If you have an album or scrapbook full of photos and you are happy with them being where they are, then don't worry about them.
However, if you have albums that don't use acid-free paper, or if you have very old albums that used glue or were magnetized, you may want to consider organizing them into a photo-safe organizer.
Older albums that have these features can irreversibly damage your photos over time.
Do you have any framed pictures you'd like to retire? Don't forget to check in places you may otherwise overlook such as your purse, car visor, and refrigerator. Do you have undeveloped photos on your camera? on your SD card?
If you do have undeveloped photos or any unidentified loose negatives, go ahead and get these printed out. Finding a place that develops pictures from negatives is getting scarce.
My sister and I took ours to Walmart which had to send them out to a 3rd party vendor. We were able to get these both printed and put on CDs. I suggest doing the same.
If you have damaged pictures and you would like to keep them, I suggest finding a photo restorer in your area. This can get expensive so make sure it is a photo you have to have.
As you gather your print photos begin making mini piles. They don't have to have some sort of organization yet. Your mini piles should be based on the amount of time you have scheduled for the day.
Organization Options for Your Print Photos
At this time, you will need to decide how you want to organize your photos so that you have all the tools, materials, and organizers you need before you start. Below are different ways you can organize your print photos. And no, you don't have to just pick one.
If you decide to organize them chronologically, I suggest purchasing a photo box with dividers. The dividers will help you keep your photos in order by year or event. It will also allow you to add photos you come upon in the following years. (This was that big mistake I mentioned earlier).
You can also put your photos into scrapbooks. This is great if sorting by an event, person/people in the photos, or vacations/travel. If done right, a scrapbook filled with particular photos makes great gifts.
If you do purchase albums, make sure that they are photo-safe. That is, they use acid-free paper.
You can also make a gallery of framed photos on your wall. Set aside photos you want to display.
If your pictures have lots of wear and damage, you may want to have them scanned to a CD as soon as possible. If you do go this route, you should still come up with a way to organize the photos that you will have transferred to each CD. Personally, I suggest having all your photos put on a CD. More on this later.
Have Everything You Need for Your Print Photos
Now that you have an idea of how you want to organize your photos, it's time to purchase everything you need. The list below is just a few of the items you will need. Just be sure that they are all acid-free and photo-safe:
Comment below if I missed anything and I'll add it to this list.
Roll-Up Your Sleeves
Purging your Print Photos
Hopefully, you now have everything you need. Don't be surprised if you end up having to buy additional items like another album or photo box.
Now, going through your first mini pile, remove any blurry or badly taken photos and trash/shred them.
Next, you want to remove duplicates. Duplicates are great for gifting. However, if you don't plan on gifting any duplicates, get rid of them.
We tend to keep duplicates that come with school pictures. If you have the original photo, you don't need to keep the extras. Chuck them. Continue this process for all your mini piles.
Once you have decluttered your mini piles, it's time to put your choice of organization to work.
Organizing Your Print Photos Chronologically
If you plan on putting photos in chronological order, start by dividing by decade. So, make a pile of photos from the '50s, '60s, '70s, etc.
If your photos do not have dates written on them, try to guess the date by:
finding a similar photo that has the same photo format
looking on the back to see if the developer stamped it with the date of development
comparing a person from another dated photo (age, hair, style)
After you have created your 'decade' piles, begin going through them one at a time and further separating them into years.
If you are certain of the date or at least the year of the photo, go ahead and write it on the back with a photo-safe pen. It does not have to be accurate.
When you have completely sorted one decade, go ahead and store them in your organizer of choice before going on to the next decade pile.
Organizing by Person, Event, Vacation
If you prefer to organize your photos this way, again, start with your first mini pile. Create piles that correspond to your category of choice whether they be a wedding, birthday, vacation, or person.
As I sifted through my dad's photos, I first made piles for each of my siblings. In each pile, I placed pictures of the sibling if and only if they were the only subject of the photo.
Later, I placed the pictures of each sibling into their own separate album and sent it to them.
Oddly-Shaped Print Photos
If you come upon oddly-shaped pictures, your best bet for organizing these is to use a scrapbook.
Most albums come with pockets for a specific size photo so you may have a hard time finding one for photos like those long rectangular holiday photos.
If you do find an album that allows you to fit all kinds of sizes, make sure it is not magnetic and that it only uses acid-free paper.
Another option is to purchase album inserts for those particular sizes you need. Personally, I would go with the scrapbook option and use photo-safe self-adhesive corners.
For 8 x 10 photos, you can actually use page protectors and insert these into a binder.
Sharing Photos
How you decide to share your photos will ultimately be up to you. But here are a few things my sister and I did with our photos and we didn't have any regrets about it.
For example, my sister was given the bulk of my dad's Viet Nam and military photos since she was the only one to follow in his footsteps and joined the army as well.
Photos of family members that have passed, went to their children. I can't tell you how many tearful thanks there were when they received pictures of their loved ones (especially those pictures that they had never seen before).
Facebook
For photos where we couldn't identify the people, we turned to Facebook. As picture after picture went up, family members chimed in helping to put names with faces. We couldn't believe the response. This led us to do the next thing.
We decided to share most of the photos on Facebook tagging them as best we could and sending them out little by little. Again, the response was incredible.
Cousins who we knew about but had never met, reached out to us. It was a cyber-reunion. To this day, those photos pop up every now and then on Facebook and we still get comments on them.
If you do decide to do this, make sure your Facebook account is set to private and share only with family.
As my sister and I sifted through my dad's pictures, we also realized that many of the photos were gifted to both my dad and my mom when they were married. So, the bulk of the photos went to my mom.
Groove Book
One service I used was Groove Book. This is a great service if you take lots of pictures on your Smartphone. I only canceled my service because I didn't take many pictures with my phone. However, I loved that you get a 100-photo booklet every month for under $4.
The photos are perforated so that you can remove them easily. So, even if you don't take tons of photos, you can just upload the pictures you want in any amount to give away.
This is what I did for a while. I would send the grandparents booklets full of pictures of the boys.
Best Practices
Have a Back-Up Plan
All it will take is one fire and everything is gone. This is what I tell myself when it comes to my photos. But nowadays, there are so many ways to create a backup of all your photos.
Have your photos scanned to a CD, USB, or an external hard drive. Then secure those things in a fire-proof safe or even a safety deposit box.
Scan and upload your print photos to a cloud service like Google Photos.
If you are not tech-savvy, try Legacy Republic or Fotobridge to help sort, scan, and store your photos on a cloud service for you.
Storing Your Hard Copies
Remember to:
store your photos in a cool dry place
do not store them in a basement or attic
keep them away from sunlight
Let's Get Started
If you are ready, let's get started on organizing your print photos. The sooner the better because it may take weeks to get through everything. But once done, it will be easy to manage incoming photos.
Need to organize your digital photos as well? Click here to get started on your digital keepsakes.
Know someone who could use this post? Use the share buttons above and below this post to help them out with their photo organization.
Have another way you organize print photos? Leave a comment below and let me know.
Also, don't forget to sign up for our weekly organizing challenges. Enter your name and email address below and you'll receive a new challenge every week.
Save This
Want to save this for later? Pin the pic below to save it to your favorite Pinterest board.