How to Teach Homeschool Science Without Textbooks
Having trouble finding a reliable science curriculum for your homeschool? How about one that is not so pricey?
In our first year of homeschooling, I went with a popular and recommended science curriculum. I cannot express how disappointed I was with what I had purchased. It was so bad, I tossed our books in the trash.
So, I went on the hunt again searching for another curriculum. And every time I found a curriculum that I liked, I also found that they were very expensive. I was having no luck finding some sort of curriculum under $300 for my two boys.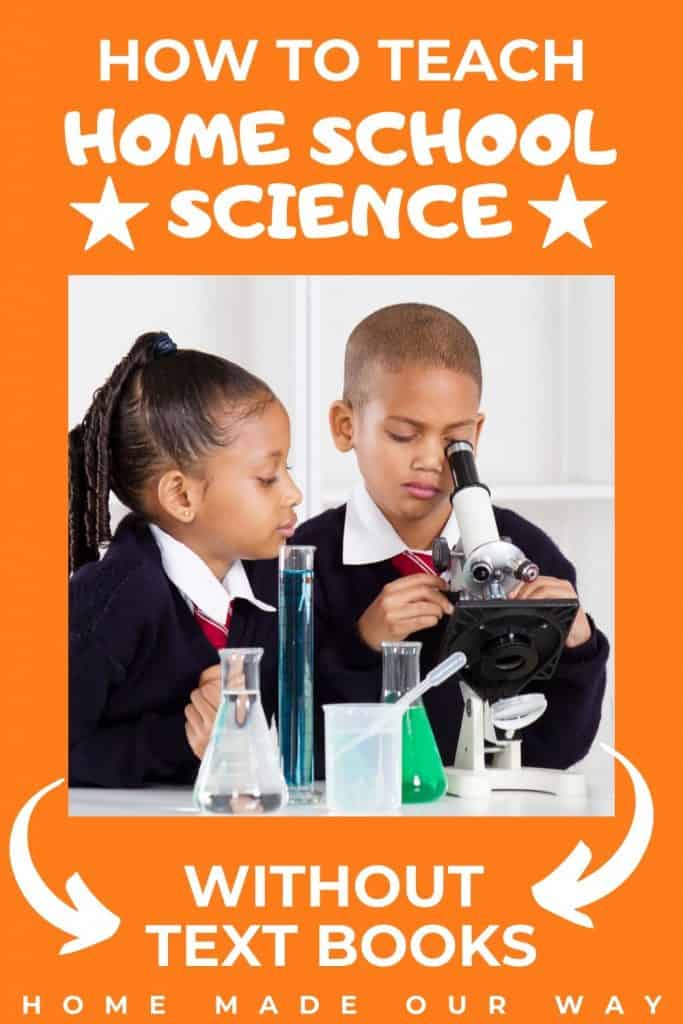 Disclosure: This post contains some affiliate links for your convenience (which means if you make a purchase after clicking a link I will earn a small commission but it won't cost you a penny more)! Click here to read my full disclosure policy.
As I continued searching for a decent curriculum, I kept remembering that one scene in Good Will Hunting when Matt Damon says "…you dropped 150 grand on a (***) education you could've got for $1.50 in late charges at the public library."
And with that, I decided to see if I could put together a complete science curriculum for the boys and still meet my state's requirement (even though we are not required to). So here were my requirements:
Meet our state's standards of learning
Keep costs to a minimum
Require labs for each unit
Coordinate lessons across other subjects when possible
Require some writing assignments
After creating the first few lesson plans, I can confidently say that I did a better job than the curriculum I originally bought.
Below, I go over the steps I took to put our science lesson plans together. I also have links to all the resources I used as well as some purchases I made throughout the year that I felt were a good investment.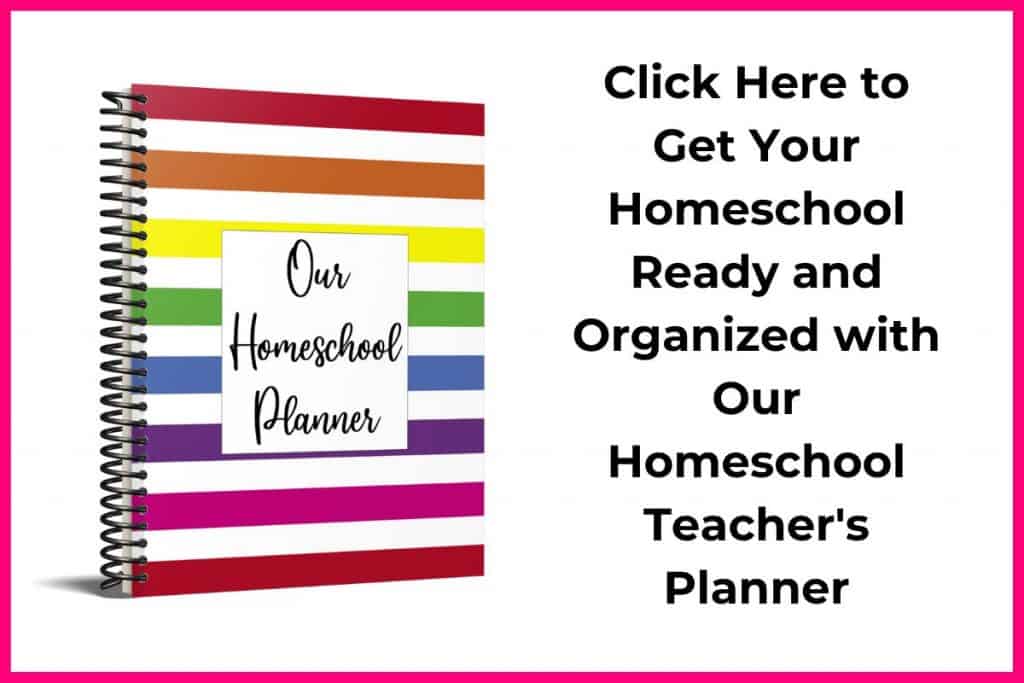 UPDATE 2019: I have recently found a science curriculum that I like and isn't so expensive. If you prefer a "textbook/workbook" curriculum for science, I recommend Elemental Science by Paige Hudson. Click the link provided to learn more and see if it's a good fit for your homeschool.
Creating Your Science Lesson Plans
Using State Standards
Now, there are two main reasons I decided to use the state standards:
I am not a science teacher and have no idea what topics kids were learning in school at their grade levels.
If something ever happens to me and my boys have to be put into the public school system again, then at least they will be up to date if not more on their learning.
So, the first thing I did was look up Virginia's Standards of Learning (SOLs) for 5th-grade science. If you are required to meet your state's standards, then I suggest you do the same.
If you have trouble finding them, then just visit the link above and use Virginia's SOLs. I'm sure they won't mind.
Be aware that you are not allowed to make a copy of the SOLs pdf unless it is for instructional purposes within Virginia's public school system. With that said, you will need to take some notes.
If you are not familiar with your state's standards I suggest going over them quickly to get an idea of how they are put together. I find them super helpful because they provide benchmarks that your child needs to meet as well as some instructional tips and activities you can use when teaching a particular standard.
Sizing Up Your State Standards
For the next steps, I will continue to refer to my state's standards. If you'd like to follow along, click here. This link will open up in a new window.
First, you will want to note how many standards your child will need to meet this year. In this pdf, there is a total of 7 standards:
5.1: Scientific Investigation, Reasoning, and Logic
5.2 & 5.3: Force, Motion, and Energy
5.4: Matter
5.5: Living Systems
5.6: Interrelationships in Earth/Space Systems
5.7: Earth Patterns, Cycles, and Change
Now, technically there are really six standards. The first standard, although very important, can be met as your child works through all the other standards.
For example, the first skill listed under 5.1 (a) states that:
"…the student will demonstrate an understanding of scientific reasoning, logic, and the nature of science by planning and conducting investigations in which items such as rocks, minerals, and organisms are identified using various classification keys."
Now, if you look below in the "overview" section, Virginia's Department of Education puts in bold:
"Standard 5.1 does not require a discrete unit be taught on scientific investigation because the skills that make up the standard should be incorporated in all the other fifth-grade standards."
And if you look at Standard 5.7, they do refer to Standard 5.1 (a).
Timing Your Lesson Plans
After you have determined how many standards you need to meet. It's time for a little math.
Depending on how you homeschool whether you teach year-round or like us 9 months (approximately 39 weeks), just divide the weeks by the number of standards you plan on teaching.
For us, this is 39 weeks/6 standards = 6.5 weeks we can dedicate to each standard. Next, decide how many days per week you plan on holding your science class. For us, it's twice a week (Tuesdays and Thursdays). This means that each standard should be covered within 13 class days (6.5 x 2).
Now, it's possible that some standards can be met with fewer classes and others may need more time. You just want to use the calculation above as a "time" guide when creating your lesson plans.
Use a calendar and approximate when you plan on teaching each standard. Remember to take holiday breaks and vacations into consideration. So here is what my tentative schedule would look like:
August – September: Standard 5.2
October- November: Standard 5.3
November – December: Standard 5.4
January – February: Standard 5.5
March – April: Standard 5.6
April – May: Standard 5.7
Keep in mind that you don't have to go in the order that the standards are listed. Some standards have labs that are better suited for the outdoors so you may want to take those on when the weather is nicer. This includes field trips as well.
Taking Notes
For the purpose of this post, I will be using Virginia's Standard of Learning 5.2 which deals with sound.
The first thing you want to do is read through the entire standard.
Next, on a piece of paper, you want to write down a list of keywords you find within the standards. For this example, the keywords I found are:
Sound
Compression waves
Vibration
Wavelength
Frequency
Amplitude
Rarefaction
Pitch
If you are following along, you will notice that the standards provide definitions and/or visuals explaining these keywords/concepts.
The second thing you need to note on your paper is any processes the student needs to understand. Here is a list for this standard:
How sound is formed
How sound affects matter
How sound travels through a solid
How sound travels through a liquid
How sound travels through a gas (air)
How sound travels through a vacuum → it doesn't
Next, note any visual tools you find on the standards. For this standard, they provide a drawing demonstrating a compression wave. Under student skills, the students should be able to:
"create and interpret a model or diagram of a compression wave."
This tells me that I should come up with an activity where students will draw or use items to demonstrate and explain a compression wave.
The fourth thing you want to note is any lab components that they provide. Here are some of their suggestions:
determine the factors that affect pitch (they provide a list of objects that can be used to demonstrate this)
show how sound travels through different mediums
Compare and contrast sounds by humans and animals
Compare and contrast sounds made by different instruments
You may also want to make a list of supplies at this point but leave room for more. So, in the framework, here are some items they suggest using:
Slinky ™
Rubber bands
Musical instruments
Wind chimes
Don't worry if you do not have some materials like wind chimes. You can easily find videos online that will help with your labs.
And finally, write down any applications, uses, and examples they list. In other words, what role does sound play in our lives, and why it is important? In this standard, the applications they provide are:
The importance of communication: by humans or animals
The role it plays in music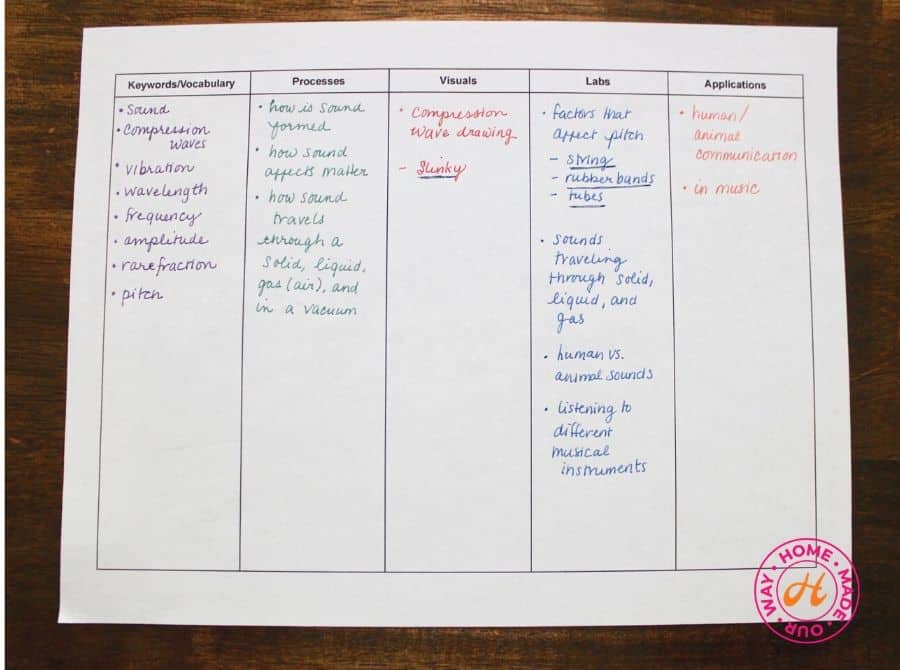 Research
Your Public Library is a Gold Mine
With notes in hand, it's time to do some research. You first want to use the keywords you found earlier and input them into your public library's catalog search bar.
You may also want to filter your searches. Below, I filtered the target audience (juvenile), language (English), library branch, and literary form (non-fiction). This gave me 11 resources to choose from.
Once you find all the resources available, check out their descriptions to see if this is a good resource for your classes. As you can see below, not only are there books on sound but some of them offer activities ← perfect for lab activities.
Once you've exhausted your keywords, go ahead and reserve your books and resources. Most libraries allow you to do this online.
Vetting Your Resources
Once you have your resources, quickly go through them to see if they are a good fit for teaching all the concepts you noted earlier.
Here are things to check for:
Check for a glossary
Do the resources discuss the concepts you need to teach?
Are there any visuals/drawings you can use?
Look for hands-on activities you can use for your labs
If possible, jot down any mentions of scientists and other significant historical people that are relevant to your topic
For the last point above, you may need to make another library trip if you plan on covering historical contributions to your lessons.
As you preview the above resources, make sure to note the pages and activities you are going to refer to for your lesson. I use post-it flags to do this.
Scheduling Your Lesson Activities
Now it is time to fill out your lesson plans.
The first thing I do is write down the dates of each class. In my case, I have 12 different class days to teach the boys about sound.
Now, using your resources as a guide, write down the concept, activities, and resources you will be using each day along with page numbers from your resources.
If you are having trouble figuring out what you should do first, just follow how the books and resources introduce the concepts. Most, if not all, resources start with basic concepts and then build upon them to more complex concepts. This is what you will want to do as well for your lessons.
Don't forget to schedule any hands-on activities and labs. Also, set aside time to either create a printable that they can label and color, or have them draw the concepts they are learning about.
You can also add a writing component especially if it's a standard that doesn't require the number of classes you have reserved for it. I like doing these on historical people and/or scientific concepts. These shouldn't be complicated essays. Brief summaries are what we do in our classes.
Creating a Unit Study Across Other Subjects
Now, if you have your other subjects planned for the school year, you can try to schedule some of your science standards to coincide with them. Here is an example of what that may look like on your lesson plans:
history: read and discuss Alexander Graham Bell
writing: write a brief summary of Christian Doppler
cursive: write out a quote about sound
music: use an instrument to demonstrate high-pitch and low pitch
art: create a drawing representing a sound wave
poetry: compose an Onomatopoeia poem
math: measuring the distance of thunderstorms
Tips and Recommendations
I suggest following the above instructions a week before teaching a new standard. This is because any library resource you take out has to be returned within 3 – 4 weeks. And while you can renew your resources, some libraries may not allow you to do so if someone else is in need of the same book.
Also, if you cannot find appropriate resources at your local library, then search online. Youtube has lots of videos for lab demonstrations. And you may score a free printable here or there.
Another great online source is Pinterest. There you can find hundreds of homeschooling parents and blogs that can help with everything from lesson planning to free printables to awesome hands-on activities you can try.
When dealing with certain topics consider visiting the sites of organizations that deal with that topic. For example, Eco Watch has curriculum resources you can use if you decide to teach your kids about climate change. Check them out here.
And finally, don't forget to make a list of any supplies you need for experiments a week before.
Resources We Use
Below are resources that we used throughout the year that I felt were not only helpful but a good investment since I can use them over and over again in future grades.
Create a Science Journal
I suggest requiring a science journal. The only real cost is a simple 2-inch binder. I bought two binders for the boys and let them design the front and back using a science theme.
Then, I created sections according to the standards listed earlier. Inside we keep our vocabulary, drawings, writings, and other work. Check out some of our pages below. By the way, we used notebooking pages for most of our work. (More on notebooking pages next.)
Notebooking Pages
If you have ever read any of my other homeschooling posts, you know that I love Productive Homeschooling's Notebooking Pages. These are already formatted printables that you can use across most subjects.
If you would like to learn more, here is a video that explains the benefits of notebooking.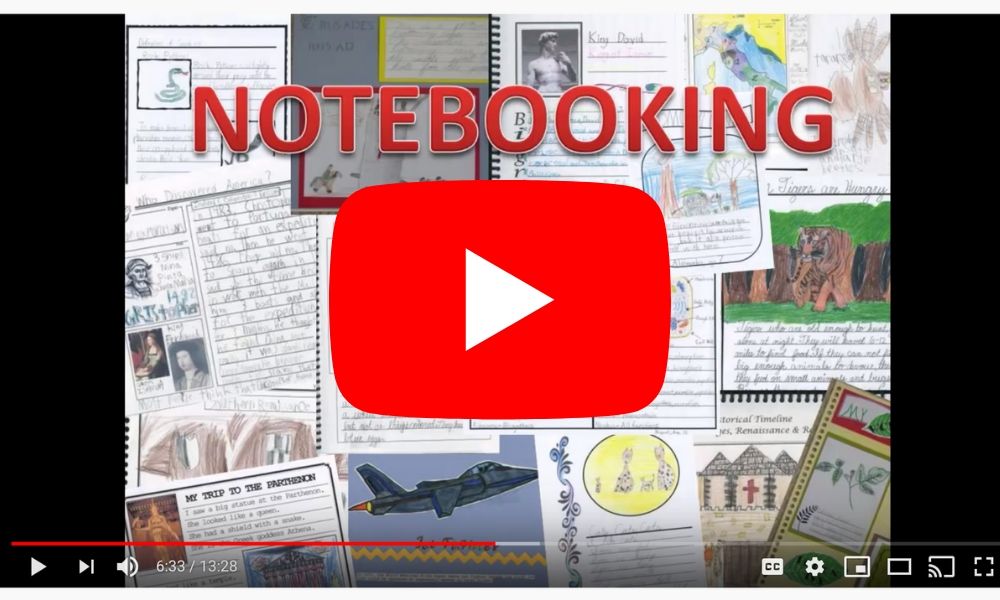 And here are some examples of the boys' work using notebooking pages that we keep in their science journals.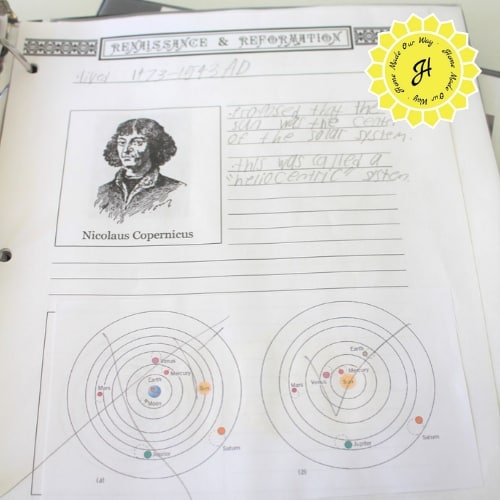 If you are unsure if notebooking pages are a good fit for your homeschool, give their free sampler a try by clicking here.
Science Aids
I purchased some items knowing that we could use them over and over again as we revisit these same topics in the years to come. And I assure you that I did not spend nearly close to what I spent on that first failed curriculum.
Here are a few additional purchases I made throughout the year and recommend:
Final Thoughts on Creating Your Science Lesson Plans
Creating science lesson plans do take some work but they really are not that hard to put together once you get the hang of it.
And although you need to focus on students' understanding and mastery of concepts, remember to make learning fun ← hands-on activities are a great way to start.
So, instead of spending money on a text/workbook curriculum, save your money for science field trips and kits that your kids will appreciate more and find more engaging.
More Curriculum by Grade Level
How to Teach Homeschool Science Without Textbooks