Curriculum Resources, Reviews, & Schedule for Our 5th Grade Homeschool
Need help choosing a homeschool curriculum and resources for your 5th grader?
Below I list over 15 different curriculum resources that we will use for our 5th-grade homeschool.
Many of them come from reliable companies we have used in the past and others are new.
Also, continue scrolling to check out how we schedule these resources.
Update: I have provided end-of-year reviews for most of these resources so you can decide if they are a good fit for your homeschool.
Below you will find that I have listed each subject by number and then divided this further by the resource we are using.
For example, #1 is math and #5 is all about history and geography.
Math is then broken down further by letters representing a different resource.
So for math, you will find 1a and 1b indicating it has two different resources.
Disclosure: This post contains some affiliate links for your convenience (which means if you make a purchase after clicking a link I will earn a small commission but it won't cost you a penny more)!. Click here to read my full disclosure policy.
All-in-One Homeschool Resource
Productive Homeschooling's Notebooking Pages
Our almost-universal homeschool resource is Notebooking Pages that we use for various subjects.
Notebooking is a teaching tool that requires students to read and learn about a topic and then write down what they took from that learning.
They basically record what they know about the topic.
To learn more about notebooking and notebooking pages, click the video below.
Review
This was our third year using Notebooking Pages. Here are some reasons why I love it:
The pages are already done for you.
You can use them in almost every subject.
Their pages are formatted for different writing levels.
It's another way for kids to show their understanding instead of taking tests or quizzes.
They provide an opportunity for kids to practice their handwriting skills.
These pages give kids a chance to be creative.
They can be used to show progress.
You can submit them for formal homeschool evaluations.
Unlike workbooks and tests, you can also save them as keepsakes.
If you'd like to try notebooking in your homeschool, click here to sign up for their free sample pages.
Give it a shot and see if it's a good fit for your student(s).
Also, continue scrolling to see some examples of our notebooking pages in action.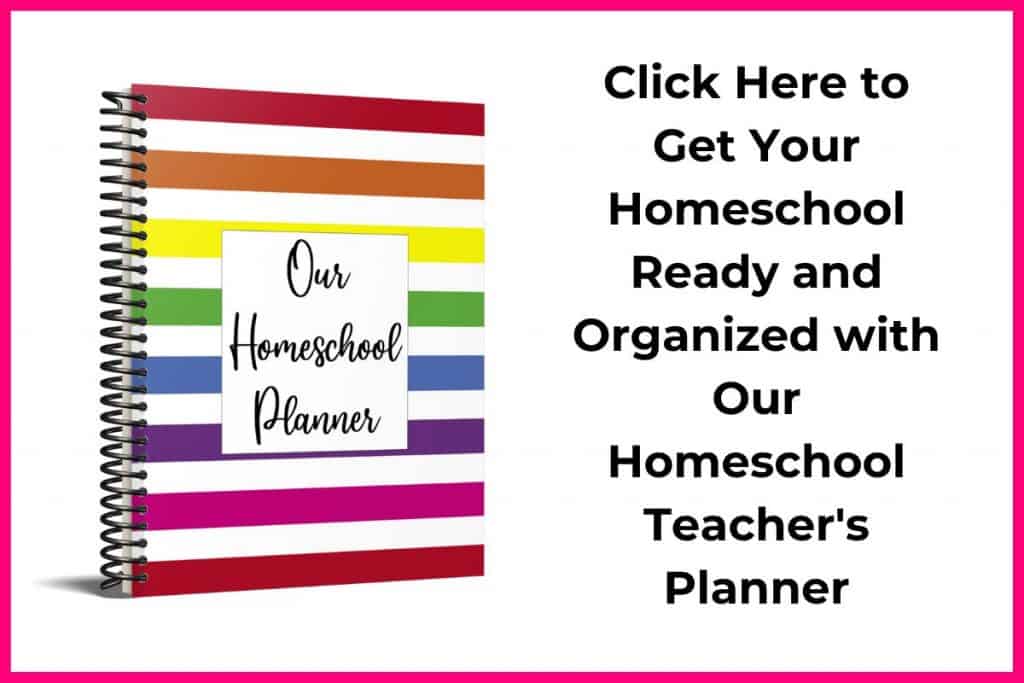 1a. Math U See
This year we will be using Math-U-See's Epsilon level.
The main focus of this level involves fractions, order of operations, area, and circumference of circles, quadrilaterals, and number lines.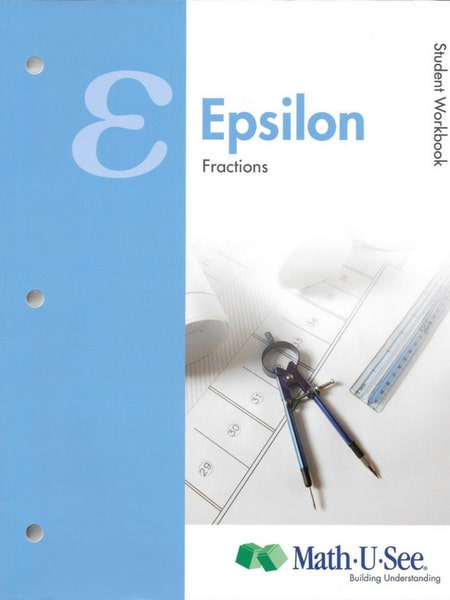 Click here to read how you can schedule and use this curriculum in your homeschool.
Review
This is our third year using Math-U-See and I just love it. Here are my reasons for sticking to this curriculum:
Math-U-See's manipulatives help kids "see" math concepts (this year's fraction manipulatives were especially helpful).
The instructional DVD provides classroom instruction if teaching is not your thing.
Each DVD lesson is short (approximately 5-10 minutes) but sufficient.
The workbook worksheets are the perfect amount needed for kids to master concepts. So if they master a concept early, skip ahead to the next lesson.
If you are not good with math, the instruction manual comes with worksheet answers broken down step by step.
The systematic review worksheets make sure the boys never forget a learned concept.
The honors worksheets are challenging allowing the boys to think outside the box.
My boys' mastery of math concepts is evident in their worksheets and tests.
1b. Math Notebooking
Occasionally, we will use notebooking pages to write up a mini-bio on famous historical mathematicians or even explain a math concept.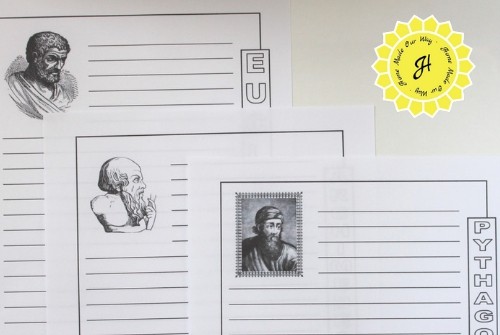 2a. Science
For science, we will not use a specific textbook/workbook curriculum.
Instead, I will put together lesson plans using as many free resources as possible.
I'll let you know how this goes in my reviews.
Review
Putting together lesson plans for science was not as hard as I thought.
I did have to do a little work but it wasn't all that time-consuming.
To learn how to put one together for our homeschool, click here → Creating a Science Curriculum.
Update (2018)
It's been three years since I wrote this post, but I wanted to let you know that I did find a science curriculum that was reasonably priced.
And when I say reasonably priced, I mean less than $200 for one student.
We have been using Elemental Science's curriculum for the 8th and 9th grades.
I just wanted to mention it here because they cover all levels including 5th grade.
So if going without a curriculum is not for you, this is a great option.
2b. Scientists & Inventors Unit Studies
In addition to the above, we will finish some leftover curriculum from last year: Confessions of a Homeschooler's Scientists & Inventors Unit Studies.
These are fun lapbook activities that cover scientists and their inventions.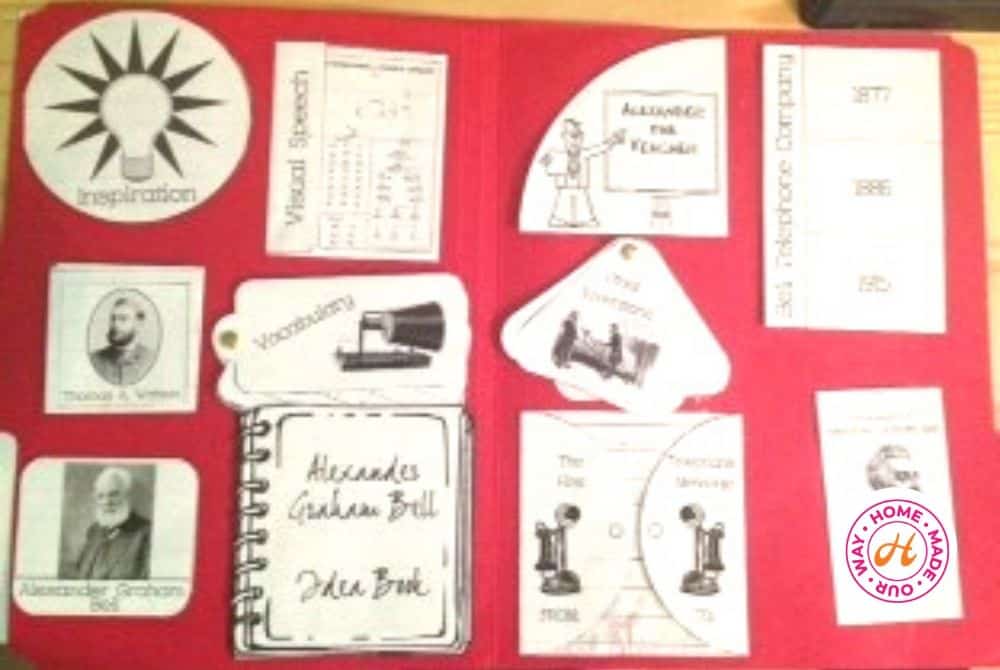 I will plan these to coincide with the topic that involves this particular scientist.
So, when we cover electricity I will include the Benjamin Franklin unit study.
When we are studying sound, I will include the Alexander Graham Bell lapbook activity in lessons.
2c. Science Notebooking
We will use notebooking pages for writing up mini-bios on famous scientists.
We will also use them to draw out concepts like soundwaves and label them and keep them in our science journals.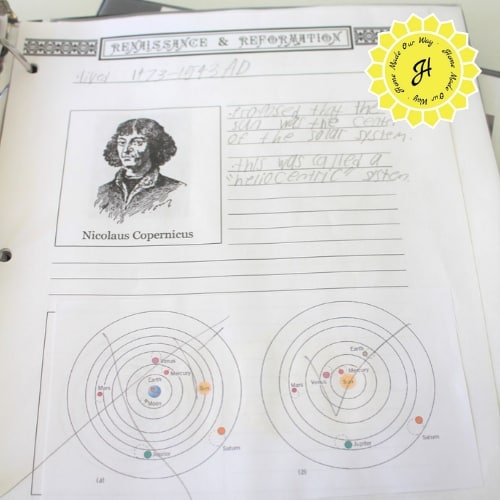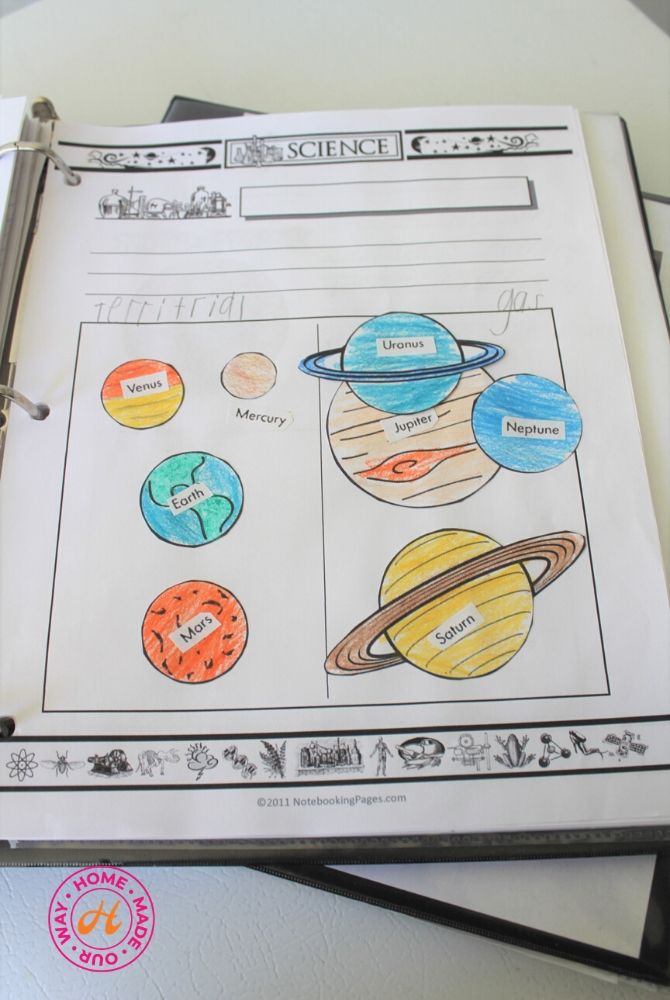 3a. English – Simply Charlotte Mason Curriculum
This year, I decided to try the Charlotte Mason (CM) way of teaching these topics.
I purchased Spelling Wisdom Book 1 and Using Language Well Book 1 by Sonya Shafer of SimplyCharlotteMason.com.
Review
The great thing about homeschooling is having control of the type and the kinds of curricula you want to add to your child's lessons.
The bad part is having to research, weed out, and find the perfect curriculum.
Even if you do find a great resource, there are no promises that it will work for your child(ren).
This was the case for our 5th-grade English curriculum.
Unfortunately, this curriculum was not a good fit for our 5th-grade homeschool.
However, this is not to say that it won't work out for your family.
Here's what happened:
For the past two years, we have used BJU Press's 5th Grade English/Language Arts/Writing Curriculum.
This year, I wanted to get away from this textbook/workbook format.
I recently learned about the Charlotte Mason (CM) approach and wanted to give it a try.
So what is the CM approach? To understand this method in detail, I suggest visiting SimplyCharlotteMason.com.
Sonya Shafer does a great job of explaining this approach.
In short, the CM approach does away with textbooks and relies more on 'living' books and a hands-on approach to learning.
I love this idea. In fact, I was already using this approach with our science curriculum.
These books contain 140 excerpts that the boys are expected to write as I dictate.
These excerpts, quotes, and sayings expose children to proper grammar, spelling, and language mechanics as they copy and write them down.
They also get to practice their cursive as well.
The boys were excited about this new curriculum because it eliminated three separate curriculums.
Now, they could do their spelling, English/writing, and cursive in one.
Jack did very well.
His copywork was near perfect and his handwriting was improving.
Josh, however, was having a hard time with this method.
Josh has always had trouble with spelling.
Not only does he have trouble distinguishing between different vowel sounds but he also doesn't understand the difference between vowels and consonants.
He has to remind himself of the five vowels constantly.
This makes narration and dictation almost impossible.
And as the excerpts increased in size so did his frustration.
Three months into this curriculum, I felt like there was something lacking in their curriculum: a chance to create their own writing.
I wanted the boys to practice writing a book report or a friendly letter, perhaps even an essay on a historical person or event.
So, I decided to end Simply Charlotte Mason's curriculum and reverted back to our previous curriculum, BJU Press' 5th Grade English.
What I like about BJU is that it not only covered language arts but every other chapter is a writing assignment.
Now the boys would create their own work and this would fulfill their cursive and spelling practice.
Please don't get me wrong. I enjoyed using the Simply Charlotte curriculum but it was just not for our family.
As I said, Jack did well using this curriculum; however, I felt he was not being challenged enough.
He even stated that he would rather copywork than have to come up with his own. Hmm.
As for Josh, I just keep thinking about Temple Grandin's frustration with learning the French language. "Why is there so much fish in France?"
If you have never seen the movie, Temple has a hard time with the language and mistakes the French word 'ils' for 'eels'. I believe this is somewhat the same for Josh.
This was a great lesson for me as well.
Being a perfectionist, I hate not finishing something and then starting anew in the middle of a school year.
However, I had to choose what was best for my boys.
After making the switch, I was happier, Josh was much happier, and Jack, well, he wasn't so much happier but he got over it.
Having to switch sucks but like Jack, I got over it!
So don't feel you have to stick to a curriculum you feel isn't a good fit for your family.
Give it a chance, have a backup plan, and by all means, stop using it if it's not a good fit for your family.
3b. BJU Press 5th Grade English/Writing
As I stated above, we eventually went back to BJU Press' English 5 curriculum.
I decided to go back to this particular curriculum because it was mid-year and the boys and I were already familiar with its format.
I didn't want the change in curriculum to be so disruptive.
This curriculum is very similar to the kind you find in schools: textbook/workbook format.
And since English was my least favorite subject in school, I don't feel expert enough to take it on without some sort of curriculum.
And while the boys are not big fans of this subject either, they do very well with it. So, I think we'll stick to it for now.
4. Classical Literature Unit, Volume 3
This year we will finish our third and final classical literature unit (volume 3) by Confessions of a Homeschooler.
The books we will be covering are:
REVIEW
I love that these unit studies are in lapbook format.
So while the boys are coloring, pasting, cutting, and filling out their little books, they are also learning about the books they read.
The units also come with a few worksheets that you can use to assess your kid's understanding of the books.
Personally, we only fill out the prediction worksheet where the boys can "judge a book by its cover."
At the end of the unit, the boys read aloud their predictions.
Some are spot on and others are hilarious and so far from what the story is about.
By the way, the unit studies do not come with reading books.
You'll have to order those. But not to worry, because you can find all of them easily on Amazon.
The books are by Classic Starts making these large volumes of works easier for kids to digest.
The hardcover books are reasonably priced at about $7.00
So, if you have a reluctant reader, try these lapbook units.
The assignments usually cover one chapter a day so that the kids don't get overwhelmed.
5a. The Story of the World (World History/World Geography)
Last year, I taught the boys ancient history without a curriculum.
This year, I decided to try Story of the World by Susan Wise Bauer after reading many recommendations it got from other homeschooling blogs.
So, I ordered both volume 1 (ancient history) and volume 2 (middle ages) to see what if anything I missed when I covered ancient times last year.
REVIEW
I am so happy I found this curriculum. Here is what I loved about this curriculum:
The reading "textbook" covers each time period in 42 manageable chapters.
The reading is engaging – the author did a great job of this. The boys loved this curriculum.
The student activity book provided a ton of hands-on activities from creating medieval artwork and costumes to sticker booklets and recipes.
Every chapter has a mapping activity satisfying our world geography portion of homeschool.
And for parents, the set of books also comes with review questions, narration prompts, and if you prefer, tests & quizzes to assess your kid's comprehension.
5b. History Through the Ages "Record of Time"
As part of our history curriculum, we will be using a "timeline binder."
I purchased two sets of Homeschool in the Wood's Record of Time.
Each binder comes with pages that cover the years 5000 BC to the present so you can use it every year of your homeschool.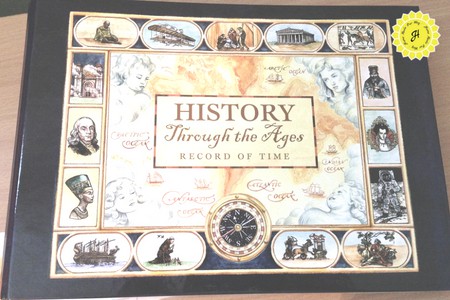 Review
This resource is priceless. It's one of the best investments I made. Let me tell you why:
The binders are well made. The pages are made from heavy card stock making them very tough to rip out. Initially, I was afraid that the boys would accidentally rip a page out but no. I suppose it also helps that we only open them to place our figures and since the pages are in order, there is no reason for removing the pages.
Update (2020): we still use these binders as part of our history courses and the pages have yet to be ripped out accidentally. The pages are very durable.
Their History Through the Ages Collection of Historical Timeline Figures CD has well over 1,200 historical figures and events that you can copy, resize, print, and color.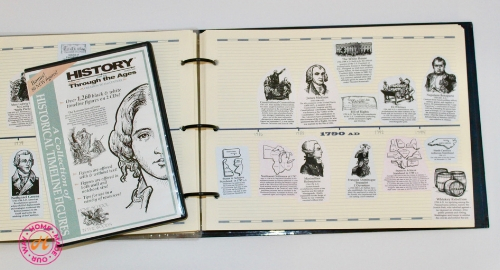 Now, this resource is a bit pricey and if you plan on gluing (not recommended) or taping your figures onto the pages, then it is not going to make it through all your years of homeschooling.
If you use glue and even tape, that's it! There is no way of removing the figures without ruining the pages. And why would you want to remove these figures?
With every year, your binder pages will get filled more and more and you may need to move some figures over a bit to make room for others. But I have a fix for that.
So instead of gluing or taping your figures onto the pages, use Post-Its Full Adhesives stickies.
Here's what you should do:
Print out your figure or event (make sure to resize the picture so that it fits on a sticky note.
Using a gluestick, paste the picture to the surface of the sticky note.
Once dried, cut off any excess space around the picture.
Next, place the picture onto the timeline.
And that's it. Now, if you have to move around the figures, you just peel them off. Absolutely no damage! And this is why it is a great investment. I can now use it every single year of their homeschool adventure.
Besides that, I think the boys will come to really appreciate their timeline record when they are older. I can see it being more of a keepsake they can share with their kids.
5c. History Channel DVDs
My husband and I really enjoyed the History Channel's series Mankind, the Story of All of Us, and The Story of US when they first aired so I thought it would be a great way to bring history to life for the boys.
Using the DVDs episode guide (you can find this on Wikipedia), I am hoping to play clips from the DVD after we've covered a particular historical period.
REVIEW
The DVDs were a hit with the boys. They loved seeing history happen "in the flesh" even if it was done by actors. It also sparked lots of discussions at the dinner table on Fridays.
If you plan to add the DVDs to your curriculum, I suggest going through them first. Remember there were lots of brutal wars in the past and you may find some scenes a bit graphic for young ones. You decide.
5d. Whichway, USA by Highlights
This is our second year using Which way, USA, a subscription offered by Highlights.
Every month they send two U.S. state activity books along with maps and keychain tags that look like license plates.
The activity books are filled with puzzles and facts about the state they are covering.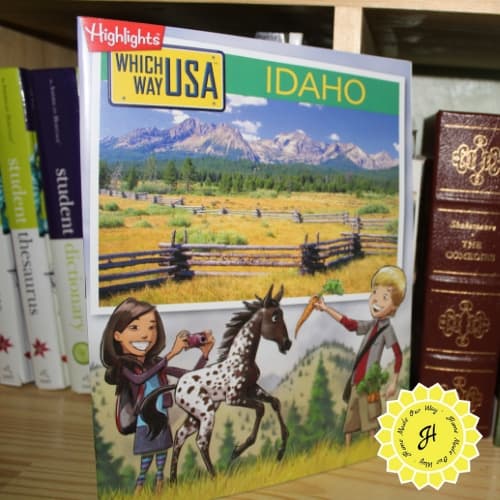 Review
Now, I'll be honest. The map and mapping activity is probably the only educational and useful part of the subscription.
The mazes, crossword puzzles, hidden pictures, etc. are mainly for fun. So, if you think your kids would enjoy the books then it may be worth getting the subscription.
Oh, before I forget. The keychain license plates are actually codes your kids use to access more online puzzles and games for that state.
5e. The Barbarian Book: Warfare by Duct Tape
Although the Story of the World provides an array of hands-on activities for each chapter (some of which we do), I also included The Barbarian Book: Warfare by Duct Tape to supplement our Volume 2, Middle Ages unit.
This book is full of instructions for creating all sorts of safe weapons the kids can put together. I chose this to be part of our handi-craft portion of homeschool.
Review
This was a fun part of our homeschool. As you can see below, Josh had fun creating his weapon out of PVC pipes and duct tape. Not to worry though. The weapons were padded with piping insulation.
The size of the weapons given in this book was a bit big for the boys but I was able to easily adjust the sizes.
5f. History/Geography Notebooking Pages
We also use Productive Homeschooling's Notebook Pages for both our world history and U.S. geography curriculum.
Like math, the boys are required to fill in a notebooking page for historical figures and events. They write up quick biographies or summaries and can add pictures as well.
Notebooking Pages also has an assortment of U.S. state study pages. They cover things like state symbols, famous people from that state, state history, state facts, mottos, and more.
Using various sources (library books, the internet, maps, etc) the boys are required to fill in their state study sheets.
And while things like the highest elevation or average temperature of a state may sound trivial, the main thing I am focused on is their research skills.
I could care less about the population size of a state. It's the boys' abilities to locate that information that matters.
REVIEW
You should be able to tell by now how versatile these notebooking pages are.
They really cover almost every subject.
Below are examples of the boys' work with the state study pages along with some history bios.
6a. World's Greatest Artists, Volume 2
For our art history class, we will use Confessions of a Homeschooler's World's Greatest Artists Unit, Volume 2.
Last year we completed the first volume and loved it. So it only makes sense that we will continue using it for this year.
This curriculum unit is comprised of lapbook activities that the boys get to fill out, color, put together, and create.
The recommended reading is fun and provides lots of the artists' works for the kids to enjoy.
6b. Feed My Sheep
For "applied" art, the boys will be using "Feed My Sheep", a book dedicated to teaching techniques used in art.
This was my favorite subject growing up, so I'm hoping the boys will like it too.
REVIEW
Well, it appears that my boys did not take after me when it comes to art.
They seriously have no interest in it. I should have picked on this as they never really liked coloring books.
I still think this was a wonderful resource.
But as the saying goes: you can lead a horse to water but you can't make it drink.
I think more than anything I was disappointed learning that they don't have my "art gene."
7. Greatest Composers, Volume 2
For music, we will continue to use Confessions of a Homeschooler's World's Greatest Composer Unit Volume 2.
Like their art unit, this is another lapbook activity. The boys like reading the recommended books even if they are not fans of classical music. But then again, neither am I.
REVIEW
I totally recommend this curriculum especially if your kids have never been exposed to classical music or may never be exposed to it otherwise.
The boys and I are totally tone-deaf and don't have a lick of musical talent. But I do want them to know who these artists were even if we are not crazy about the music.
8. Spanish
For the past couple of years, I have been slowly teaching the boys Spanish using workbooks I find on Amazon.
Most of these books focus on labeling. So the boys have learned their colors, numbers, days of the week, months, and such.
I think this is a good way to introduce kids to a new language. Keep it simple.
So this year, we are going to use the Spanish Elementary K-5 Workbook by Carson-Dellosa just to keep them on top of the words they already know and perhaps some they have forgotten.
Review
If you plan on introducing your kids to a new language, I suggest starting with what I call "labeling" workbooks like the one above.
They are simple and expose kids to the language without the overwhelm of conjugating verbs or creating sentences right now. That will come later for us in middle school.
I created this resource two years after this post but wanted to add it here as an option for parents looking for a way to teach their kids about finances. I recommend it for grades 4 – 7.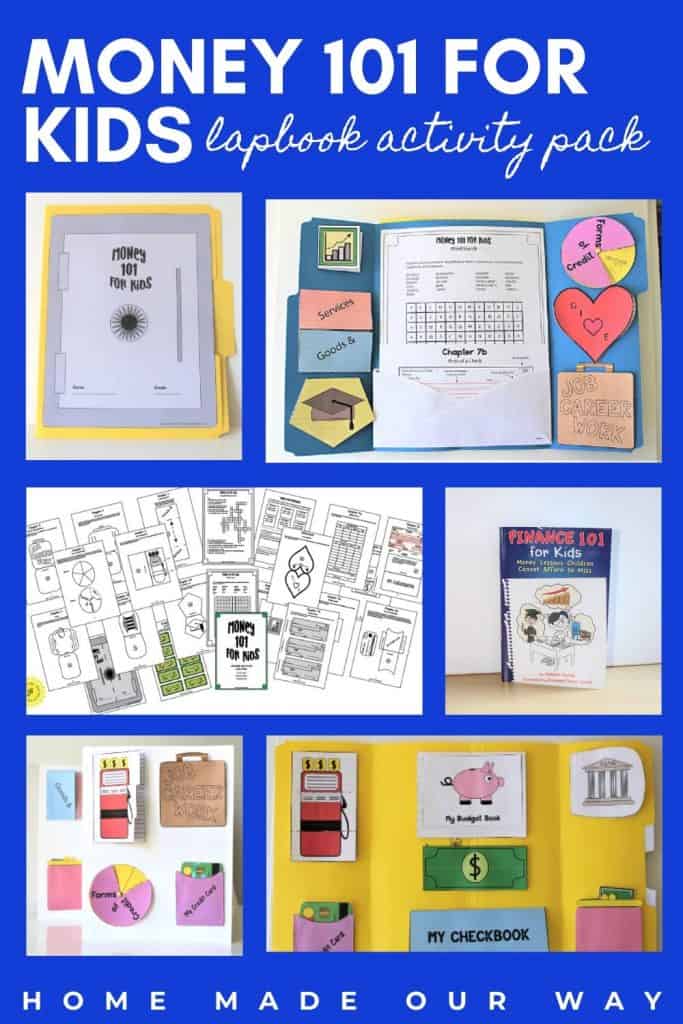 If you'd like to learn more about it, click here and check out our Money 101 for Kids resource.
Our Homeschool Schedule
Below is our homeschool schedule for 5th grade.
Each block is approximately 30 minutes.
We try to stick to this schedule as much as we can but naturally, there are days that we can't, i.e., appointments, emergencies, etc.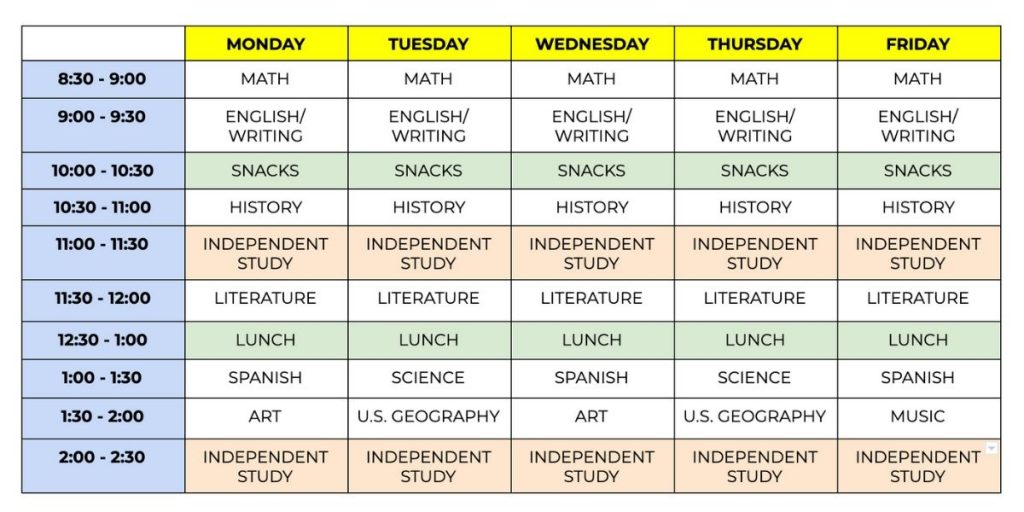 The schedule is self-explanatory but I just wanted to add that independent study time gives the kids a chance to complete their day's work since technically they don't have homework.
If they finish their work early, they can either have free time or we start the next subject so we can finish the day early.
Final Thoughts on Homeschooling 5th Grade
I hope you find all of the above resource descriptions and reviews helpful as you put your 5th-grade homeschool together. Here are some steps to follow:
Determine your state's requirements for homeschooling
Make a list of the subjects you must teach and those you'd like to add
Research curriculum online to find the best resources specific for your child
And finally, add in some fun activities here and there
If you have questions, please free to feel to contact me through the comments below or at dionnem@homemadeourway.
More Homeschool Articles by Grade
Homeschool Curriculum Resources, Reviews, and Schedule for 5th Grade