Christmas Planner PDFs to Help Plan Your Holiday
It's that time of year again when things can sometimes get a little hectic and overwhelming. To help you get through all the holiday to-dos, I've created two Christmas planners: a free version and a premium version.
Let's check out both Christmas planners to see which one will best fit your needs as you get your holiday affairs organized.
To get your free copy, just click the pink button at the end of this post. If you prefer the premium Christmas planner <— click here to be taken to my shop.
Disclosure: Some of the links below are affiliate links that I have provided for your convenience. Click here to read my full disclosure policy.
Christmas Planner Contents
Planner Sections
Our Christmas planners are divided into five sections:
Schedulers
Event planning
Charity Tracking (not available in the free version)
Shopping
Miscellaneous Pages
Continue scrolling to see read what pages you will receive in each section.
Available in Both Free and Premium Versions
The free version of the Christmas planner is handy if you are not planning on having a big event. That is, you are planning on a small cozy Christmas with your immediate family.
Some of these pages are self-explanatory and others I have provided descriptions. I have also written down how best to use them.
(scroll down after to see the additional pages you will receive with the premium version)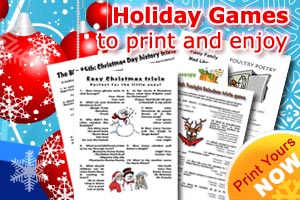 Master To-Do List
This is partially filled in with common Christmas tasks.
Christmas Budget Page
This is also partially filled in with common Christmas purchases.
Menu Planner
Use this page when putting together your grocery list.
Grocery Shopping List
As I said above, you'll want to fill in this list after you have finalized your menu plan.
"My Christmas Wish List" Page
This page is for handing out to family members so they can list items they would like. It's very useful when trying to figure out their favorite colors or clothing sizes.
Normally, I make copies of this "My Christmas Wish List" sheet for each of my family members. And I don't wait until the holiday season to give it to them. Instead, I give it to them at the start of the year.
I am horrible at picking out gifts so this helps me get the person exactly what they want.
What I like about doing this is that it gives the person a chance to really think about what they are wanting. As months go by, they begin to whittle down their list of things they "thought" they wanted.
That music download they wanted in February isn't so appealing after a ton of plays on the radio months later.
And while this method seems like it would take the fun out of gift-giving as the receiver opens their present, I assure you it does not.
The rule we follow in my home is that you "can" buy things from the list, but you must also buy something that is not. This way, there is at least one surprise gift under the tree.
If you try this with your own family, consider keeping these lists in a centralized location like a home management binder <–click here to put one together. This way, you don't have to always ask for their list before a special day.
It will also prevent them from losing their list. By the way, I refer to these lists for birthdays, anniversaries, and other gift-giving times of the year.
If you don't want to use the above method, see the next page below.
Gifts for the Family List
Use this page to list items you would like to get for each member of your family.
Stocking Stuffer Ideas
This is a no-brainer but I personally prefer to use it for listing homemade gifts I can make instead of buying something.
Thank You Card Tracker
Keep this page handy when opening your gifts so you know to whom you need to send thank you cards like these.
Decorations Inventory Sheet
I like to use this page to fill in those decorations that need replacing. Too many times I have had to throw something out and promised to replace it. Then, before I know it, the year goes by and I totally forgot to replace it. This can also apply to decor items like chair covers, centerpieces, etc.
Christmas Card Tracker
This page is great for tracking outgoing and incoming Christmas cards. If someone sends you a card (and you didn't) you can add them to this list. This way you won't forget to do so next year.
And now onto the pages you will find in our premium version.
Available in the Premium Planner
The premium pages are great if you plan on having a Christmas party or Christmas dinner party. The pages include additional schedulers, event planning pages, charity trackers, sales planners, and more.
Scheduler Section
In addition to the master to-do list above, you receive the following pages:
Customizable Table of Contents – Use this to order your planner any way you like.
November/December Calendars – These are blank monthly calendars you can use year after year.
Weekly To-do Planner – Fill this in using the master to-do list. This will let you spread out tasks so you don't get overwhelmed.
Cleaning Schedule – If you are throwing an event, don't wait until the last minute to get your cleaning done. This two-week schedule lets you spread those tasks out.
For help filling this out, check out our Thanksgiving post. There you will find the types of cleaning tasks you can do during those last two weeks.
U.S. Postal Schedule – If you plan on mailing out gifts, use the postal scheduler. This way you won't miss any deadlines whether you are sending gifts locally or out of the country.
This postal schedule is not filled in so that you can use it year after year. I've also provided a link at the top of this page where you can find these deadline dates.
Christmas Movie Scheduler – I don't know about you but I love watching Christmas movies. Use this scheduler so you don't miss an upcoming show.
Just enter the movie, the day it will be broadcasted on television and the network airing it.
If you Christmas movies on DVD, simply write the date you want to watch your movie under the 'broadcast' date.
Event Planning Section
Along with the budget page, menu planner, and grocery shopping list, you will receive the additional pages in the events planning section:
Invitation Tracker – If you are throwing an event, you can keep track of who is coming and get an accurate headcount. This is helpful when serving food or holding a secret Santa drawing.
Secret Santa Strips – And while we are on the subject of the secret Santa drawing, I've also included these strips.
They come with spaces for you to write down where and when you will hold the gift exchange as well as the gift limit amount.
Once every strip is filled in, just cut on the dotted lines and toss them into a bowl or hat.
Recipe Templates – On the day of our Christmas dinner I like to place these templates in page protectors so that they don't get food stains on them.
There are four food categories: appetizers, main dishes, sides, and desserts. They come in both full-page and half-page sizes.
These templates also help with the timing of your dishes so that everything comes out on time when dinner is served.
Charity Tracking Section
Our charity trackers are great for recording all the charity you are doing around the holidays. This includes donating money, goods, or volunteering.
When tax season comes around, use these trackers to deduct your donations, miles, and time. Here are the different sheets you'll receive:
Monetary Donations page
Goods Donation page
Volunteer service page (You can also use this to record your children's activities so that they can later add them to their college applications.)
Shopping Section
Along with the "My Christmas Wish List", "Gifts for the Family", and the "Stocking Stuffer" Ideas" page, you will receive the additional pages below.
"Gifts for Friends" is just that, a list of items you'd like to gift to friends. It also has a section for service workers such as a babysitter or hairdresser.
I've listed the most common service workers as well as provided extra lines if I missed anyone.
Now, if you are a die-hard Black Friday/Cyber Monday shopper, then these next pages are for you.
The Black Friday Planner will help you as you try to find deals at the best price and store.
There's also a column so you can list the page number of the flyer in which you find your deal. This is especially helpful when shopping at stores that match the prices of competing retailers.
The Black Friday Schedule and Route Planner will save you time and gas so that you are not zigzagging across town.
You can also schedule a lunch break at your preferred dining location. Just make a note by the store(s) you will be shopping at during that time.
The Cyber Monday Sales Planner tracks items you want to monitor along with a column where you can list coupon codes.
Miscellaneous Section
Along with your Thank You and Christmas Cards trackers and Decor Inventory page, you will receive the Craft Project Planner.
So whether you are creating a craft project like our Pinecone Christmas Trees or want to put together a plan your kids can follow, use this page to make sure everything turns out spectacular.
2020 Update: I have created additional pages as requested by my subscribers. You'll find a notes page, a set of gift tags, and decor storage labels.
And with that, this covers our premium planner.
Planner Essentials
So no matter which version you use, you may need some planner tools to help you put it together. Below you find links to these materials.
How to Get Christmas Planners
If you are ready to get your holiday season organized on the pink button below to get the free Christmas planner version.
To purchase our premium Christmas planners <–click here to visit my shop.
Bonus: receive a discount if you purchase the holiday planner bundle instead. (The bundle includes both the Thanksgiving and Christmas planners.)
Final Thoughts on Our Christmas Planners
Remember, if you are not planning a big event and do not have a lot of gifts to get this year, then I suggest going with the free Christmas planner.
However, if you are throwing a dinner, large event, or just have so many overwhelming tasks to do during the holidays like shopping for lots of people, then I suggest the premium version so that you can plan out your days until Christmas and reduce all that holiday stress.
My hope is that you will find both Christmas planner versions helpful, no matter which one you decide to get.
Other Related Holiday Articles
Also, don't forget to sign up for our weekly organizing challenges. Enter your name and email address below and you'll receive a new challenge every week.
Save This
Want to save this for later? Pin the pic below to save it to your favorite Pinterest board.