Christmas Planner PDFs to Help Plan Your Holiday
It's that time of year again when things can sometimes get a little hectic and overwhelming.
To help you get through all the holiday to-dos, I've created two Christmas planners: a free version and a premium version.
September 22, 2023 Update: We have updated our premium planner.
The photos shown here will look a little different.
Also, the planner has more helpful pages including kids' activity pages.
Let's check out both Christmas planners to see which one will best fit your needs as you get your holiday affairs organized.
To get your free copy, just scroll down and fill out the form at the end of this post.
Disclosure: Some of the links below are affiliate links that I have provided for your convenience. Click here to read my full disclosure policy.
Christmas Planner Contents
Free Planner Pages
Cover
Semi-filled master to-do list
Budget worksheet
Menu planner
Grocery shopping list
Gift wishlist
Gifts for family ideas
Stocking stuffer ideas
Thank you card tracker
Decorations inventory sheet
Christmas card tracker
Sections in the Premium Christmas Planner
Our Christmas planners are divided into seven sections:
Calendars & Schedulers
Budgeting & Shopping
Gift Giving
Meal Planning
Party Planning
Kids' Activities
& Bonus Pages
Continue scrolling to see what pages you will receive in each section.
Available in Both Free and Premium Versions
The free version of the Christmas planner is handy if you are not planning on having a big event.
That is, you are planning on a small cozy Christmas with your immediate family.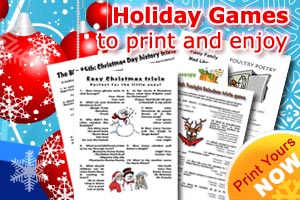 Calendars & Schedules
In this section you will find the following pages:
A partially filled master to-do list covering the most common Christmas tasks.
2-page monthly spreads for October, November, December, and January.
Weekly to-do list
Daily/hourly to-do page
Postal schedule and delivery tracker
Cleaning schedule – take your time cleaning with this two-week spread so you don't get overwhelmed
Christmas movie schedule
Budgeting & Shopping
This section includes:
partially-filled Christmas budget worksheet
partially-filled Christmas party budget worksheet
Stocking stuffer ideas* – great for homemade gifts
Black Friday sales planner so you don't spend an entire day searching for sales
Black Friday schedule/route planner to shop more efficiently – you can even add a time and place to have lunch if your shopping takes a bit longer
Cyber sales planner
Cyber sales tracker
Christmas shopping list
Gift Giving
In this section, you will receive the following pages:
Christmas card list
Christmas gift ideas for family worksheet
Christmas gift ideas for friends and co-workers
Christmas gift ideas for service workers [ex. teachers, babysitter, dog walker, etc.]
Thank you card list – keep this handy when opening your gifts
Gift tags – 2 pages [tip: print on sticker paper]
Meal Planning
This section contains:
Party Planning
For this section, you will receive the following pages:
Christmas party meal planner
Decor inventory – I especially like this page to record decorations that I should probably replace before next Christmas
Christmas party shopping list
Guest list
Christmas party invitation template
Invitations tracker – great for getting an accurate headcount for your party
Secret Santa entries
Table name card template
Activities planner
Party guest book
Party photo frames
Kids' Activities
Dear Santa letter template
Christmas book list
2-word puzzles with answer keys
Christmas countdown activity
North Pole train tickets
Bonus Pages
Crafting project page
Decor storage labels [2 pages]
Monetary donation tracker – use these three pages so you can have an accurate account when tax season rolls around
Goods donation tracker
Volunteer service recorder
Other Pages
Front cover
4 different binder spines
Belong to page
Table of contents
Notes page
Planner Essentials
So no matter which version you use, you may need some planner tools to help you put it together. Below you find links to these materials.
How to Get Christmas Planners
If you are ready to get your holiday season organized fill out the form below to get your free Christmas planner.
To purchase our premium Christmas planners <–click here to visit our Etsy shop.
Final Thoughts on Our Christmas Planners
Remember, if you are not planning a big event and do not have a lot of gifts to get this year, then I suggest going with the free Christmas planner.
However, if you are throwing a dinner or a large event, or just have so many overwhelming tasks to do during the holidays like shopping for lots of people, then I suggest the premium version so that you can plan out your days until Christmas and reduce all that holiday stress.
My hope is that you will find both Christmas planner versions helpful, no matter which one you decide to get.
Other Related Holiday Articles
Also, don't forget to sign up for our weekly organizing challenges. Enter your name and email address below and you'll receive a new challenge every week.