I don't about you but I've had a love-hate relationship with my deep chest freezer for years.
It's great when you need that extra space for the Thanksgiving turkey or when you need to stock up on the latest frozen pizza sale.
But when I need to find an item or worse, try to pull out that whole frozen chicken at the bottom, I just want to scream. That is until I found a way to avoid those headaches.
Disclosure: Some of the links below are affiliate links that I have provided for your convenience. Click here to read my full disclosure policy.
If you have a deep chest freezer that you love but sometimes hate, I get it. Below I will show you how to organize your freezer as well as show you how I avoid falling into it or hurting my back as I try lifting items out.
Organizing Your Deep Chest Freezer
Empty Your Freezer"s"
I find the best day to clean and organize your deep chest freezer is the day before a big grocery shopping trip. This way, the refrigerator/freezer has fewer items.
So before you begin the steps in this post, make sure you have the room to relocate your items.
If you don't have the room to put everything in your refrigerator's freezer, that's ok. Place bulky meats in the refrigerator instead.
They won't have much of a chance to defrost. Save your refrigerator's freezer for items like ice cream that can easily melt in the refrigerator.
If you just have too much, consider using a cooler (filled with ice, of course). Borrow coolers from friends and neighbors, if need be.
As you begin emptying your deep chest freezer, unplug it. Don't just switch it off. It's better to completely disconnect your freezer to prevent any possibility of electric shock. Then allow some time for it to defrost.
Examine and Purge Your Items
As you relocate your frozen foods, check each item to see if it is still good. If it looks or smells funny, toss it. Freezer-burned food is safe to eat but personally, I would get rid of it. It's up to you to decide.
If you are uncertain how long you should be keeping frozen foods, click here for the FDA's food storage guidelines. Use these guidelines to help you decide what needs to go and what you can keep.
Cleaning Your Deep Chest Freezer
Once you've relocated all your foods, remove any baskets and/or removable shelving. After your freezer has defrosted, you will need to drain any standing water. Follow your chest freezer's recommendations for draining it.
In case you don't have the manual, look for a spout on the outside of the freezer where you can connect a garden hose in order to drain it. Others like my own, only have an opening (capped).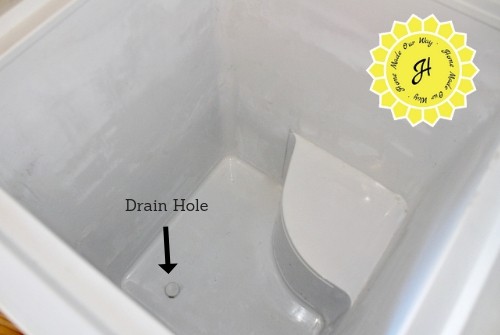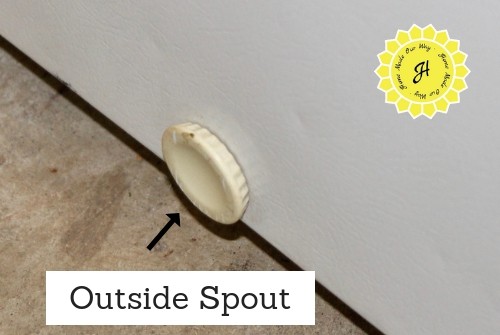 We keep our freezer in the garage so draining our freezer isn't a hassle.
However, if your chest freezer is located in the home, you may need to either move the freezer outside to drain it or sop up as much water as possible with towels rather than opening the spout.
Not all of the water will drain so you will need to use some sort of towel to absorb the rest.
Now, because I'm short, I tip the chest freezer onto its side to clean it properly. It's really the only way I can reach the bottom of the freezer.
Using my homemade vinegar/dish detergent cleaner I spray the inside of the freezer and wipe it clean.
To make this cleaner, just use 1 part vinegar, 2 parts water, and a few drops of dish detergent.
Once done, turn on the freezer so that it can get cold again before returning your frozen foods. This may take a while so in the meantime go ahead and clean those removable baskets and shelves.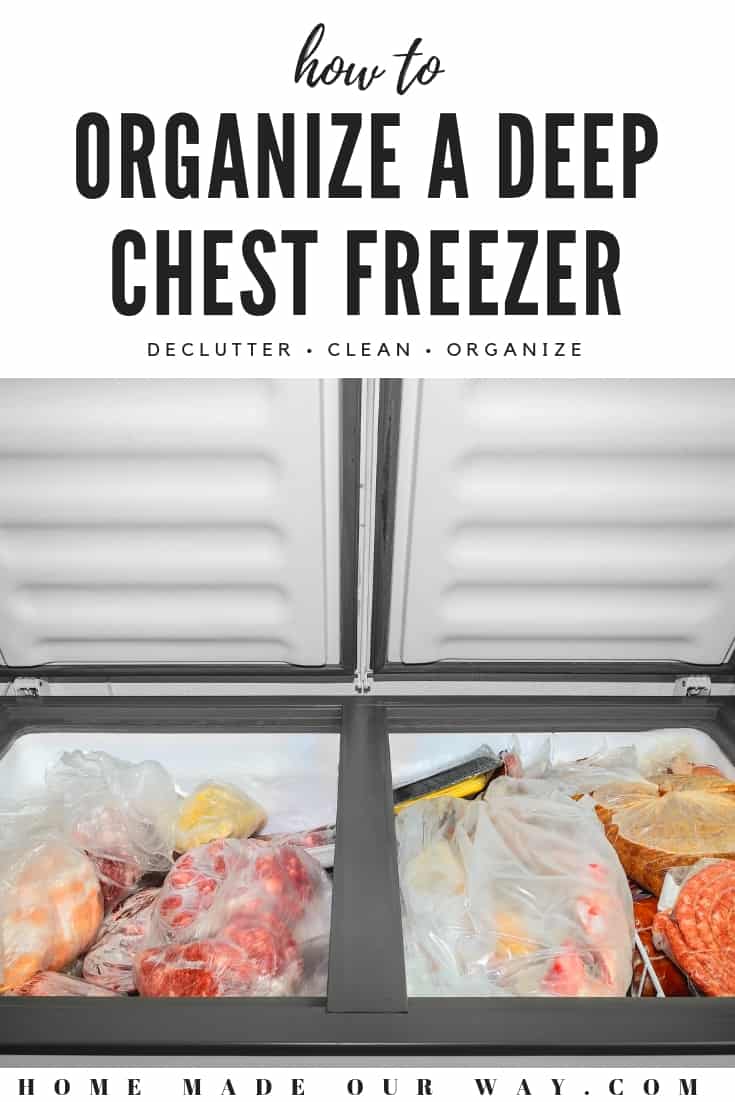 My Favorite and Free Organizers
Accidental Repurposing
The following is how I came about creating my organizers. Not only did it not cost me a thing, but it kept my freezer clean. Oh, and it makes it easy to remove heavy food items like that whole chicken.
So, what am I referring to? I repurpose reusable wine bottle bags that I get for free from my grocer.
For a while, I was getting free wine bottle bags from my grocery store. These cloth bags come with 6 divided pockets for small wine bottles.
While I liked receiving these bags for free, I started to accumulate them because I forgot to bring them with me whenever I shopped for wine. And because of the pockets, I really didn't have another use for them.
One day I decided to cut out the dividers so that I could reuse them for all my grocery shopping. And this worked.
Soon after, while running late from grocery shopping, I shoved the bags that were holding my frozen foods into the chest freezer until later when I could put my food away properly.
When I returned home, I immediately went to the freezer to remove the bags to put the items away in the very same freezer. I can't tell you how nice it was to remove the whole bags of food effortlessly.
Then came my lightbulb moment. Keep reading below to see how best to organize your freezer with wine bottle bags.
First, Sort Your Foods
What you will want to do is sort your food. Personally, I sort them by chicken, other meats, potatoes, snacks, bread, and breakfast.
I suggest sorting whichever way makes sense to you. Sorting your food will also help you determine how many bags you may need.
If you have wine bottle bags, go ahead and cut out the dividers. You can also use a regular reusable bag but make sure it is washable like these cloth bags.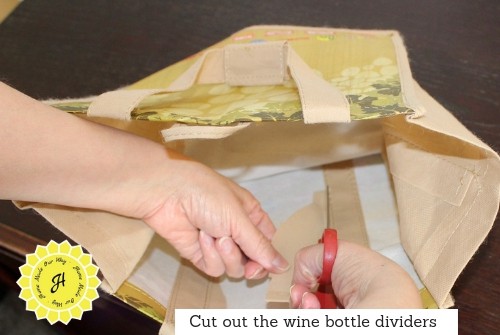 Next, fit your sorted foods into the bags. Then label the bags. You will want to label the outside of the bag on either side and most importantly, on the bag handles.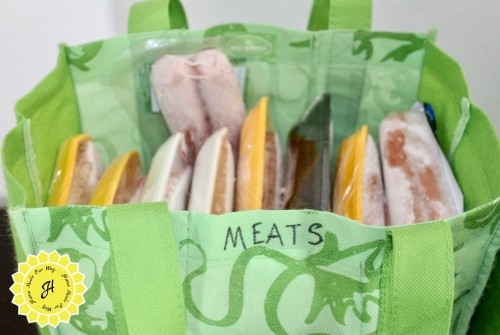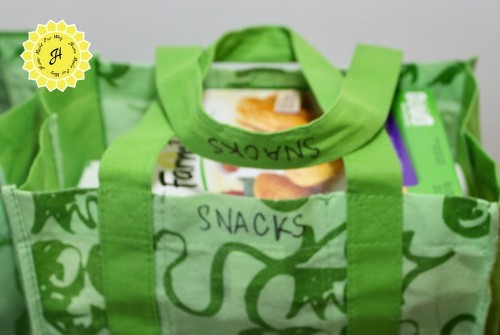 This will help make finding what you need so much easier. And, I no longer need any baskets or shelves. Once I began using the bags, I could remove the basket that used to hang near the top.
Getting rid of the basket actually freed up my freezer space even more. I no longer had to wrestle with it when placing something weirdly shaped like a whole turkey.
Below are pictures of my deep chest freezer with two layers of bags. And I still have room for more.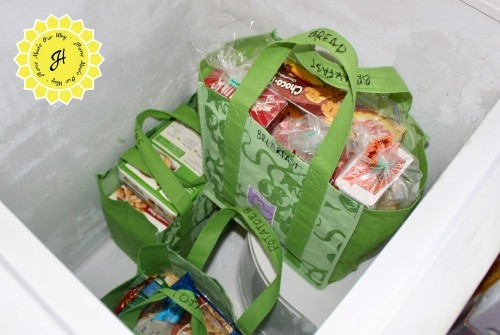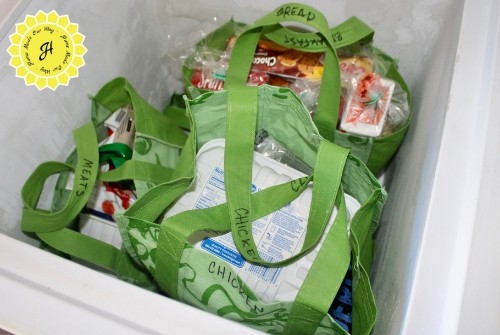 Make sure to lay the bag handles on top of the bags instead of letting them fall to the sides.
Whenever I put the bags in they actually should do this automatically. This will make finding the handles easier. And because I label the handles I avoid pulling out a bag I don't need.
Maintenance of Your Deep Chest Freezer
Now, because I use these bags, my freezer stays relatively clean and I only clean it once a year mostly to remove any ice/frost buildup. If you decide to use this method, you will see what I mean.
Also, once a month, I replace all the bags. I toss the used bags into the wash with my kitchen towels and reuse them the following month. Easy peasy!
These bags are normally 99 cents so if I see bags getting frayed from washing and use, I don't mind shelling out a buck here or there for a bag. It's worth it just to keep my freezer clean and to make it easy to remove my items.
So how do you organize your deep chest freezer? Let me know in the comment section below.
Need help cleaning and organizing your refrigerator as well? Click here to get started.
Know someone who could use this post? Use the share buttons above and below this post to help them out with their deep chest freezer organization.