8 Steps to Getting Your Affairs in Order Before You Pass
No one likes thinking about the end of their life but for many of us, it's not death that's scary. Instead, it's all the things your family will need to do after you are gone.
This is especially true if you are the one who manages most of the household duties. Below I go over organizing all your personal affairs in the event of your death.
My dad was someone who tried to be prepared for anything. After losing a couple of brothers and a mother, he was becoming a sort of expert in funeral arrangements.
He shared these experiences with me which were mostly the frustrations he would encounter in trying to make funeral arrangements.
Knowing what he went through, I was certain my dad had all his important papers and documents in order. He was that kind of guy.
Sadly, my dad did pass a few years ago. And while his personal affairs weren't a complete disaster, they were certainly not in order. But with the help of his friends, we put together a beautiful event that I will never forget.
My hope is that you find this post helpful when it comes to your personal affairs. With a plan in place, your family can focus more on the event and less on the details you have already taken care of.
---
Important Disclosures
Disclosure: I am not a lawyer or financial advisor and any advice I give here are suggestions that come from personal experience. If you decide to act on any of these suggestions, please seek appropriate legal counsel.
---
Disclosure: This post contains some affiliate links for your convenience (which means if you make a purchase after clicking a link I will earn a small commission but it won't cost you a penny more)! Click here to read my full disclosure policy.
---
Decisions You Should Make Now
1. Have a Will Drafted
It's no surprise here but one should have a will put in place in the event of death. This is the best way to let your loved ones know exactly what your wishes are.
It is also important to include guardianship of your children in the event that both you and your spouse should die. You may have brothers, sisters, and even grandparents who feel they should be the ones to care for your kids.
Make it known who you choose as your children's guardians to prevent fighting within the family. Your children will also be grieving and do not need to be caught up in this kind of situation.
Also, don't fall into the trap that your family will know what to do. I have seen this before especially when the spouse of the deceased does not get along with the deceased's family.
Remember that your family will be grieving and despite your wishes, some members could push back on decisions you've made.
So, I urge you to get a will put in place. I can't tell you how relieved you will feel just having that document on hand.
Do I Need a Will?
There are really three types of people who should have a will put in place:
married people
parents
and lastly, people who have significant assets
Be aware that you don't have to be all three types of these people to put a will in place. If you are any of the above people, you need to have a will.
2. Have an Advance Directive Drafted
You may know advance directives by other names. These include "living will", "durable power of attorney", and "DNR [do not resuscitate]." There are others but these are the ones often used.
These documents are just as important as a will. They give immediate power to the person you have designated to make decisions on your behalf.
So, some decisions that should be included in these documents are:
designation of the person who will represent you and carry out your decisions
whether you want or not want life-saving procedures in the event of brain death or other situations
whether you want to donate organs or your body
Click here to learn more about advance directives and what you should include.
Selecting People
3. Selecting an Executor
Selecting your executor is also an important decision. Usually, if you are married, this will be your spouse. However, this can become complicated if you have children from a previous marriage.
So, whatever you do, make sure you select someone you trust and know will carry out your wishes. If you fear that no matter who you choose there will be conflicts then designate someone who can remain unbiased. This can be an attorney or even a trusted family friend.
4. Selecting a Guardian/Custodian for Your Children
When it comes to the care of your children, choose someone:
you know who will care for them as their own
who can afford to do so
whose lifestyle and beliefs are not too different from your own.
Your death will bring disruption in your children's lives but you can minimize this. Simply select someone who will love your children as much as you do.
5. Naming Beneficiaries
Whom you choose to leave your assets to is up to you. However, if you have children, the best course of action is to create a trust that will cover their care.
Speak to the attorney handling your will. They should be able to set this up for you so that your funds are being used as intended.
More Ways for You to Prepare
Now that I've covered the most important ways to prepare for your death, let's go over other optional ways to have your personal affairs in order.
6. Consider Pre-Paying Your Funeral Arrangements
These days you can prepay your funeral expenses. However, there are some advantages and disadvantages to doing so. Click here to learn more about pre-paying funeral expenses and whether it is a good option for you.
7. Have a Family Meeting
Another way to prepare yourself and your family is to have a family meeting. I've never understood why some people are reluctant to do this. It is important to me that my family is aware of my wishes and it should be important to you too.
And don't wait until you are terminally ill. As soon as you know what you want, have the talk. You can leave young children out of the meeting, but do include your teenagers. They can handle the death talk and it's good that they know who you have chosen to care for them in the event of your death.
So what if you were raised not to discuss such matters? Or perhaps you just can't have that talk. In these cases, I suggest writing letters to your family. In these letters, write down your wishes but also make sure to explain why you have chosen certain arrangements especially if you think they will object.
Another option is to make a video recording of your wishes. Just make sure that if you write letters or create a video that your wishes match those you have stated in your will and/or advance directive. Any differences and your family can become confused to the point that they may need to take legal action to carry out your wishes.
If you have a few social media accounts and/or have lots of online friends, click here to read this in-depth article by Ariel Hochstadt. He explains digital death and how to prepare your online accounts in the event of your passing.
Helping Your Family When You Are Gone
8. Creating a Personal Affairs Organizer or End-of-Life Planner
One way to help your family in the event of your death is by leaving a way for them to easily handle your personal affairs in those first weeks. You can easily do this by creating an end-of-life planner or organizer.
In this planner, you want to provide any and all information your family will need to carry out your wishes, contact all the people who need to be contacted, and finalize and close your accounts.
This is a lot of information that your loved ones will need and they won't find it in your will or in your advance directive. For example, do they know where your parents were born? (This is needed for the death certificate.) Do they have your friends' contact numbers so they can notify them of your passing? Do they have your email passwords so that they can access online accounts?
As you can see these are just a few things your family will need to deal with. And if you don't have this information handy in such a planner, they will have to go digging into all your paperwork to find it instead. <— This is not something they want to do so soon after your passing.
"After I Am Gone" Planner
To help you out with the above, I have created the "After I Am Gone" Planner so that you don't have to create one from scratch. Here are just some of the pages that you will get with this planner:
4 different checklists of tasks for your family to do at certain intervals after your passing
contact information for family, friends, organizations, etc.
your personal information they will need
list of where they can find your important documents and other items
pages to list your various accounts, policy numbers, and passwords
your personal wishes for your wake, funeral, etc.
extra pages for writing your own obituary (if you want to)
blank table of contents so that you can arrange the pages the way you like
Please note again that this planner is not a substitute for a will. And if you already have a will, you should still create an organizer for other things that you won't find in any legal documents.
Once you have filled out this planner, I guarantee that you will feel the same relief as when you drafted your will.
Here are what others are saying about the After I Am Gone Planner: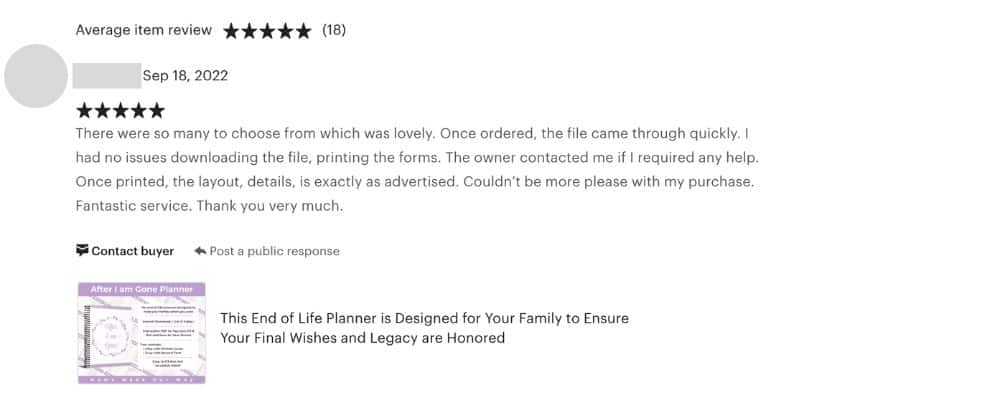 Click here to see more reviews about the planner.
So, if you are ready to order your printable planner, click here.
If you prefer the hard copy, click here to purchase it on Amazon.
Update (05/03/2022): The After I Am Gone Planner comes in 4 different versions. The downloadable planner is on Etsy and features the lilac and gray versions. The hard copies are available on Amazon and come in the teal and brown versions you see below. Click on the images below to learn more.
Update (10/24/2020): The After I Am Gone Printable Planner is now an interactive pdf. You can now type in your responses and save them to your device. It is still printable as well.
Free Sample Page – Immediate Checklist
Not ready to purchase this planner? Get our planners' 'Immediate Checklist' page for free. This page will help your family members during the first hours after your passing. Simply click the pink button below to receive access to our free resource library where you will find this checklist.
Final Thoughts on Organizing Your Personal Affairs
It is so important that you put your affairs in order (just in case). Don't put it off even if you have the greatest family in the world. Death and all things that come after are never easy to deal with.
So remember:
Meet with an attorney and get a will put in place.
Next, have an advance directive drafted and filed.
Decide if you want to prepay your funeral arrangements.
Schedule a family meeting and discuss your wishes.
And lastly, create an end-of-life planner.
And one more thing before I forget. Remember to update these documents especially when there has been a significant change or event in your life. These events can be a new marriage, divorce, the death of a spouse, the birth of a child, and when children are no longer dependent on you.
If you have questions regarding this planner, please feel free to reach out to me at [email protected].
Other Useful Articles to Help You Plan Your Personal Affairs
Save This for Later
Want to save this for later? Want to share it with a friend? Click the image below to save it to your Pinterest board.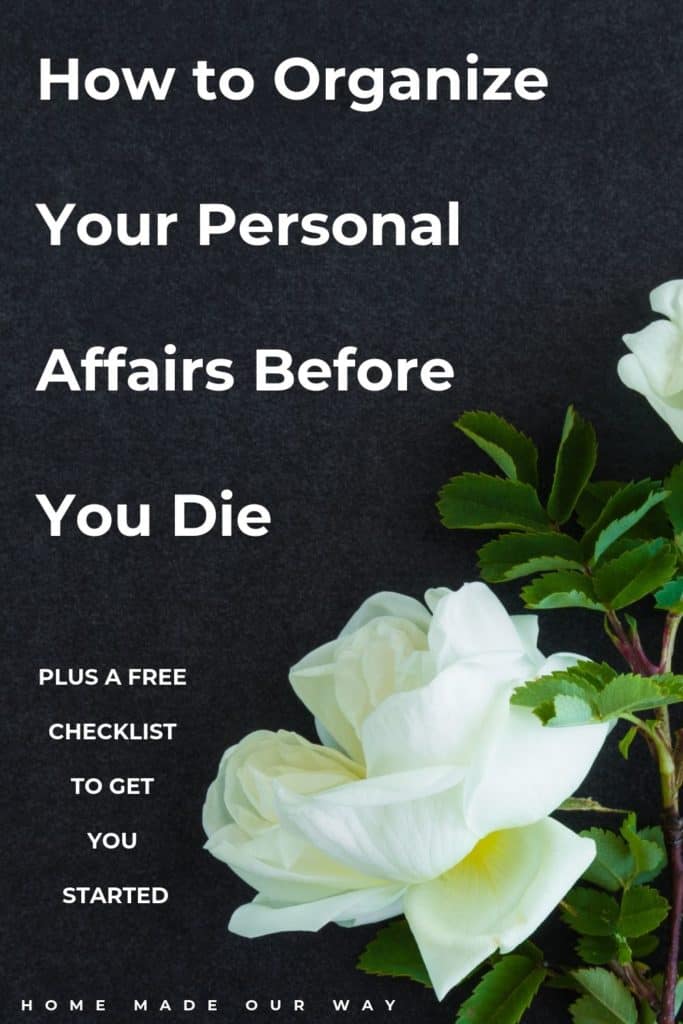 Getting Your Personal Affairs in Order In the Event of Your Death