Printables You Can Download to Help You Budget and Record Your Finances
A couple of years ago I created financial planner pages to help get one's money and accounts organized. It was three simple pages that I still personally use every day.
However, my minimalistic system did not start that way. It took me years to whittle down my planner into three useful pages.
So how could I expect any reader who is trying to organize their finances (many for the first time) to start with a system that they are not used to yet?
Enter our new financial planner starter pages. My hope is that with these five pages, you will be able to organize your finances to the point that all you will need are three simple pages.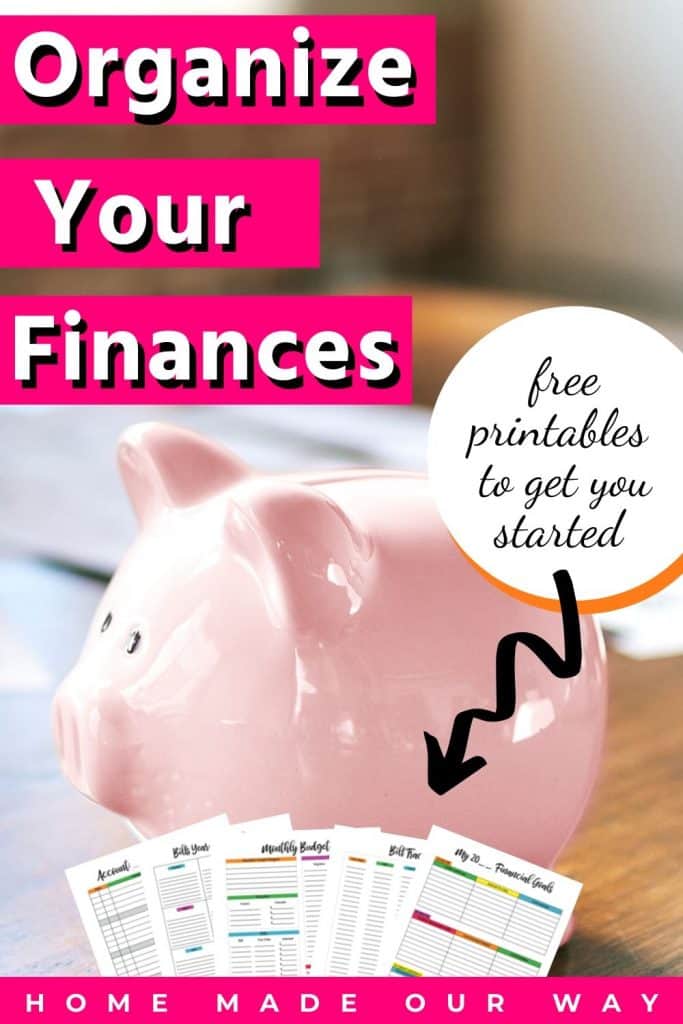 Disclosure: I am not a financial planner or advisor. I just know what worked for me and want to share the tools I used. If you have questions about financial planning, please seek advice from a licensed financial planner/advisor.
Disclosure: Some of the links below are affiliate links that I have provided for your convenience. Click here to read my full disclosure policy.
Below are images of the pages that are included in this newly updated financial planner. I have also provided examples of how best to use these pages.
When you are ready to print your free pages, simply fill out the form at the end of the post. And with that, let's take a look at what you will get.
If you prefer a complete finance planner continue scrolling to learn more about our Money Manager.
Our Free Financial Planner Starter Pages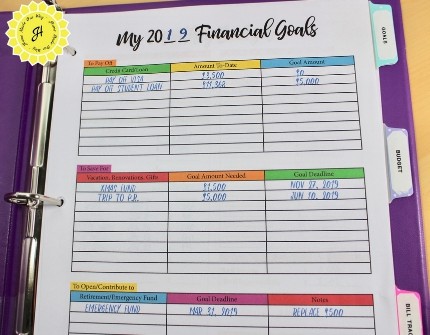 Personal Financial Goals Worksheet
While this page is not in my personal financial binder, I do set financial goals with my goal-keeping planner.
If this is your first time trying to organize your finances, I suggest starting here to develop a plan of what you expect and want to accomplish when it comes to your money.
Here is a post on 15 financial goals you can check out to help you put this page together.
Below is an image of the top portion of the financial goals sheet. This sheet has three planning topics.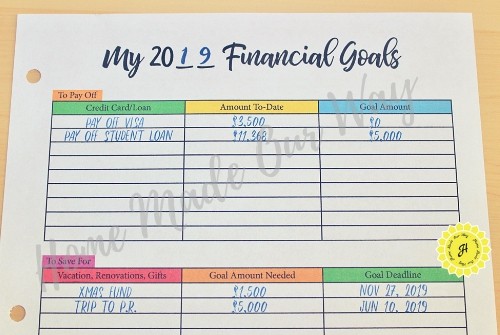 The first one covers any debt you would like to pay off. Enter the debt, the current amount, and the goal amount you wish to see it at by the end of the year.
Whatever you do, try to be as realistic as possible. In the example below, paying a $3500 credit card debt by the end of the year could be possible but this may not be so for the student loan shown.
This is why the goal amount shows $5000. While I'm sure we all want zero goal amounts, this may not be the case for the current year.
The second part of the financial goal sheet has to do with saving. Use this section to fill in things you'd like to save for such as Christmas gifts or a much-needed vacation.
The third section is for goals that we always say we are going to do but never do. This includes opening an IRA, starting that emergency fund we keep putting aside, or even setting up automatic contributions to a 401K.
Monthly Budget Worksheet
Once you are done filling in your goals, use it to help you plan out your monthly budget. In fact, the first section requires that you enter your goals/amounts for that month.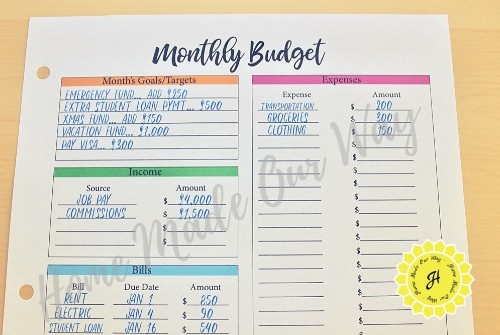 This will keep you focused on the big picture. The second section is where you will enter any income you will receive within the month.
The third and fourth sections technically are the same things although I list them separately. In the bill section, I only enter those bills that have a due date like your mortgage/rent, phone bill, and utilities.
The fourth section is listed as expenses. This is where I list items that do not have a due date and whose amounts tend to fluctuate. As you can see in the example, I've included things like groceries and clothing.
While I can't cut groceries out of my budget, I can reduce the amount budgeted by using my money wisely the next time I shop for food. Perhaps I can use coupons or avoid impulse buys. If money is tight, I might just remove my clothing allowance altogether.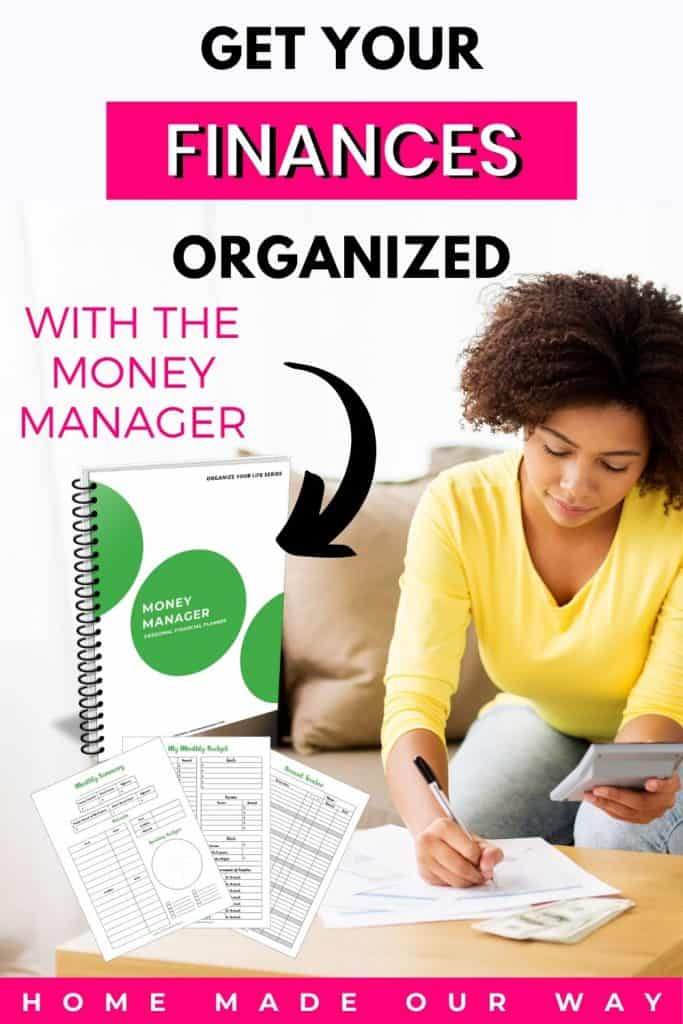 Sticking to Your Goals
Now, the bottom portion of the monthly budget will require some math so if you are bad with numbers, keep a calculator handy.
In the 'red' section you will enter your total income and subtract the total expenses and bills from this number. This will hopefully give you a surplus amount.
If you end up with a negative number, go back over your budget and either reduce your expense amounts or cut out anything you don't "need" this month. If you continue to have a negative number or find yourself at zero, then you may need to consider other ways of increasing your income.
Lastly, the yellow section is where you will write down your surplus disbursement amounts for each of the goals you listed at the top of the page. While you can fill this out at the beginning of the month, you will need to take action with this section around the end of the month.
So, on the very last day of the month, replace all budgeted amounts with the actual amounts you paid. That is if you budgeted $500 for groceries but only spent $400, then change the $500 to $400.
Next, recalculate the red section to get the actual amount you are able to pay toward your goals. Then go ahead and pay those accounts listed in the yellow section.
The Bill Tracker
On this sheet, you will keep track of all your bills whether you pay by check or have automatic payments set up.
So, even if you list them on your monthly budget, you should still fill this tracker out. Why? See it as a backup copy. I can't tell you how many times I have forgotten a bill.
In the fourth column, enter the account from where the money will be withdrawn. This will help later when filling out accounts pages. I enter the account's initial in this column.
There is a space for any key you come up with to remember these accounts.
In the fifth column, enter the frequency of the payment. So, if it is a yearly payment, add a Y to this column, if it is biweekly, then use BW. Again, use the key at the bottom of the page for this.
By the way, this is the sheet I use when filling out my regular planner pages. When scheduling all my to-do's for the week, I add in any payments I need to make in the "pay" section of my daily planner pages.
Bills' Year-At-A-Glance
This sheet is for payments that do not occur on a monthly basis.
I can't tell you how many times I forget about my Amazon Prime membership. So, when you are creating your monthly budget, make sure to refer to this sheet so you don't forget these bills.
Account Record
Since I do all of my finances by hand (I do not use any kind of software program), I use this page to keep track of all my transactions across all my accounts.
These include my checking & saving accounts, my retirement accounts, credit card accounts, investment, and even my Paypal accounts.
Now this page should not be foreign to you if you have ever opened a bank account. It is the same setup as a check register.
And like a check register, I record every single transaction I make. Why? Because if I need to adjust my budget, I will have the most up-to-date version of my account.
Also, if I find a transaction on my monthly statement that does not match up with my account's page, I can dispute the charge right away especially if I suspect fraud.
You'll want to make multiple copies of this page for each of your accounts.
FYI: the yellow column is what you will fill in after you've received your monthly statement. In the example below, I used four different symbols but you will only use one symbol for all transactions within the same monthly statement.
For example, I will use a dot to confirm any transactions on my current month's statement. Then next month, I will use a slash.
This will help keep statement transactions separate especially if my accounts do not balance correctly. If something is amiss, I only have to look for those transactions I marked with the month's symbol.
Now, if you are ready for a more complete financial planner for your household check out our Money Manager below.
With the Money Manager, you get additional pages to help you organize your finances even more. It also comes with a sample money manager already filled in so you can use it as a guide when filling out your planner.
Here are the pages you will receive with your Money Manager:
Financial outlook worksheet
Financial goals worksheet
Monthly Calendar
Monthly budget worksheet
Budget categories page
Yearly bill tracker
Year-at-a-glance bill tracker for non-monthly bills
Account tracker
Debt tracker
4 Tax-deductible trackers
Monthly summary worksheet
Yearly summary worksheet
3 money trackers
Now, let's take a look at those extra pages and how they can help you. *[photos reflect the previous version of the money manager but the content has not changed.]
Financial Outlook and Goals Worksheets
The financial outlook and goals worksheets will walk you through setting long-term financial goals and creating an action plan for your goals.
Monthly Calendar Template
The monthly calendar is a blank template you can use to fill in your bill's due dates and/or actions you plan on taking to improve your financial situation.
Monthly Budget, Budget Categories Page & Account Tracker
The monthly budget and account tracker pages aren't too different from the starter pages. Both work the same way as above.
The budget categories page will help you develop a more precise monthly budget and it contains blank lines to fill in anything that is not listed.
Bill & Debt Trackers
The monthly bill tracker is designed so that you don't "miss" a payment that could affect your credit score.
The year-at-a-glance (non-monthly) bills tracker is designed so you don't "forget" to budget any bills that occur either yearly or at different times of the year.
The debt tracker helps you amortize your debts like student loans, mortgages, etc. You can also use it to pre-plan your payments if you are trying to pay a particular debt down quickly.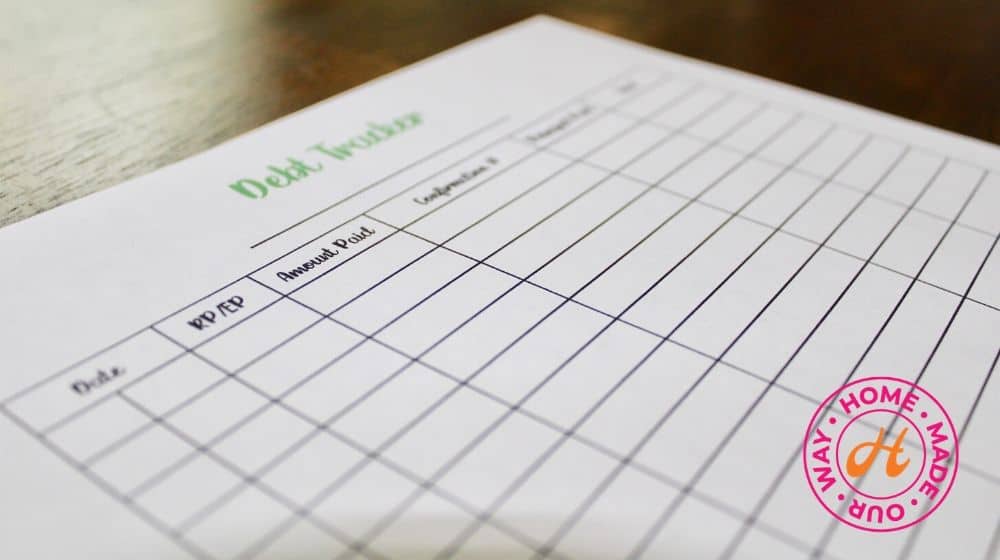 Tax-Deductible Trackers
With the Money Manager, you get 4 different tax-deductible trackers. These pages are meant to organize your deductions to make filing your taxes easier.
You get a tracker for monetary, and charitable donations, one for donations of goods, a mileage tracker, and an additional page for other deductions like job expenses, education expenses, etc.
Summary Worksheets
Included in the money manager are monthly and yearly summary worksheets. Once filled in, these worksheets give you a snapshot of your finances as well as any budgeting and debt-paying efforts. Use these worksheets to reflect on your progress and note any changes that need to be made.
Visual Trackers
And finally, I've provided 3 visual money trackers that you can use for motivation. Use these as cheerleaders as you pay down debt or save money. Keep them in your planner or hang them up: it's up to you.
And that's our Money Manager. To get your copy, click here to visit –> our shop.
So whether you use our free starter pages or get our new Money Manager, my hope is that over time you will get better at organizing your finances.
I know firsthand that when you organize your finances, you are better equipped to take on debt and/or save money.
Final Thoughts on Using This Financial Planner
As I stated earlier, I do all my finances by hand and have been doing so for well over 20 years. I do not rely on any type of software program to record or calculate my finances.
I really believe that if you are terrible with finances then this should be the way to go as well. It may seem tedious at first but after a while, as your debt decreases, so will the work.
Doing your finances by hand forces you to confront your finances. The work you put into organizing them will make you more aware of your spending which, in turn, will help your financial standing.
So, use these printables to help you organize your finances and get to a better place when it comes to your money.
Get Your Free Financial Planner
Get the password for our resource library with all our free printables including this financial planner by clicking the pink button below:
Other Posts to Help You With Your Finances
Any questions? Leave it in the comments section below and I'll get right back to you.
Downloadable PDF to Keep Track of Your Personal Financial Documents