When it comes to organizing your home for overnight guests, your focus should be on making them feel comfortable and at home.
One way to get started is to think about your own overnight stays at the homes of family and friends.
Ask yourself, what did they do that made you feel welcomed?
What could they have done to make you more comfortable?
With that in mind, let's get started.
Disclosure: Some of the links below are affiliate links that I have provided for your convenience. Click here to read my full disclosure policy.
Organizing for Overnight Guests
So, whether your guests will stay for the night or the whole week, getting your home ready for visitors is just a nice thing to do for them.
Personally, I love it when friends and family come to stay over for a few days.
I make it my mission to make them feel so welcomed that they won't want to leave.
The Home
Naturally, you want to get your whole home spic and span clean, especially the bedroom and bathroom they will be using.
If you plan on using 'the good dishes', then run them through a cycle in your dishwasher to remove any dust.
Speaking of dust, go around the house and dust all your surfaces.
This will be appreciated by anyone with dust allergies.
You'll also want to make more space around the home especially if your guests include children.
Store away things that may get in the way when you have more people in the home.
For example, if your guests will be spending time in the living room, then maybe move the coffee table out of the way so that no one is awkwardly trying to walk around it to get to or from their seat.
If your guests include a toddler, make sure you baby-proof your home as much as possible.
This includes getting covers for outlets, doorknob covers, cabinet locks, and even a gate to block a stairway or other spaces that are off-limits.
Overnight Guests: Bedroom
The first thing you want to do is make sure all bed linen is clean.
This includes sheets, pillowcases, and blankets.
Personally, I buy new pillows whenever my guests stay.
Then, when they leave I gift them the pillow.
If the bedroom they are given is not a separate guest room, make sure to give them some place to put their clothing.
Empty some dresser drawers or make room in a closet.
Don't forget to provide some hangers too.
I also give my guests a pop-up hamper.
This way, if they don't use it, they can keep it folded and out of their way.
If they have their own bathroom, you can keep their towels in there, however, if they need to share it with other members of your family, lay a set of towels on their bed.
More importantly, make sure they have a place to dry their towel by installing hooks on a wall or back of the door.
If the room is very small, a chair makes an excellent substitute for a night table.
Just do not overcrowd the surface.
You can provide an alarm clock but make sure they have room for their phone and/or eyeglasses.
Also, don't forget to provide extra blankets and a trash can.
Extras
If they have children and are keeping them in the same room, have an air mattress and pump available.
Provide them with access to wifi, by keeping the password visible. You can easily do this by printing it out on paper and framing it.
If your guests are staying for an extended period of time, you can also place some books and magazines in their room for those times when they want just a little alone time and veg out.
I like leaving a "city attractions" guide in case they find something they want to do.
Also, don't forget to have an iron and ironing board handy.
Overnight Guests: Bathroom
When it comes to bathrooms, make sure to have all the things they may ask for in there.
Asking for a plunger, tampons, or more toilet paper can be awkward for both you and them.
It is not unusual for guests to forget to bring items they need.
Make a basket of toiletries and keep these visible on the vanity or on some shelving.
Below are some items you may want to have on hand in their bathroom:
extra towels
washcloths
extra toilet paper
hairdryer
toothbrushes
toothpaste
shampoo/conditioner
deodorant
feminine hygiene products
soap
aspirin
facial tissue
razors/shaving cream
toilet plunger
disinfecting wipes
Here are kits that combine most of the toiletries above: for men and for women.
You can get most of these items in the travel section of your grocery store.
Overnight Guests: the Kitchen
Before my guests arrive, I make sure to call them the week before and ask them about their choice of beverage in the morning.
I personally can not live without that first cup of coffee in the morning.
I am not a pleasant person before my first cup.
Usually, I bring all my coffee 'stuff' with me when I travel, just in case.
However, I try to have these things available to my guests.
I can't imagine having to run to a store first thing in the morning for a sweetener.
So before your guests arrive, ask them how they take their coffee, tea, etc.
Also, don't forget to ask about any dietary restrictions, food allergies, and what kinds of things their children eat and drink.
If you are having lots of overnight guests, consider setting up a beverage station outside the kitchen.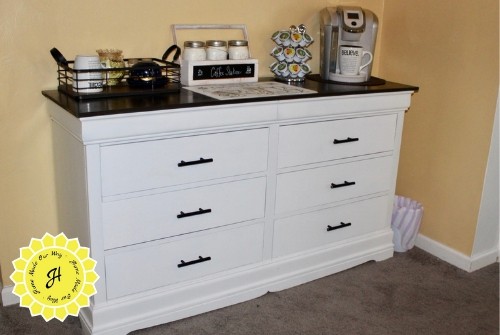 This will keep traffic out of the kitchen if you happen to be cooking breakfast.
You can also set up a buffet station for your breakfast and let your guests help themselves.
This will lessen your workload when trying to get everyone fed.
Overnight Guests with Pets
Make sure to let guests know whether they can bring pets or not.
This gives them time to find a kenneling service for the time they will be staying with you.
Arrival Day
Before your guests arrive, make certain you have enough available parking if they are traveling by car.
If you prefer no one wear shoes indoors, gift your guests a pair of slippers or non-slip socks as they enter your home.
And if this is the first time they have ever visited your home, give them a quick tour so that they can find most things on their own, like the laundry room.
During their Visit
To keep the house clean and organized as much as possible, empty the trash can in their room and/or bathroom.
Don't feel obligated to make their bed.
If they offer to help around the house, let them.
Having people in your home, even if they are family, can be stressful.
It's okay to pick up after them but don't fill your day with chores.
Your guests have come to see you.
Enjoy your time with them.
After Your Guests Leave
Once your guests are gone, go ahead and clean up the room they were staying in.
Lots of times, they will leave something behind like a phone charger or reading glasses.
Remove and wash linens.
If this is someone's room, remember to return anything that was removed.
And with that let's get your home guest-ready.
Need more help with organizing other rooms before your guests arrive? Click the links below to get started.
Don't forget to sign up for our weekly organizing challenges.
Enter your name and email address below and you'll receive a new challenge every week.