For many, the dining room is more than a dining room.
While others keep it formal and only use it on special occasions, others use it as their office, homework station, game room, and of course, a place to eat.
While I love multifunctional rooms, I still want my dining room to look like a dining room.
So, let's see if we can declutter and organize this room while allowing you to use it for different functions.
Disclosure: Some of the links below are affiliate links that I have provided for your convenience. Click here to read my full disclosure policy.
Organizing Your Dining Room
Declutter and Purge
If you have furniture in your dining other than the table and chairs, then let's start decluttering them and get rid of anything that you no longer use, need, or want.
These pieces include hutches or China cabinets, sideboards, buffets, beverage stations, and possibly a tea/wine cart.
Begin emptying each piece and decide what goes and what stays.
Don't feel obligated to keep plates or silverware you do not love, especially if it is a gift.
I actually kept a matching set of plates/bowls that my dad had gifted me.
They were not fancy and I did use them for a long time.
However, after my dad had passed, I couldn't bear to part with them.
It took a couple of years for me to let them go.
I ended up donating them which made parting with them easier to do.
If you feel you can't part with any of your dining room stuff, consider upcycling or repurposing them.
Check out Pinterest for some clever ideas.
You'll find really cool projects from creating key hooks out of forks to a dream catcher using plate shards.
Cleaning Your Dining Room Furnishings
Now that your furnishings are empty, let's go ahead and give them a good cleaning before putting anything back.
Wipe down shelving and vacuum any debris inside drawers and cabinets.
Then dust and polish any wood furnishings.
If you plan on displaying anything, make sure to wash, dust, or polish them.
These include any plates, glassware, and silverware you are keeping.
DIY
If you have any DIY plans for your dining room, go ahead and get this done.
I decided to paint my dining room table.
It had lots of wear and it needed a little creative updating.
Organizing Your Dining Room
If you use this room for different purposes, consider using baskets or bins to corral items for each function.
So, if you use this room as an office, then keep things like pens, staplers, and paper clips in a labeled bin so that you can put these items away together.
If your kids use this room to do their homework, consider creating a portable bin with all their needs in one place.
Click here to create a portable homework station for your student.
Store these bins out of sight either inside your dining room furnishings or in another room.
Next, fold any napkins, tablecloths, placemats, and other dining linens and store them away.
Use cutlery bins to sort and keep your silverware tidy.
Stock and neaten any beverage and/or buffet stations.
Update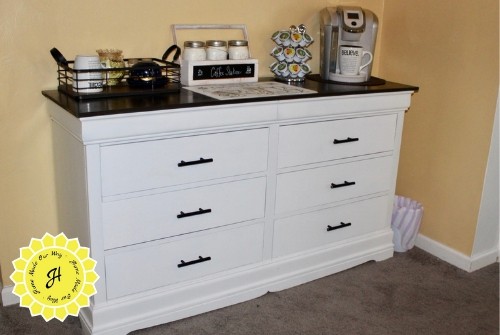 I have since repurposed the above cube organizer and replaced it with an upcycled bedroom dresser that I turned into a coffee station.
Click here to check out how we repurposed this old dresser.
Decor
This part depends on your style and taste.
Add a tablecloth, runner, or perhaps flowers to your table.
If you eat on a daily basis in this room then keep your table decor simple so that you don't have to move much around.
Maintenance
To keep your dining room tidy, use your bins for corraling your non-dining room stuff.
Designate a time to "close" this room.
Clean up after dinner and have all non-dining room bins put away.
Take any late-night snacking to the kitchen.
Before any formal dining occasion, quickly go through these steps again.
Check your displays and give them a quick dusting and polishing.
Stock your various stations so that you are not replenishing them after your guests have arrived.
After your occasion, clean and place everything back where it goes so that it is ready for the next occasion.
Let's Get Started
Okay, let's get started on organizing your dining room and make it an inviting place for your family and dining guests.
Looking to get your kitchen organized as well?
Click any of the following links to declutter and organize the following areas:
Want to install a beverage station in your dining room?
Click here to read how to set up and organize a beverage station.
Also, don't forget to sign up for our weekly organizing challenges.
Enter your name and email address below and you'll receive a new challenge every week.