Avoid Frustration by Learning How to Plan Out Math-U-See's Curriculum
Are you feeling frustrated with scheduling and using Math-U-See in your homeschool?
I have seen comments across many homeschooling communities from parents who are having trouble scheduling and using Math-U-See.
The result: kids crying and sometimes, parents crying.
But it doesn't have to be this way.
Below I explain how you can use this curriculum so that you don't overwhelm your child.
Plus, I created a free PDF filled with schedules that you can follow for your lesson plans.
To access it, just click the pink button at the end of this post.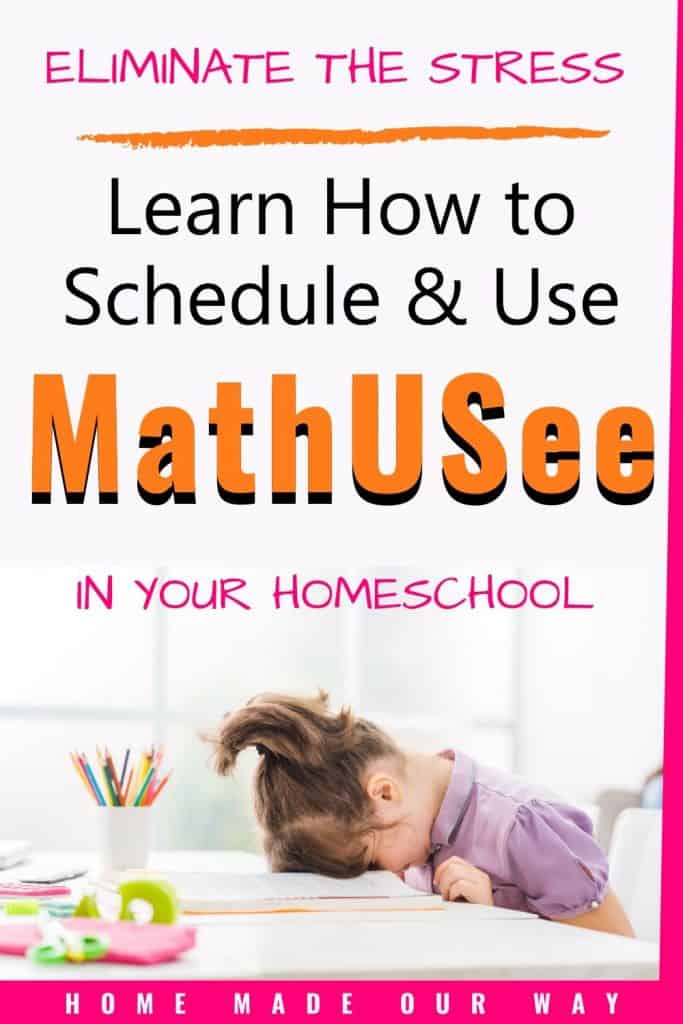 Disclosure: This post contains some affiliate links for your convenience (which means if you make a purchase after clicking a link I will earn a small commission but it won't cost you a penny more!) Click here to read my full disclosure policy.
***This post is written for those who purchased the workbook and instructor's manual/DVD. I do not participate in Math-U-See's online worksheets/courses. Call me old-fashioned but I prefer paper and pencil. I also think my kids get enough screen time as it is.***
Math-U-See: 215 Days of Work!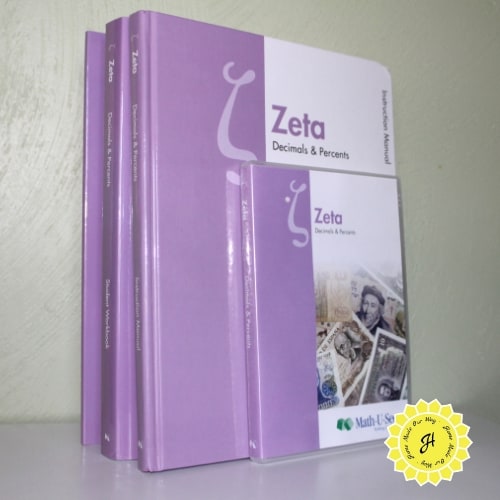 For early-level workbooks in Math-U-See, there are 215 sheets, a combination of worksheets and tests.
Each workbook has 30 chapters:
3 lesson practice sheets (worksheets A, B, C)
3 systematic review sheets (worksheets D, E, F)
1 application & enrichment activity (worksheet G)
30 lesson tests
4 unit tests
1 final exam
It seems like a lot, but I find this to be just the right amount of practice sheets and tests to confidently measure my children's mastery.
Update 1: We are currently working on Math-U-See's Algebra course which has 35 chapters.
The worksheets are set up differently than the above.
This level has:
2 lesson practice sheets (worksheets A and B) per chapter
3 systematic review sheets (worksheets C – E) per chapter
1 honors lesson (worksheet H) per chapter
3 unit tests
1 final exam
This brings it to a total of 214 sheets making it just one sheet less than the 30-chapter levels.
It is scheduled a little differently so I'll provide a schedule example for this curriculum in the free PDF.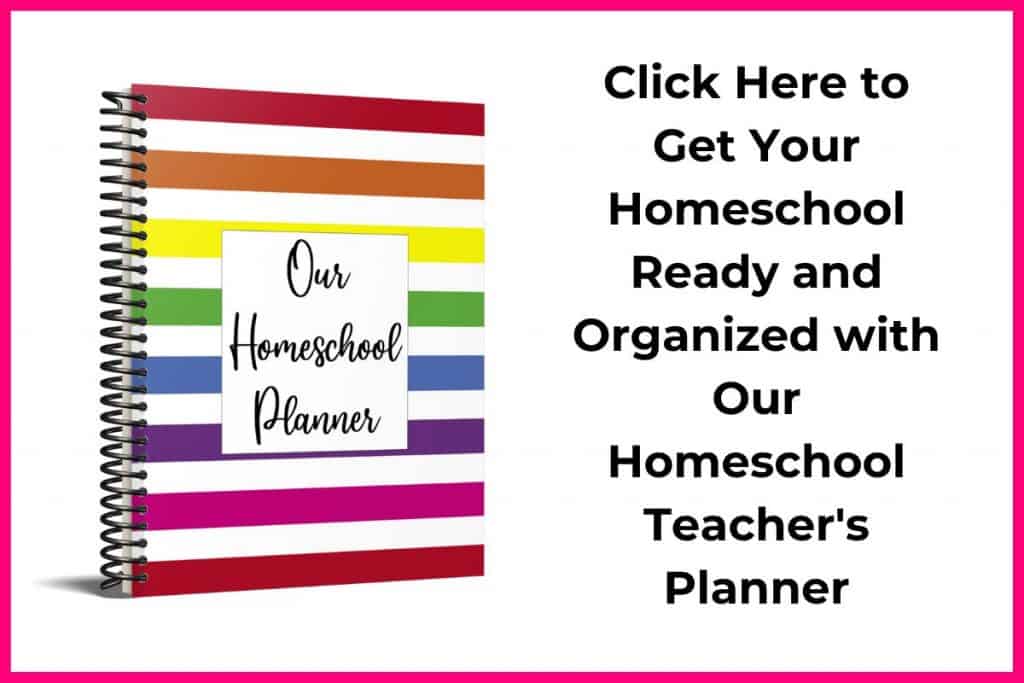 Update 2: I just received Math-U-See's Geometry curriculum which is also a bit different.
There are 30 chapters once again but it has:
2 lesson practice sheets (worksheets A and B) per chapter
3 systematic review sheets (worksheets C – E) per chapter
1 honors lesson (worksheet H) per chapter
3 unit tests
1 final exam
This brings it to a total of 184 sheets.
Again, I will provide a sample schedule for this level in the PDF.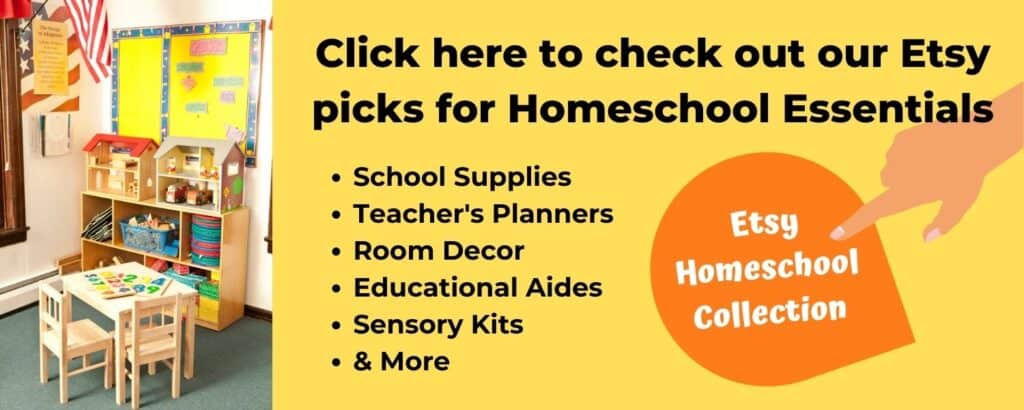 Establish Some Strategies and Tips
Pace Yourself
If it's one thing you take from this post, it's this:
Math-U-See levels are not assigned to or designed for a particular grade level.
This means that you don't have to finish an entire math book in a typical school year.
Go as slow as you want.
You can do 20-25 chapters then resume the rest the following year.
No biggie!
Your child will not fall behind if they are doing every sheet and achieving mastery.
That is, they are going at their own pace but they get it with every day's work.
Some kids can breeze through the work and some need to take a little more time.
When it comes to my sons and math, Josh flies through his work while Jack needs to take a little more time.
While Josh is able to compute many problems in his head, Jack, like me, prefers to work them out on paper.
Every kid is different.
You just need to observe how they work to find what type of learner they are and what will work best for them.
Complete Every Assignment
I never rush my boys to finish their math work although they are required to finish their assigned worksheet(s) for that day.
Since they don't want to be in "homeschool" all day I never have to worry that they will hand in their work just before bedtime.
When they hand in their work, I go over it to make sure it's correct.
If there are any errors, I give them back the worksheet so they can fix any mistakes (on their own.)
If and only if they are having trouble, I will sit with them to make sure they understand where they went wrong and eventually how to solve the problem.
But many times, they will catch their own mistakes which is an important skill when it comes to problem-solving anything.
Set Up Some Ground Rules
So why do I insist they do every sheet?
If a child learns that they don't have to complete a sheet in its entirety they will learn to avoid it.
They will find a way out of it very easily.
For example, if they see that you get frustrated by their whining or crying, then they will do this every time they want to get out of doing math work.
If they see that you end lessons abruptly because you don't understand it either, they will come to you for every single problem regardless if they can solve the problem.
Kids are observant and clever.
So stand your ground and don't let them call the shots.
And if you are getting frustrated because you don't understand a problem, tell them to skip the problem until you can figure it out.
Or just take a breather from trying to figure it out and come back to it later.
Watch the DVD Along With Your Child
I highly suggest watching every DVD lesson with your child(ren) so that you are able to lend support to them if a difficult problem arises.
Do this even if it is one of the early levels. That's because Mr. Demme usually presents several ways to solve a problem.
So, if your kid learns one way to solve a problem that is different from how you were taught then you are not going to be on the same page when a problem arises.
This is only going to frustrate you both.
So sit with your children.
Stop the video intermittently and do a few problems with them before giving them their worksheets.
Scheduling Math-U-See
Listed below is how I schedule a particular chapter (for earlier levels).
Day 1: we watch the video clip for that lesson then complete worksheets A & B*.
Day 2: we work on practice sheet C
Day 3: we work on practice sheet D
Day 4: we work on practice sheet E
Day 5: we work on practice sheet F
Day 6: I use practice sheet G as a bell ringer and give them their lesson test
*(Sheet A usually has the first two problems already done, so assigning both sheets isn't a big deal. Plus, it gives them enough practice to learn that new concept.) I can also fit 8 worksheets into 6 days….except when practice sheet F lands on a Friday.
Avoid Monday Math Tests
I personally don't like giving kids any tests on a Monday.
For math, I prefer that they have one last worksheet before their test.
So as I plan out the school year, if I see that worksheet F will end up on a Friday, I will reschedule it for Monday.
Instead, I have the boys practice worksheet G on Friday.
Then I will give them a test that Tuesday.
Below is an example of what our math schedule would look like for a typical month.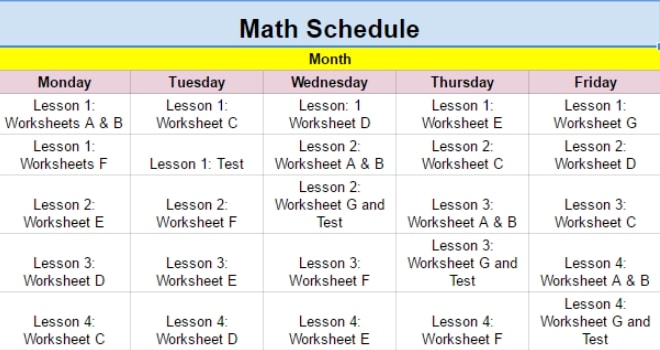 This cuts down that "215-day" year into a reasonable school year.
If giving them two worksheets on the first day of each lesson seems excessive to you then skip worksheet A and give them worksheet B instead.
(Worksheet A usually has a few problems already done providing fewer practice problems your child needs).
If you would like to see how we fit our math schedule along with other subjects, check out our 6th-grade schedule and 7th-grade schedule and lesson plans.
What If Math is "Absolutely" Not Your Thing
If math is not your thing, make sure that you purchase the "instruction pack" that comes with each level curriculum.
This pack comes with an instruction manual and DVD.
What I like about the manual is that the answers to the worksheet problems are broken down step-by-step.
It will walk you through each step for solving the answers.
So, if you and your child are having trouble solving a problem, just check the back and go through the steps for solving it so you can explain it to your child.
Now, the DVD is great because again if you have trouble with math yourself, you can let Mr. Demme teach your child.
He is absolutely engaging as he explains new concepts and demonstrates all the ways of solving various problems.
The DVD lessons are short and sweet, averaging about 5-10 minutes.
Again, I suggest watching every lesson with your child so that you are able to lend support to your child if a difficult problem arises.
Quick Tip #1: The Goal is Mastery
In math, the goal is mastery, not memorization.
Practice is key because it provides students with different 'scenarios' to apply what they have learned.
My children's mastery of math has made learning new concepts easier and less frustrating.
So try not to skip any worksheets.
Quick Tip #2: Don't Hate Math
For those of you who 'hate' math: instead, embrace it.
And above all, don't let on to your kids how much you hate math.
They will see it as this evil thing and will follow your behavior.
Instead, take this opportunity to learn alongside your child(ren).
The number one reason most people hate math is that they never really understood it.
Once you start getting into pre-algebra, it really is like learning a new language.
So, sit with your child(ren), watch the videos, and do a couple of problems with them.
Who knows? You might just get it this second time around.
However, if you really, really hate math or you just don't get it, then perhaps have someone take over that part for you.
Have your spouse, an older child, a friend, or maybe a next-door neighbor work with your child.
Final Thoughts on Math-U-See
Remember that you do not have to do an entire workbook in one year. If your child is having trouble finishing their work, then slow down the pace a bit but make sure that every sheet is completed even if it takes a couple of days.
Set up a list of expectations for your homeschool and go over them with your kid(s). This includes the expectations you have for each curriculum.
Learn with your kids. This is probably the best thing about homeschooling. I learn something new every school day and it's amazing.
Use the free PDF I've provided to help you schedule your lessons. You can access these for free in our resource library. Just click the pink button below.
Whatever you do, don't give up. For many, math is not easy but once your child masters concepts, they will be able to finish their worksheets quicker.
Free Math-U-See Schedules
Click the pink button below to receive access to our free resource library where you will find our Math-U-See schedules and other helpful homeschool printables.
Other Homeschool Curriculum Articles
Need help with selecting a curriculum? Click any of the posts below to see our picks for that year:
Avoid Frustration by Learning How to Plan Out Math-U-See's Curriculum