Organizing Your Pet's Care With This Free Pet Planner Printable
This pet planner was inspired by the huge folder of pet records I kept for our dog, Sammie. Since we got her a few years ago, I have kept copies of her adoption papers, medical records, rabies certificate, etc.
Once I started having trouble inserting her folder into my file organizer, I knew it was time to go through her papers and get them organized. And with that, I created this pet planner.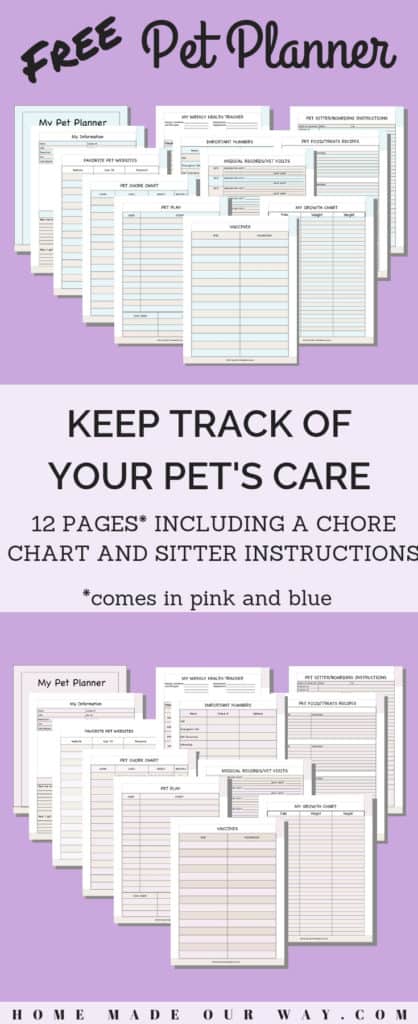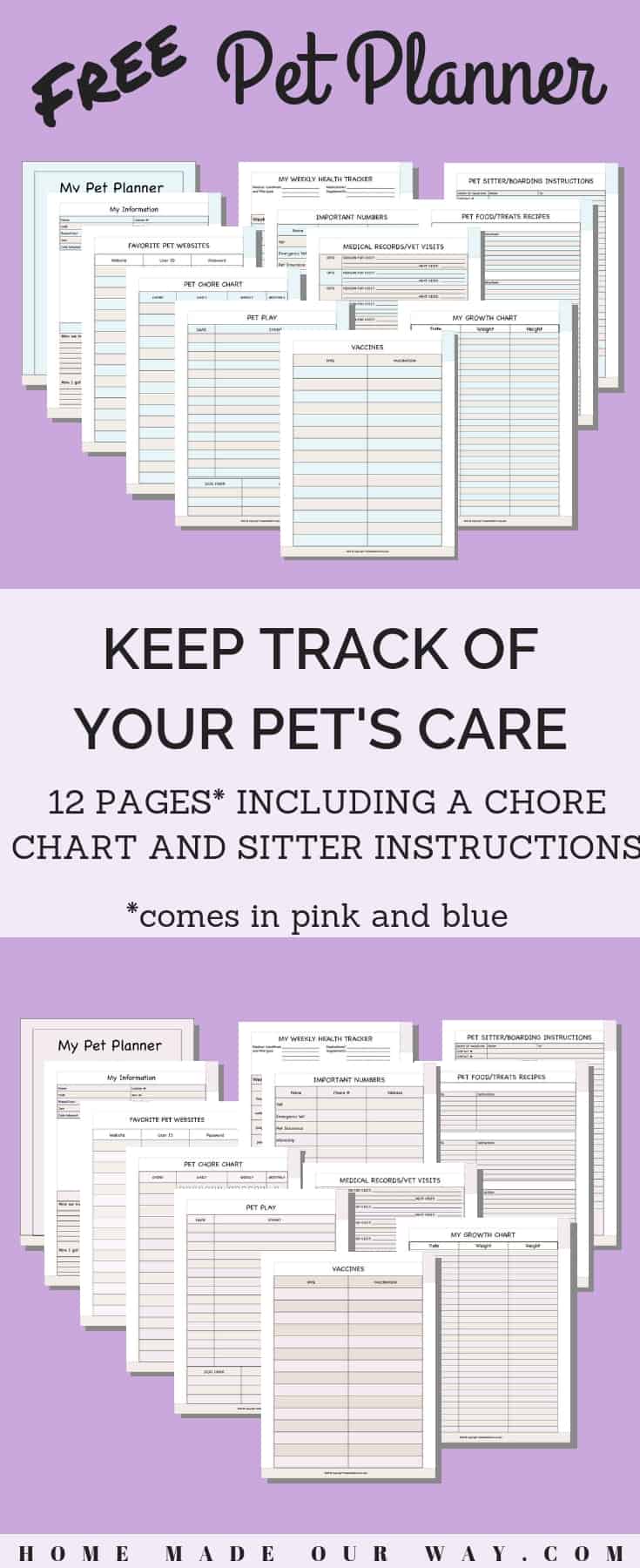 Disclosure: Some of the links below are affiliate links that I have provided for your convenience. Click here to read my full disclosure policy.
This pet planner comes in two colors, light blue/tan and light pink/tan. I kept the tint low on the colors to make it printer ink friendly.
You can also use this planner for both dogs and cats. If you have another type of pet, I suggest checking out the pages and seeing if any are relevant to your pet.
To get your free pet planner, scroll down to the end of the post and click the pink button. Continue reading to see all the different pages this planner has to offer.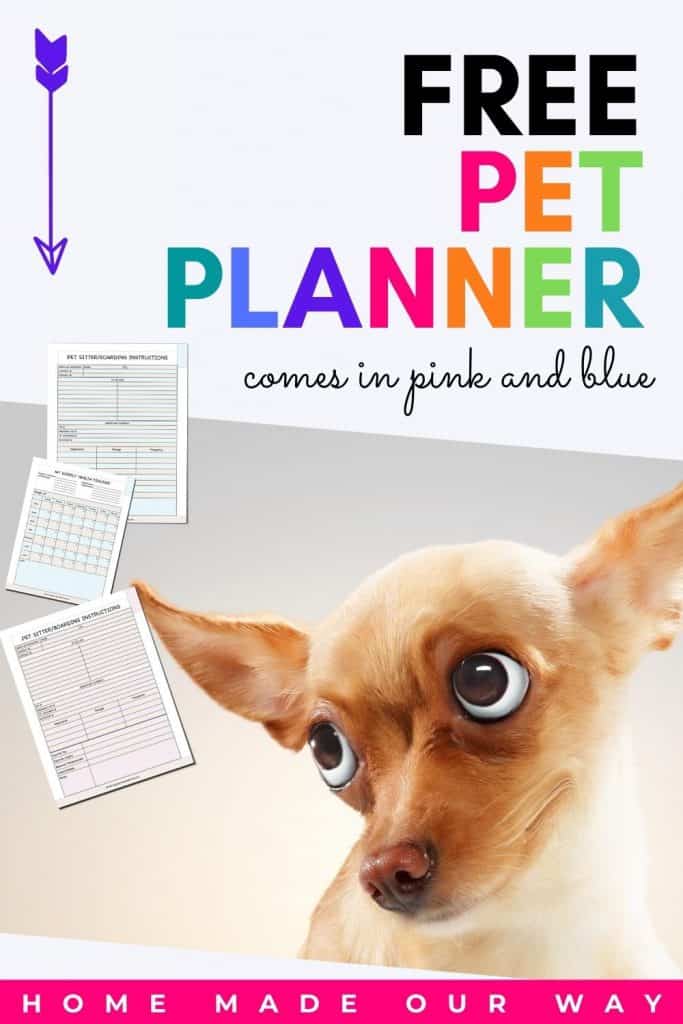 Pet Organizer Pages
This digital pdf planner has 24 pages. The first 12 pages are the blue version and the last 12 pages are the pink version.
Pet Planner Cover
The first page is your pet planner cover. The picture below is the light pink version. Because of the lighting, it looks a bit washed out. I assure you that yours will not look washed out.
I provided an oval frame if you'd like to add a photo of your pet.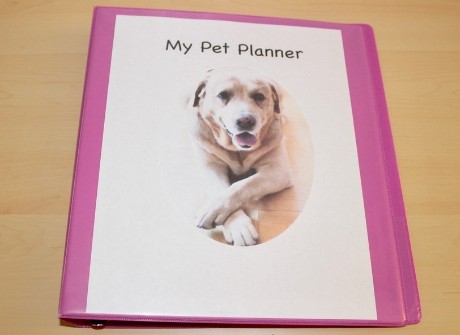 My Pet's Information Page
The next page in your planner is where you document your pet's basic information:
name
date of birth
breed/color
sex
date of adoption
license number
AKC number
In the middle of the page is more space where you can paste additional photos.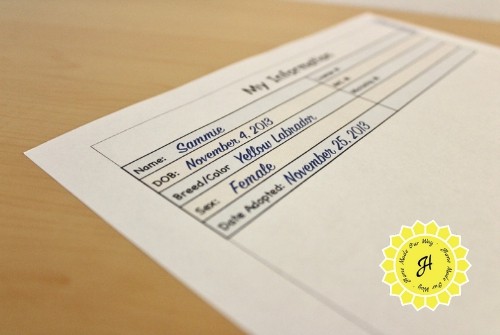 At the bottom of this page, you can write about how you and your pet came to be as well as how they got their name.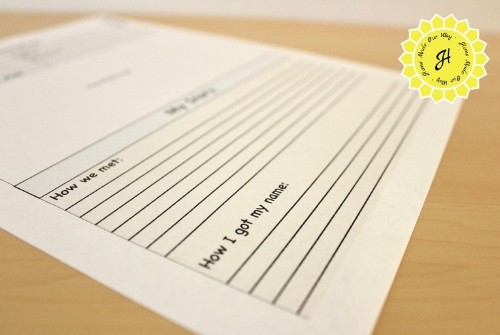 Pet Care: Medical Information Pages
The next set of pages is for you to document your pet's medical information and care.
Growth Chart
The first page is a growth chart. If you have trouble weighing or measuring your pet at home, just take this with you to their next vet appointment and have the staff fill it out for you.
If your vet participates with Petly.com, sign up and your pet's information will be readily available.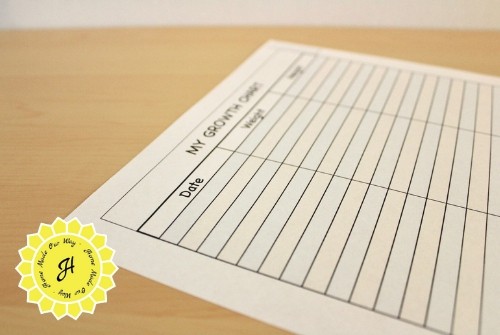 Weekly Health / Medication Tracker
This next page does not have to be printed every week. If your pet is otherwise very healthy, you only need to print this sheet for the following reasons:
record observations of a new puppy/kitten so you can report any information and/or concerns to your vet
write down anything you notice when your pet is sick or if they appear to be acting strangely
note observations when your pet is nearing the end of its life (I know, I hate to think about it).
At the top of the page, list any medical conditions and allergies.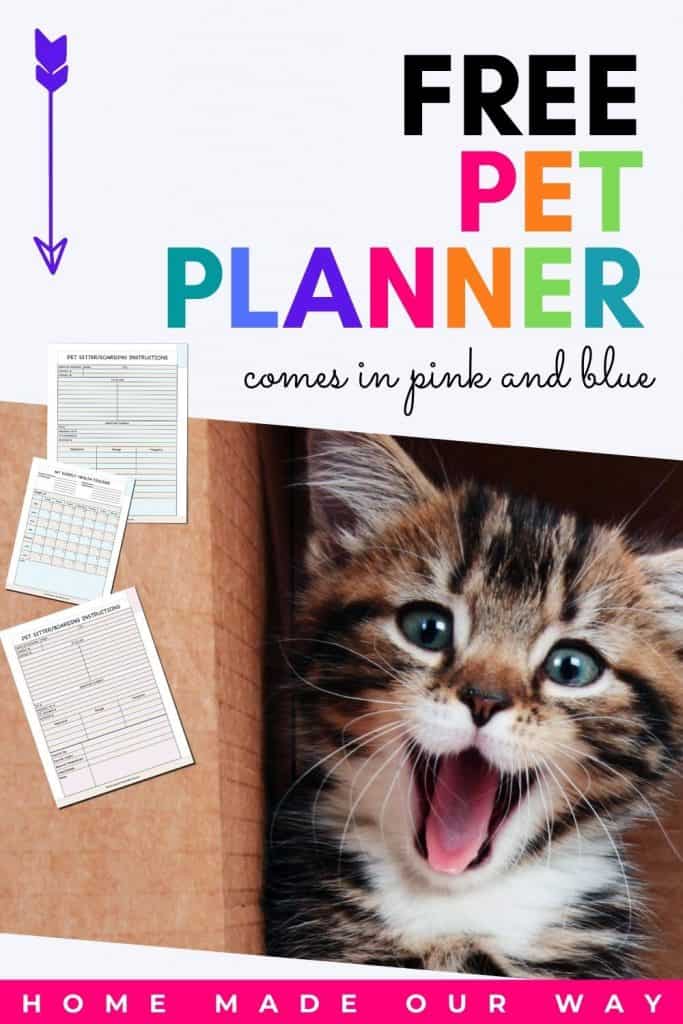 Next, you'll want to enter all the medications and supplements they are taking.
For each day's box, you can make small notations like the amount of food eaten. The smaller boxes in the corners are for checkmarks if everything appears normal.
At the bottom of the page, there is a notes section just in case you need to expand on any of your observations.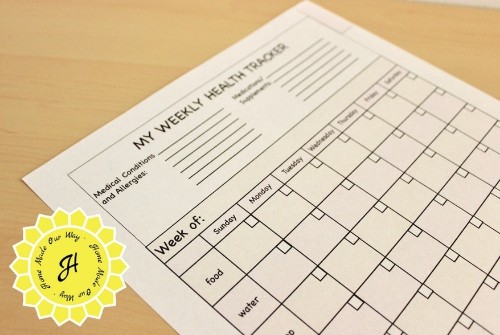 Medical Records Keeper: Vet Visits and Vaccinations
The following pages are to record your vet visits and any vaccinations your pet is given. Just enter the date and the reason for the visit. You can also enter the next due date for visits, shots, etc.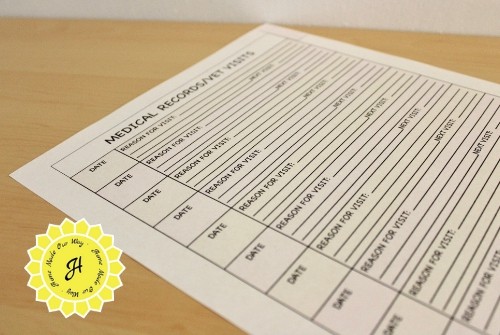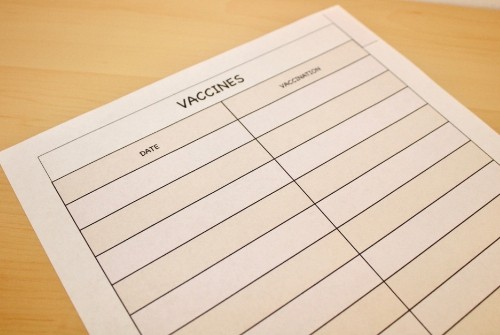 Pet Planner Essential Pages
Pet Sitter / Boarding Instructions
This page only needs to be printed out whenever you hire a sitter or if you'd like to provide a kennel or boarding facility with written instructions.
This page contains information for:
dates of your vacation
contact numbers
list of to-do's
important phone numbers for the vet, vet hospital, vet insurance, and microchip number
list for medications with dosage and frequency
and other notes like your pet's favorite toy, snacks, other likes, dislikes, and behavior/temperament,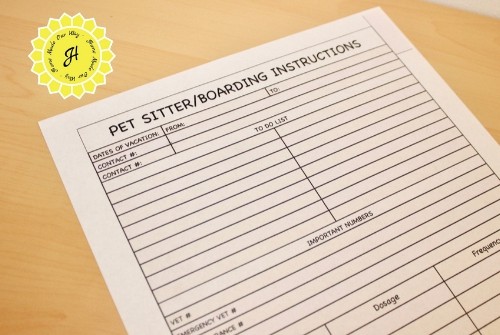 Important Numbers
The next page lists all your pet-related important numbers such as:
vet
vet insurance
kennel/boarder
vet hospital
groomers
trainers
walkers
sitters
& more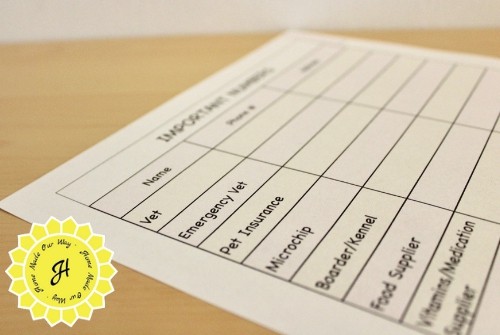 Favorite Pet Websites
And, of course, this next page is where you keep your user ID and passwords for your favorite pet-related websites.
Pet Planner Extras
Recipes
This planner also comes with a recipe page if you like creating your own pet foods and treats.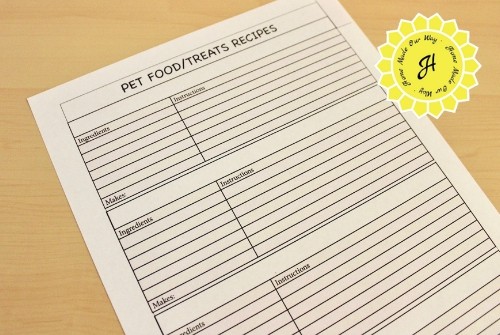 Pet Events and Play
If you like attending pet events, you can keep track of them here. Personally, I'd keep this on my fridge or command center. There is also a spot for you to write in locations of different dog parks in your area.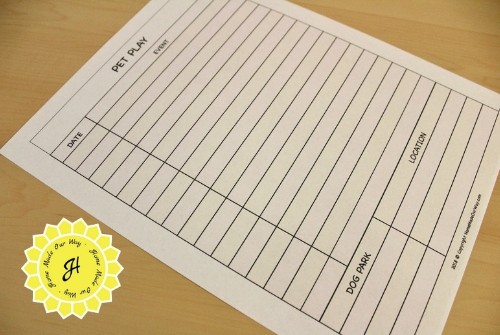 Pet Chore Chart
And lastly, I made a pet chore chart. And while I would love it if my Sammie could cook and do the dishes, this is really for the busy mom and/or kids.
For each chore, I made a set of checkboxes so that nothing is forgotten on a daily, weekly, and monthly base. So for a daily chore like washing bowls, I simply cross out the weekly and monthly boxes. This lets my boys know that chore is a daily one.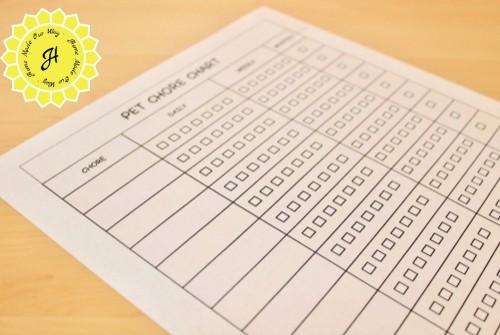 Multiple Pets
In case you are wondering what that rectangular box is in the upper right corner of each page, this is where you can put your pet's name especially if you have more than one. You could also stick an index tab here as well.
Final Thoughts on The Pet Planner
I hope that you like this planner. I suggest purchasing a binder to keep all of your pets' records together. You can also add it to our home management binder which you can get free as well.
And if you prefer transferring information into these planner sheets be careful not to throw any documents that you need to have on hand like a rabies certificate. You can simply hole-punch it and add it to your binder.
Now, if you are ready to get your free pet planner, click the pink button below and you will be directed to our resource library. (You should receive the password automatically in your email. Check your spam folder if you don't receive it right away.)
Know someone who would love a pet planner? Use the share buttons above and below this post so that they can get this free planner as well.
Any suggestions for other pet planner pages? Leave a comment below, let me know, and I'll add them to the next update.
Stay Organized With This Free Pet Planner Printable to Track Your Pet's Care