Curriculum Resources, Reviews, Schedule, and Lesson Plans for Your 7th Grade Homeschool
Looking for curriculum and resources to add to your 7th-grade homeschool curriculum? Here are our picks for this year starting with those curriculums and resources we have come to rely on year after year. Updated reviews are provided for new resources.
Continue scrolling to find our 7th-grade homeschool weekly schedule as well as a pink button to gain access to our free resource library where you can get a copy of our 7th-grade lesson plans.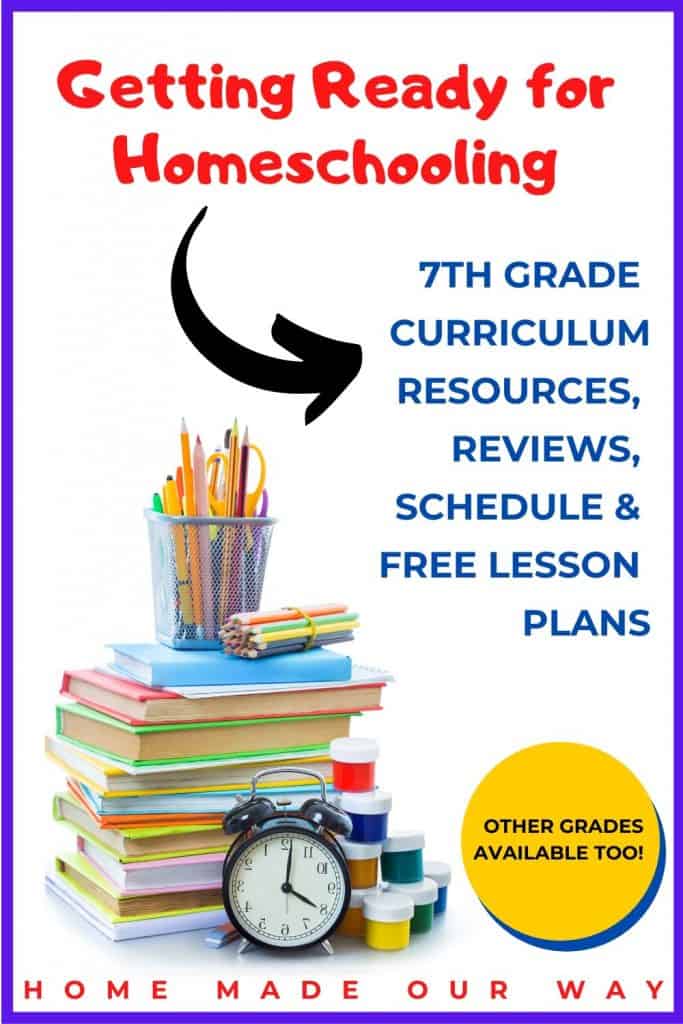 Disclosure: This post contains some affiliate links for your convenience (which means if you make a purchase after clicking a link I will earn a small commission but it won't cost you a penny more)! Click here to read my full disclosure policy.
Our 7th-Grade Homeschool Curriculum Pics and Resources
First, let's go over some of the curricula we will be taking this year. If you are planning on using the same resources, then you will find our lesson plans especially useful.
Universal Resource
For most of our 7th-grade homeschool subjects, we will use our lifetime membership with Productive Homeschooling's Notebooking Pages.
We have been with Productive Homeschooling (formerly known as Notebookingpages.com) for five years now and it still is the best investment we've ever made. They have hundreds of topics and thousands of notebooking pages.
And with a lifetime membership, you get access to all current and future products. This resource is very versatile and covers most subjects at every grade level.
For a full review of this resource ← click here to see the different ways we used it in our homeschool. You'll also find examples of our pages in action below.
To learn more about notebooking pages, click the video below.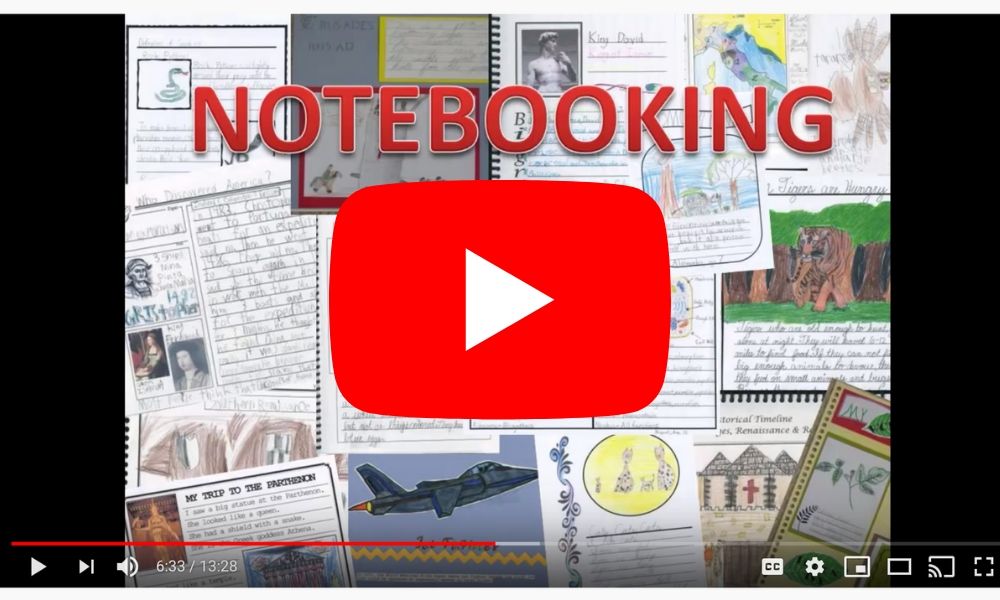 If you're still not sure if it's a fit for your homeschool, give their free sampler a try.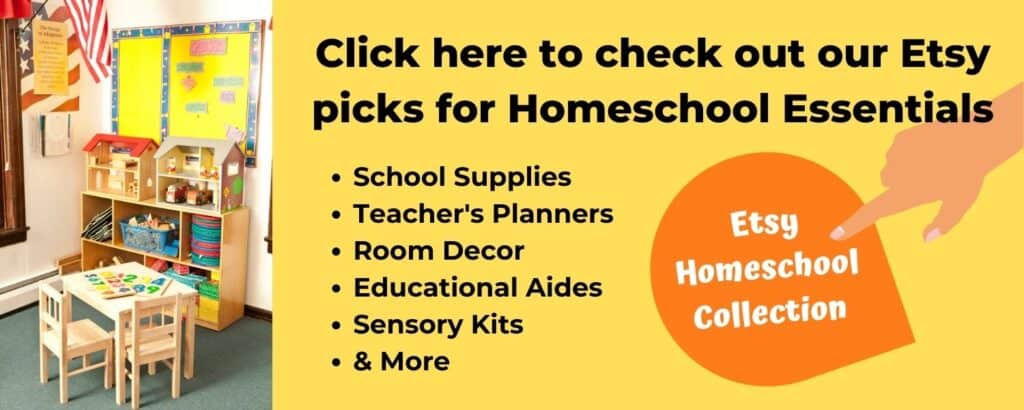 Core Subjects
7th-Grade Homeschool Math
For math, we are sticking with our favorite, Math-U-See. This year, the boys will be taking up Pre-Algebra. They will learn various topics that include but are not limited to:
negative numbers, using basic operations
exponents
roots and radicals
Pythagorean Theorem
surface area and volume of solids
converting between Celsius and Fahrenheit
absolute value
ratio and proportion
polygons
polynomials
irrational numbers
For a review of Math-U-See <–click here.
If you decide to use Math-U-See in your 7th-grade homeschool, be sure to check out my post, How to Use Math-U-See in Your Homeschool.
We will also use Productive Homeschooling's Notebooking Pages to write summaries on a few historical mathematicians. This year we will cover this year Euclid, Archimedes, Pythagoras, Thales, Fibonacci, and Pascal.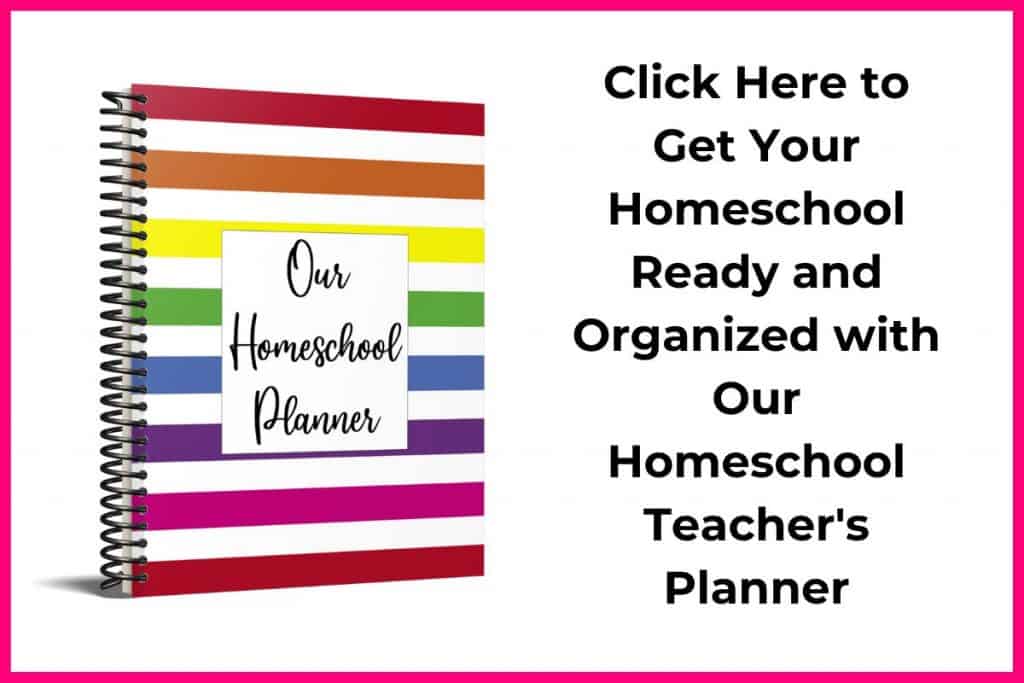 7th-Grade Homeschool History/Geography
World History & Geography
This year we will use Susan Wise Bauer's Story of the World Curriculum with Volume 4: The Modern Age. We will also watch the following DVDs. The boys love seeing their history come alive and the History Channel did a great job with these programs.
Along with this curriculum, we will continue using our Record of Time (from Homeschool in the Woods) to place figures and events on our timelines.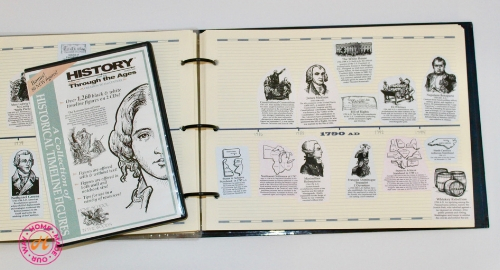 Click here to read our review of these history resources.
7th-Grade Homeschool Science
Last year we used Bernard J. Nebel's Building Foundations of Scientific Understanding book to create our science curriculum. I had to put in a little more work into creating lesson plans but I loved all the guidance the book gives.
So for this year, we will be using his second book, Elementary Science Education. If you would like to read my review of last year's book, click here → 6th-grade homeschool curriculum picks and reviews.
And naturally, we will continue to use Productive Homeschooling's NotebookingPages in science as well.
For our element study, we plan to discuss a different element every week, and then fill out a fact sheet about that element. This is a continuation of our 6th-grade science curriculum.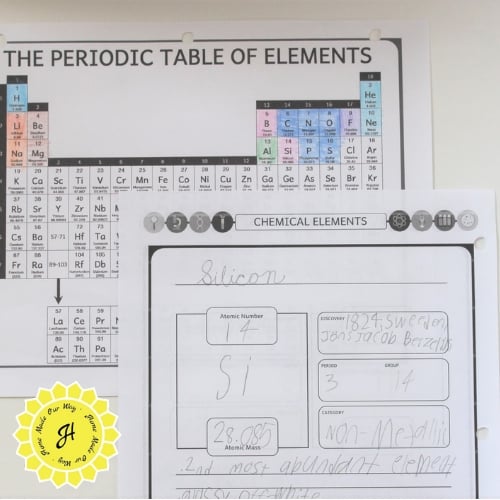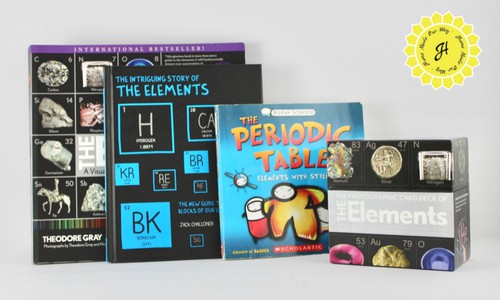 We'll also write up brief summaries of science concepts and historical scientists.
Hands-On Science Fun
During our 6th-grade homeschool, I started us on the subscription-based Tinker Crate by KiwiCo. This company delivers science kits filled with all sorts of projects that kids can do.
The boys and I had fun putting some of the projects together, so I decided to continue receiving kits this year. The best part was when we would get a box that was perfect for the science topic we were on.
If we received a box that was perfect for a topic already covered, we just went ahead and put our projects together. However, if we received a box before a particular topic was to be taught, I just stored the box away until we came around to that lesson.
In the meantime, I also signed up for Groovy Lab in a Box. Like Tinker Crate, Groovy is a subscription-based company that delivers science kits as well. We also had fun putting these together as well.
But let's talk about the pros and cons of these two subscriptions.
One pro for both these resources is that their projects provide hands-on learning of various science topics. There is no doubt that your kids will have fun and learn at the same time.
Also, both boxes provide more than one project/activity. This means you can pull out the box again and attempt another related activity and/or project.
I also like that they provide everything you need…and I mean everything. And some projects actually involve the box it comes in. So, no waste there.
Ok, now for some differences between the two subscriptions. Tinker Crate is just one of the eight age-level kits that KiwiCo provides. So, if your child finds their kit easy or boring, you can switch to another level that will challenge them.
Unfortunately, Groovy's kits are not age or grade-based. That is, you will receive a kit no matter your child's level. However, just from the few boxes, we have received, I can say that the kits are geared toward middle school students.
And while Tinker Crate was reasonably priced at under $20/month, Groovy was more expensive at under $30/month. However, both companies offer discounts if you subscribe to their 3-month, 6-month, or more subscriptions.
If you are working with a science curriculum that doesn't provide a lot of hands-on activities, these kits are a great way to supplement it.
English/Writing
We will be using BJU Writing and Grammar 7 curriculum. We have been using BJU for the past five years and the boys seem to be doing very well with it.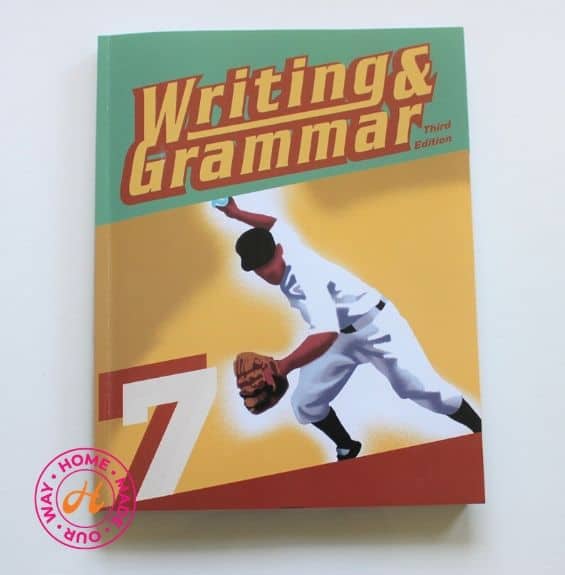 As for our writing component of this book, we will go over those skills and strategies mentioned in the book. However, instead of completing the assigned writing in the book, the boys will be expected to complete a research paper on a historical person or event.
The boys prefer doing these as opposed to those assigned in the book. And they get to practice their typing skills.
Classical Literature
For our classical literature studies, we will be reading:
We are blessed to own these books and plays but you can find many of them for free on Productive Homeschooling's NotebookingPages for Literary Study and their Famous Poets Pages along with our readings.
Independent Reading
For independent reading, the boys are sticking to the Harry Potter series:
Electives
The following are additional electives I chose for this year.
Finances
This year, I created a lapbook resource to teach the boys about finances and thought I'd share it with my homeschooling community. To learn more about our Money 101 lapbook activity pack, ← click here.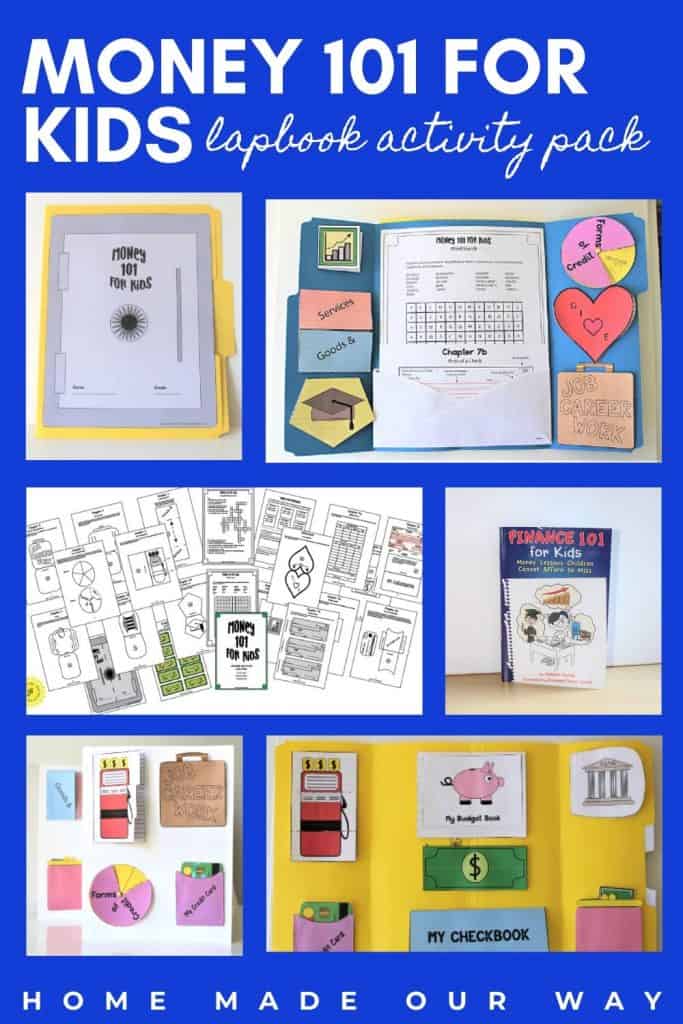 Computer-Programming
This year we are going to do some game programming with Homeschool Programming Inc. Last year, the boys took their Digital Savvy course and that went really well. But the boys are itching to do some serious game programming.
There are two different kinds of game programming courses: Visual Basic and Unity. Unity will become available later in the fall as they are currently still working on putting the course together.
Update
After getting through a few of the first components of this curriculum, we started having problems understanding some of the concepts and the programming became more and more difficult.
I tried to seek help from the site which had some tutorials and we were able to continue a little further. However, when the course became more difficult, the person who handles these inquiries was of very little help. I am assuming that they refrain from giving too much help so that you are forced to purchase their higher package which offers a virtual teacher.
I was disappointed and we just nixed this curriculum from our schedule. Also, when I went to look up their online tutorials, they removed them. Go figure!
Spanish
This year I decided to give BJU's Spanish 1 Curriculum a chance. I find it expensive but it does come with a lot in one kit.
The kit comes with two student workbooks: one is the course workbook and the other is an activities manual. They also provide two teacher's manuals one for each of these workbooks as well as tests with answer keys and a case filled with 12 CDs.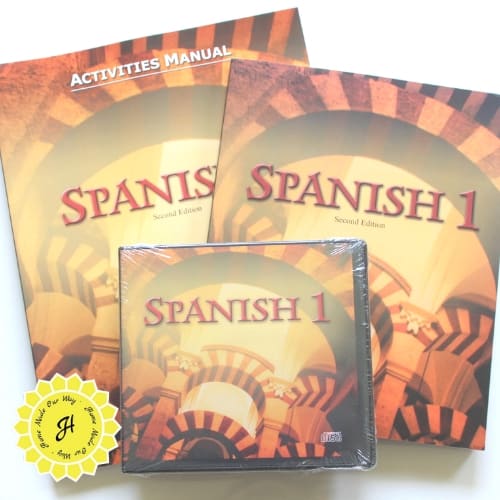 Update
One thing I didn't like about this curriculum is that there are no lesson plans or some sort of schedule recommendation (despite the book's notification that lesson plans are available online–they are not.)
I eventually did create a lesson plan for this curriculum. If you'd like a copy of our lesson plans don't forget to fill out the form at the end of this post.
FYI: Some of the cultural notes in the book are quite dated and old-fashioned in my opinion. But as far as the rest of the curriculum goes, I highly recommend it for homeschoolers whose parents have experience with learning a second language.
Physical Education
I don't usually have a particular curriculum for this. Basically, the boys ride their bikes or go for a swim, weather permitting. They will continue to do this again this year.
However, I have written to Daily Burn, a service I use for fitness. I'm going to see if they can possibly create a fitness program for kids.
I'm hoping they will see this as a great opportunity to get kids moving at an early age. I will let you know their response if they get back to me.
Update (7-5-17): Daily Burn did contact me and they have forwarded my suggestion to their product team for review. I'll keep you posted.
Update (12-10-2021): Daily Burn has finally added a 365 Fit Family Program. It is not specifically for kids but includes fun workouts that we have tried.
Scheduling 7th Grade
This year I decided to move our homeschool start time to 10:00 am because I believe the boys need more sleep. They are entering their teens and need those extra hours.
This does not mean that they get up or start their independent work at 10:00 am. This is just the time we start instructions. The boys get up earlier than this and start their independent work when they are done with breakfast.
And although I would rather start early, recent studies have shown that kids at this age are not getting enough sleep. In turn, this can affect their learning. ← (and we don't need that!) Here are a couple of articles for more information about teens and their need for sleep:
Our Schedule
Below is the schedule that we will try to closely stick to Monday through Friday.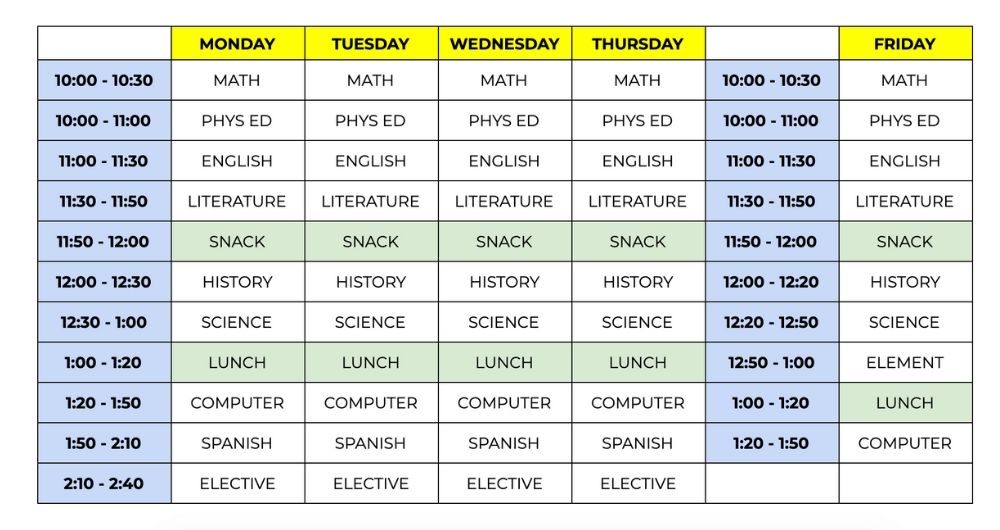 Above you will notice that I have different times listed for Friday. This is because I like to lighten our load for that day as a treat. (However, if we become backed up during the week, then I will carry any unfinished work over to Friday.)
I did not schedule our Tinker Crate or Groovy subscriptions just because there is no way of knowing the exact day we will receive our kits. When they do come in, I will schedule these activities in the 2:10 pm slot, Monday to Thursday.
I have also scheduled our Finance class during this same time slot for the month of October.
Does your student need help planning out their week with study time, reading time, and upcoming exams? Click here→ to receive our free student planners.
Lesson Plans
How to Use Our Lesson Plans
First, if you don't have the same resources we are using but still need help with coming up with lesson plans, then, by all means, use our lesson plans as a guide.
And if you have some or all of the same curriculum as us, then yes, use our lesson plans so you don't have to figure it all out.
You will find that I usually follow the recommended lesson plans provided by the maker of a particular curriculum but as I said earlier, not all of them come with these.
Planning Out Your Lessons
If you do want to use our lessons or closely stick to them, know that each page represents one whole week. This means that our 38-page lesson plan covers 38 weeks. Keep in mind that the last two weeks are pretty light.
Also, note that you will find a couple of weeks missing. This is due to holiday vacations. And while we take off a whole week for Thanksgiving, we make up for it with holidays that we don't take off like Labor Day, President's Day, etc.
Other Notes
Finally, you will find an extra column in our lesson plans. This is where I put notes and links to resources that go with that week's lessons.
In the first week's notes column, I have provided all the resources we will use throughout the year. This is only provided on the first page.
Final Thoughts on Scheduling your 7th Grade Homeschool for your Middle Schooler
Before you start creating your lesson plans for this grade:
Decide on your curriculum and resources
Create a flexible classroom schedule
Check your resources for already-done-for-you lesson plans
If no lesson plan guides are available, you will need to set aside some time to put a plan together
If you are still having trouble and need some guidance or you are using the same resources we are, then fill out the form below and get free access to our lesson plans in our resource library
Still have questions? please feel free to contact me at [email protected] or leave a comment below and I will get back to you as soon as I can (usually in a couple of hours but no more than 24 hours.)
Want a Copy of our Lesson Plans?
Fill out the form below to receive a copy of our 7th-grade lesson plans to help you schedule your child's homeschooling.
Other Helpful Homeschool-Related Articles and Links
Save This
Want to save this for later? Want to share this with other homeschoolers? Hover over the image below and click the Pinterest button to save it to your favorite homeschooling Pinterest board.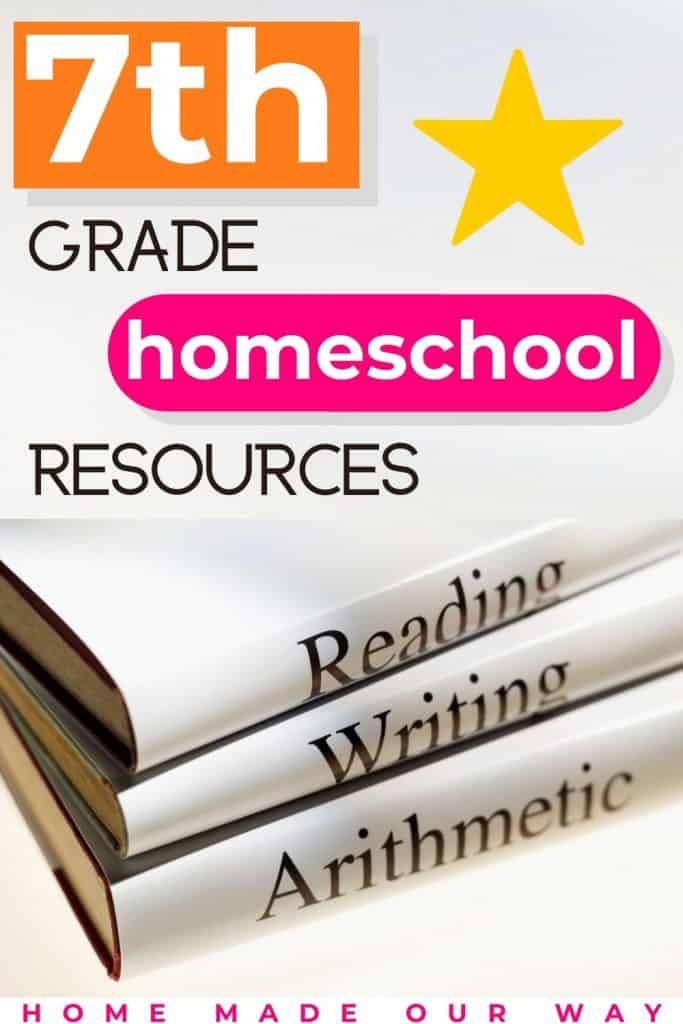 7th Grade Homeschool Curriculum Resources, Reviews, Schedule, and Lesson Plans