How to Organize and Display Your Favorite Books
Despite the increased use of e-readers and audiobooks in the past decade, physical book ownership still remains high (stats provided by Statista).
This means that many households are still purchasing and collecting books.
And if you're an avid reader who prefers print over all other formats, chances are you need a way to organize your books.
In this post, you will find steps to help you:
Know which books to keep and which to get rid of.
Find optimal storage for your situation
Organize your books functionally and/or creatively
Maintain your tidy collection
Disclosure: Some of the links below are affiliate links that I have provided for your convenience. Click here to read my full disclosure policy.
Before Organizing Your Books: Declutter & Purge
Gather All Your Books in One Location*
The best way to begin decluttering your collection is to gather them all in one location. This includes gathering books that belong to other members of the house as well.
As you bring every book into your one location, separate the collections by who uses them.
For me, I have three piles: one for my husband, one for me, and one for the boys.
If your kids have different tastes in books, then make a separate pile for each of them.
For specialty books, like cookbooks, create their own pile.
*If your collection is so extensive that gathering them in one location is an impossibility, then leave the books where they are and apply the following steps room by room. Remember to sort the books in each room by their user.
Which Books to Keep and Which Ones to Get Rid Of
Next, you'll want to determine which books stay and which go.
For this step, you may need several boxes. Label each box as:
Donations
Trash
Repurpose
Damaged Books
First, have each person go through their pile and remove any books that are clearly damaged.
If they are salvageable with a couple of strips of tape, go ahead and repair them. This tends to be the case with many children's books.
If the damage is extensive, ask yourself if this is a book you absolutely need to keep. If yes, consider finding a book repair shop and have them fix it for you.
This can be pricey so be really sure that it is a book you can't do without. I usually only recommend this option for rare antique books and family heirlooms.
Click here to learn more about book restorations.
One option you can try as opposed to trashing your books is to repurpose them. If you are crafty, you can find all sorts of projects on Pinterest. Below are links to some sites with lots of ideas you can try.
And lastly, if none of the options above appeals to you, simply dump them in the trash box and take them to the curb on recycling day.
Books You No Longer Want
Once you have taken care of the damaged books, you'll want to remove books that you no longer want from each of your piles.
If the person found the book enjoyable but doesn't want to keep it, consider these options: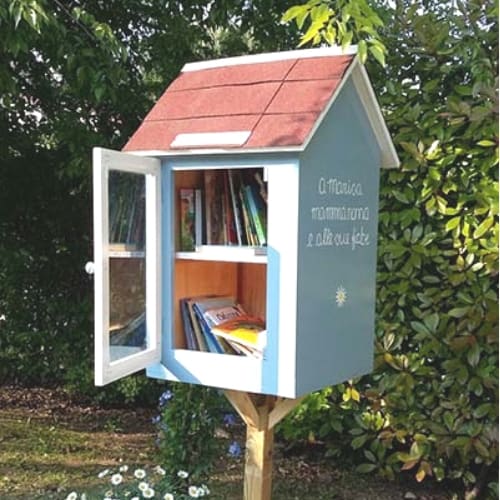 Next, we will tackle where you should be keeping your books.
Storage Options
Where you store your books is going to be dependent on your living situation. So, let's deal with location options for your books.
Locations
Naturally, some locations are a no-brainer for certain types of books. For example, cookbooks should be kept either in the kitchen or at least close by like on a pantry shelf.
The same can be said for craft books.

Children's books are usually kept in their rooms but can also be found in a playroom, reading nook, or in a homeschool if you have a dedicated space.
Instructional books on gardening or DIY can be kept in a shed or garage, if and only if they are not subject to extreme temperatures and moisture. Otherwise, keep them in the home.
Picture books are great on coffee tables however, keep the number of books to a minimum.
And lastly, if you have a dedicated library/study and/or bookcases, then this is most likely where the majority of your books are going.
So, now go through your piles and separate them by the location you prefer to keep them in.
Next, let's go over shelving.
Shelving Options
What you plan on using to organize your books is also going to be dependent on space, accessibility (especially for small children), and your preferred style.
For small children, shelving should be kept low. If you use a bookcase, just make sure it is tethered to the wall. One safe option is to place floating shelves like these on your walls.
Also, check Pinterest for more ideas. Some parents use rain gutters and large spice racks as shelving for their kids' books.
If your children have oddly shaped books, consider using bins and baskets to hold these. And for thin books with no spines, a magazine holder is a good choice.
Now, if your space for books is limited, then you need to take advantage of underused spaces.
Go Vertical!
One way that you can shelve your books and save floor space is by what I mentioned earlier, floating bookshelves.
You can also purchase a bookcase tower like this one that doesn't take up much horizontal space.
Don't forget corners. If I had known what a bookworm my son was going to turn out to be I would have made sure he got a bigger room. But he loves his little room so we had to come up with a solution to keep his books organized.
This is when I took a hard look at his room and saw that he had this one corner of the room that was never used. So, my husband and I put together a DIY plan and created this corner book tower.
It was simple to put together and could have been done in one day if not for the time it took for the paint and glue to sufficiently dry.
If this is something you'd like to try, click here to check out our → corner bookcase tower tutorial ← and to receive free DIY plans to put yours together.
Other Often-Neglected Spaces
Other spaces you can consider using for your books include the space under a staircase, landings, and even space above doors. And if you don't mind doing the DIY, you can create recessed shelves into walls between studs.
Next, let's go over ways to organize your books now that you've decided on where and on what you plan to keep them.
Ways to Organize Your Books
There are different ways to organize your books and they fall under two categories: functional and creative. So let's take a look at these two.
Functional Options
One traditional way to organize your books is alphabetical. This can be done by the title of the book or by the author. This is usually the most popular way to organize them because it makes finding books a snap.
Just remember, if you decide to alphabetize them by title and it starts with an "A" or "The", skip to the next word. And if you alphabetize by author and have more than one book by that particular author, then arrange those books in alphabetical order by title.
Another way to organize your books is by genre i.e. horror novels, sci-fi, romance, crime, etc. This is a great option if you have a very diverse collection. If you choose this option then again, make sure each genre is further organized alphabetically.
Now, there are two other ways to organize your books but I really do not recommend them.
One is to organize them chronologically. That is, to sort them by the year they were published.
If this is how you want to organize, then go for it. However, if you share your books with others, this may make it hard for them to find a certain book.
The second way is to organize them using the Dewey decimal system. This can be helpful if you have a huge collection of diverse books.
But be warned that it will take up a lot of your time between categorizing, labeling, and then shelving them.
For a breakdown of the Dewey decimal system, ← click here.
Keeping Inventory
If you have a large collection and would like to keep track of your books, try creating an inventory list using a spreadsheet program. Again, this is time-consuming but can help especially if you lend your books out often.
Update: I just created a printable pdf to help organize, track, and manage your book collections. You can find this in our Etsy Shop for just $3. Click to see what's inside: https://tidd.ly/3AbOOb7
Creative Displays
Now, you can put together a display simply by laying books horizontally alongside vertical ones. Then just add some home decor to give them charm.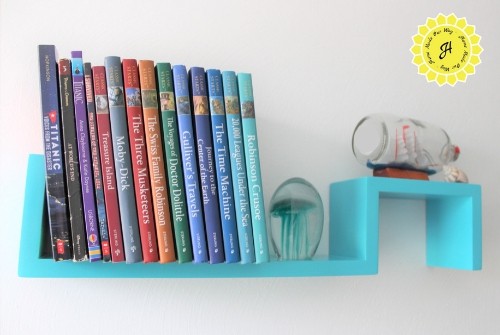 But if you are looking for a library that "pops", consider organizing your books by color. This works really well for large collections where you have enough for each color you want to have.
If you have lots of books but can't create the color scheme you like, then try wrapping your books in colorful wrapping paper. Just make sure the paper has weight or else will tear easily.
Here is a video showing how to properly cover your books.
Frugal tip: purchase seasonal wrapping paper after the holidays to create a festive theme on your shelves the following year.
Now, if you are looking to create shapes with your books, you may want to check out Pinterest for this as well. Here is one board ← I found with lots of designs.
Options for Privacy
If you prefer to keep your library private, you can try two options:
Create covers for them
Or turn them around on the bookcase so that the pages show towards the front and the spine of the book faces the wall.
Ways to Avoid Book Clutter
Now, that you have your books ordered the way you like, there are two ways I'd like to go over to help keep book clutter to a minimum.
The first is to invest in an e-reader. Thanks to my Amazon Prime membership, I get more than enough free e-books to read without filling my house with actual books.
The second is to check out your public library. Instead of buying, try borrowing. If you don't mind waiting for a title to be available, this is a good (and greener) choice.
Most libraries are online. Simply sign up and look for the book you want. Chances are there may be a waiting list, but at least you know they actually have the book you want. Your library may even have a list of upcoming books that you can sign up for early. So give them a try.
Final Thoughts on Maintaining Your Book Displays
The final thing I'd like to touch upon is maintaining your book organization.
First, follow the 5 R's of zero waste that will help keep book clutter to a minimum:
Refuse: try not to bring a book home — use an e-reader
Reduce: try borrowing from your local library
Reuse: donate a book after reading it
Repurpose: give damaged books a new life — see Pinterest
Recycle: check your locality for rules on recycling damaged books
When it comes to children's books, don't make a big deal if kids make a mess with them. Teach them how to put them away but if they forget here or there, just put them away yourself. If you give them a hard time, they may just avoid reading altogether and we don't want that.
And set a date every year to go through your books and apply the above steps if they have gotten a little cluttered. One good day — April 23, World Book Day!
I hope you found this article helpful when it comes to organizing your books. If you have a suggestion or comment, feel free to leave them below.
Helpful Articles for Items that May Rest on Your Shelves
How to Organize and Display Your Home Library