When it comes to books, there are several ways you can organize them. You just have to pick the one (or ones) you want to apply. But before we organize your books, let's declutter your collection first.
Disclosure: Some of the links below are affiliate links that I have provided for your convenience. Click here to read my full disclosure policy.
Declutter Before You Organize Your Books
Gather your Books
The best way to begin decluttering your collection is to gather them all in one location. This includes gathering books that belong to other members of the house as well.
As you bring every book into your one location, separate the collections by who uses them. For me, I have three piles, one for my husband, one for me, and one for the boys. If your kids have different tastes in books, then make a separate pile for each of them.
Purging your Collection
Now, go through your collection and remove any unwanted or damaged books. Ask each member of your family to do the same for their pile. When you are done separating these books out, consider the following instead of just tossing them in the trash.
donate to your local library.
for antique and rare books, consider having them restored if they are worn. Click here to learn more about book restorations.
if you are creative, you can repurpose and upcycle your books – check out Pinterest for all kinds of cool hacks and designs you can create with old books.
turn them into some cool home decor by covering them with colored paper.
make them available for overnight guests by keeping a few on their nightstand.
create a community library for your neighborhood – check out this site on making your own neighborhood library.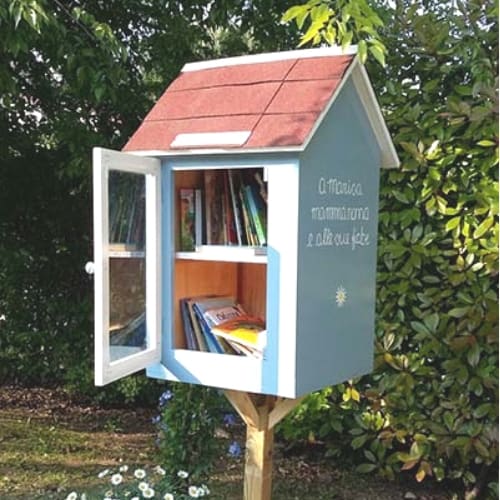 Organize Your Books
So, hopefully, you've whittled down your collection to those books you want to keep. Below are ways you can organize your books. And you don't have to just pick one way. So check out which way is best for you.
Organize Your Books Alphabetically: Title or Author
While boring and obvious, one can simply alphabetize their collection. This makes it easy for you, family, and perhaps guests to find books.
Organize Your Books By Genre
You can organize your books by genre like thrillers, romance, etc. This works great if you plan to keep books in multiple rooms. For example, you will most likely keep your cookbooks in or near the kitchen. Children's books can be kept either in their rooms or in a playroom.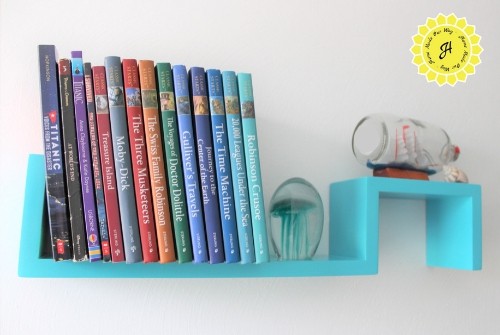 Arrange Your Books By Size/Height
Perhaps you are more visual and want to take a decorative approach. You can organize your books by size and/or height. You can also arrange them both vertically and horizontally so you can add decor on top of the horizontal ones.
Organize By Color
In keeping with a visual look, you can also arrange them by color. This works if you have a large collection of books in varying colors. Give it a try and see if it makes your library pop.
If your collection is not as colorful but you'd like to try this method, consider creating book covers in the colors you prefer. You can use decorative wrapping paper or scrapbooking paper.
Organize Your Books Chronologically
If you are super into your collection, then try this method. This could be time-consuming but it's definitely a conversation starter for guests. The same goes for the next method.
Dewey Decimal System
Seriously, you really have to be into your books a lot if you like this method. This system works if you have a vast collection of various genres and/or you tend to lend your books out. Just like a library, you can code your books and then create a card catalog using a spreadsheet to keep track of each book.
Now, you are not required to follow just one system. You can certainly alphabetize your cookbooks, arrange them by type of cooking, or even by nationality of dishes. Children's books can be arranged by height and color.
Again, it is your choice and how you prefer to organize your books. In the end, you can opt not to do any. Your book collection will still look nice once you've decluttered them.
Private Collections
If you are super private and protective of your books, you can insert them into shelves backward (with the spine in and pages out). Not only does this give your library a monochromatic look but it discourages others from checking out your books.
Shelving
The final thing to touch upon is some creative shelving. There are lots of appealing shelving but I thought I'd touch upon those that will save some space.
Go Very Vertical: If you have more books than space, consider taking them vertical. Create a tower against your wall. Below are some spine towers if you prefer not to DIY.
Use Empty Corners: My son's room is the smallest in the house and yet his book collection is pretty big. We decided to take advantage of an empty corner by creating this vertical tower.
Space above Doors: Consider the space above doors for shelving your books.
Staircases: Believe it or not, staircases have lots of spaces around them that go unused.
Other Considerations
If you have a very large book collection and you've found them unmemorable, it may be time to invest in an e-reader. While I love books, many are not 'collectibles'. For example, I get a free book every month as a member of Amazon Prime and have enjoyed a few of them but some not so much.
The point is that those books, the ones I didn't enjoy, never entered my home clogging up my collection. I only keep books that I love as well as classic books that I hope to pass down to my kids and grandkids.
So consider an e-reader to keep your home decluttered of forgettable books and save money at the same time. E-books are way cheaper than buying the actual books.
Ok, now it's your turn to organize your books. Start with decluttering your collection then pick out how you want to display them.
Know someone who could use this post? Use the share buttons above and below this post to help them out with their book organization.
So, how do you organize your books? Have a unique way of shelving them? Let us know by commenting below.
Also, don't forget to sign up for our weekly organizing challenges. Enter your name and email address at the end of this post and you'll receive a new challenge every week.
Save This
Want to save this for later? Pin the pic below to your favorite Pinterest board.